Sunday nights are normally reserved for dinner dates with Bubby. We frequent lots of local favorites and sometimes we'll venture out to new spots that we've heard good reviews about. This past Sunday, however, hurricane weather was upon us and neither one of us felt much like getting dressed to go out to eat. Instead, we combined cooking chops and came up with a unique dinner for two. The result was a healthy, colorful, vegetarian meal that we both really enjoyed. It was nice to mix it up in the kitchen and try something new. Bubby noted that since my living here, I've introduced her to a lot of new foods that she would never have tried or even known about. Now she regularly includes them in her grocery lists. 
The new food I'm talking about for this particular recipe was spaghetti squash — something pretty new to me, as well. This is quickly becoming one of my new favorite foods. Its pretty versatile; it can be incorporated into many different combination dishes or served as a side with a simple sauce. Bubby has never cooked a spaghetti squash before; she didn't even really understand what it was until I told her that it actually does look like spaghetti. It was fun for me to get to teach her something new — that doesn't happen often with grandmothers who love to cook! This squash was a lot bigger than the last one I had, so we baked it in the oven instead of using the microwave. When it was all cooked and ready to go, we mixed it with the garlic mixture Bub whipped up, topped it with parmesan cheese and served it with a side of balsamic-glazed Brussels sprouts and carrots, an idea I came up with. We sat down to a great meal, said cheers with a glass of our favorite wine, Riesling, and finished it off with one of my no bake Oreo cheesecake truffles for dessert (see below post).
The quantities listed for this dish are only estimates. Feel free to alter as needed!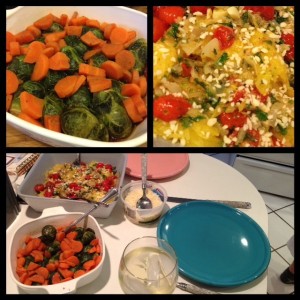 Tomato & Garlic Spaghetti Squash
1/2 cup grape tomatoes, halved
2-3 tbsp extra virgin olive oil
Balsamic Brussels Sprouts and Carrots
1 small bag of fresh or frozen Brussels sprouts
3-4 carrots, cut into coins
2-3 tbsp balsamic vinegar
Pre-heat the oven to 375 degrees. Cut the ends off of the spaghetti squash and 
place on a shallow baking sheet. Bake in the oven for 1 hour. 
Place the Brussels sprouts and coined carrots in a small, deep baking dish. Drizzle with olive oil and toss with the balsamic vinegar. Sprinkle with a little salt and pepper. Place on the oven rack along side the spaghetti squash to cook.
In a small pan, cook the olive oil on low heat and add in the shallots, garlic and grape tomatoes. Cook until the tomatoes soften, but do not let brown. When the squash is ready, carefully remove and cut down the middle. Take out the seeds and any mushy, dark spots and toss down into the disposal. Scoop out all of the "spaghetti-like" insides into a bowl. Pour in the mixture of garlic, shallots, olive oil and grape tomatoes and toss until well combined. Top off with lots of parmesan cheese.