Never miss a bite! Sign up here to receive new recipes and reviews straight to your inbox.
Join the #SundaySupper tastemakers today as we get ready to celebrate Father's Day with Dad's Favorite Recipes! Thanks to Sarah of The Chef Next Door for hosting!
This is not a Philly Cheesesteak. This is not a sandwich made with a good Philadelphia or Atlantic City Italian roll and filled with perfectly chopped beef, crispy grilled onions, and ooey gooey cheese melting all over the place. This is my version, inspired by Dad's favorite thing in the entire world. Yep, you guessed it — the Philly Cheesesteak. You could take my dad, who was born and raised in South Philadelphia, to any restaurant, anywhere, and if there's a cheesesteak on the menu, he has to have it. I'll never forget when we went on a family vacation to Key West, where seafood is the obvious choice when out to eat, and he ordered a cheesesteak. Yes, it was on the menu, but come on — live a little!
It's okay, Dad, I'll forgive you. Although I'm not sure you'll forgive me for totally butchering your Philly Cheesesteak and turning it into a healthier, vegetarian sandwich.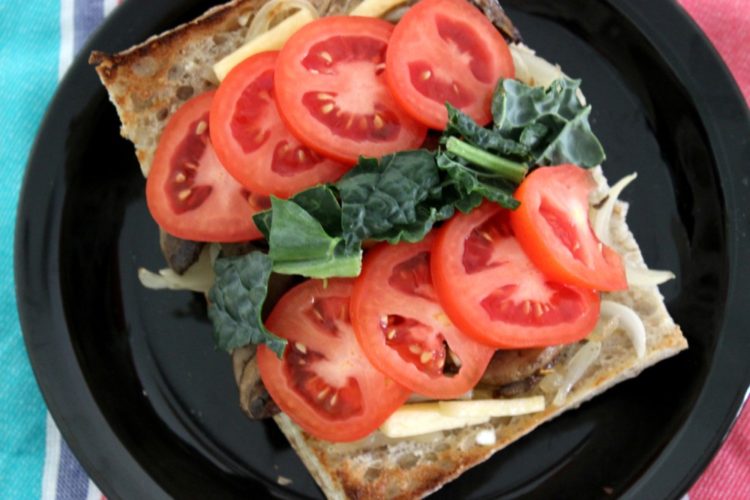 Let's start with the bread I used. Unfortunately, I don't live in the Atlantic City area anymore, so finding a good Italian roll is not the easiest feat. I know there are certain go-to brands for Philly Cheesesteaks, such as Amoroso's, so if you really want to make your own Philly Cheesesteak (or even take my vegetarian version but use the correct bread), make sure you're using an authentic Italian roll from Philly or Atlantic City. I, on the other hand, used a whole grain baguette from Trader Joe's, sliced in half. Because I'm a rebel and I'm not following the Philly Cheesesteak rules! Take that! (Ugh, sorry, Dad.)
Obviously we're not going to be cooking up any steak for this Vegetarian Philly Cheesesteak. Sliced Portobello mushrooms to the rescue! I caramelized my onions instead of grilling them, because well, caramelized onions hold a very special place in my heart, just like my Dad does. He likes swiss cheese on his Philly Cheesesteaks, but said provolone or mozzarella are also good choices. I'm a mozzarella girl, so I used that. Dad also puts lettuce and tomato on his, so I sliced up a tomato and then I used…kale. Yes, I just keep ruining everything, don't I?!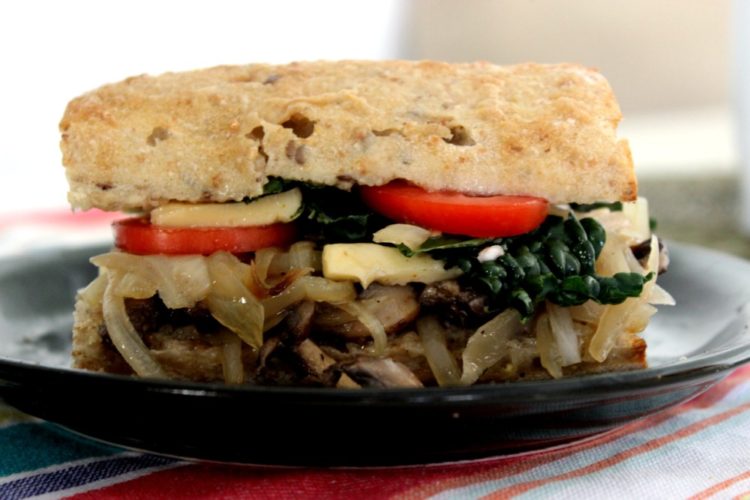 Philly Cheesesteak purists are ready to tear their hair out, but I bet any vegetarians are right there with me! Sauteed mushrooms, caramelized onions, mozzarella cheese, juicy tomatoes and Tuscan kale all piled high on a whole wheat baguette — sounds delicious to me!
Dad, I hope you still love me. (As a side note, his response to this post was a big fat "UGH!")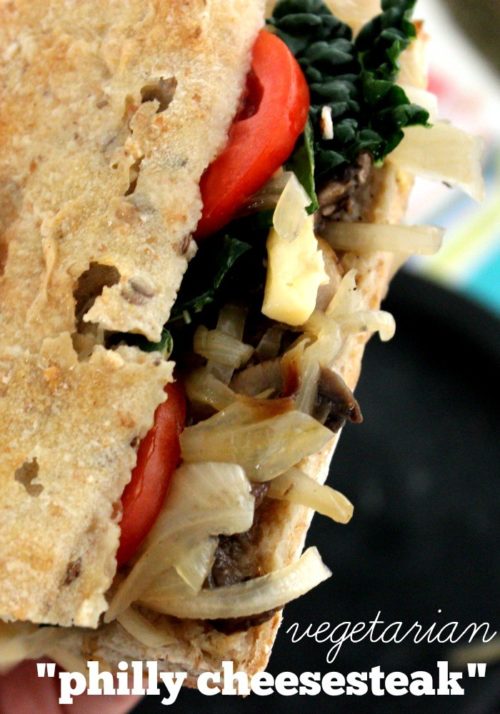 Vegetarian "Philly Cheesesteak"
Author:
Sauteed mushrooms, caramelized onions, mozzarella cheese, juicy tomatoes and Tuscan kale all piled high on a whole grain baguette — this is my special version of my Dad's favorite thing, the Philly Cheesesteak.
Ingredients
olive oil
salt and pepper
1 small onion, julienned
3-4 large cremini mushrooms, sliced
1 6 oz. whole grain baguette, cut in half (I cut off the end too)
1 oz. shredded mozzarella cheese
handful of Tuscan kale
1 roma tomato, sliced into thin rounds
Instructions
To caramelize your onions in a slow cooker, stir julienned onion with about 2 tbsp of olive oil.
Cook, covered, for 4-5 hours. Season with salt and pepper.
To caramelize on the stove top, heat olive oil in a small pan over medium heat and add onions.
Cook, covered and stirring every so often, until the onions start to brown. Since this is a small batch, it shouldn't take too long. Season with salt and pepper.
Heat olive oil in a small pan over medium heat on the stovetop.
Add mushrooms and cook until 3-4 minutes or until they become fragrant.
Season with salt and pepper.
To assemble your sandwich, slice the whole grain baguette in half but not slicing all the way through.
Pile on the cooked onions, followed by the cooked mushrooms.
Top with shredded mozzarella and place under the broiler in your oven for 3-4 minutes or until the cheese has melted. This will also help to toast your bread a little.
Top with sliced tomatoes and kale.
Serve right away.
Here are more Dad-inspired recipes from the #SundaySupper Tastemakers!
Appetizers & Snacks:
Beverage:
Breakfast:
Condiments & Sauces:
Desserts:
Main Dishes:
Side Dishes:
Plus What Dad Really Wants for Father's Day from Sunday Supper Movement
Join the #SundaySupper conversation on twitter on Sunday! We tweet throughout the day and share recipes from all over the world. Our weekly chat starts at 7:00 pm ET. Follow the #SundaySupper hashtag and remember to include it in your tweets to join in the chat. To get more great Sunday Supper Recipes, visit our website or check out our Pinterest board.Would you like to join the Sunday Supper Movement? It's easy. You can sign up by clicking here: Sunday Supper Movement.