Never miss a bite! Sign up here to receive new recipes and reviews straight to your inbox.
Football season has begun!! I admit, I'm not a huge football fan, but I did inherit a love of Philadelphia teams from my South Philly-bred father. And being a food blogger, I also love any excuse to bring people together and feed them! Tailgating and viewing parties are such a huge part of football season, and what's the most important thing at either of these events? Food and drinks of course!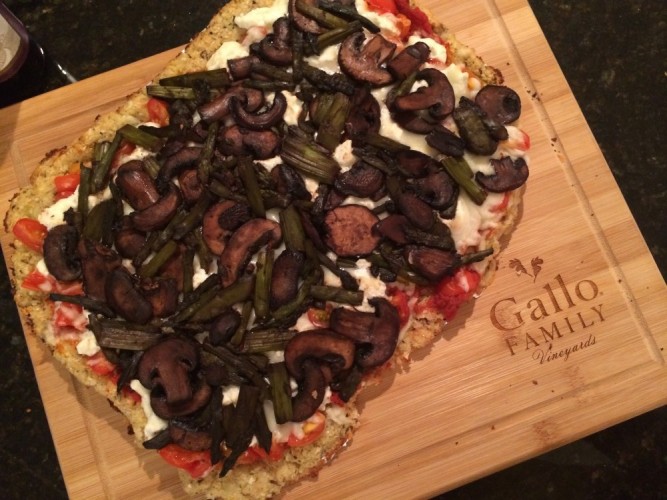 #Sunday Supper is teaming up with Gallo Family Vineyards for some tailgating fun! Gallo is the Official Wine of Football Season™ and we are super excited to be partnering with them to bring you the perfect tailgating recipes to use while cooking and/or drink while eating. I recommend doing both. =)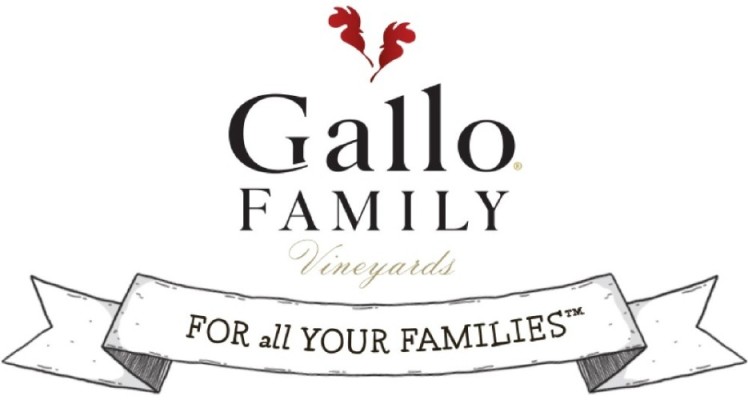 Football food is all about messy, gooey, dripping with sauce, finger lickin' good kind of food. You don't always see the healthiest dishes when you're all surrounding the big screen watching that little brown ball get kicked from one end of the field to the other. Things that come to mind: chicken wings, nachos, sliders, chips and pretzels accompanied by cheesy dips, chili, guacamole, salsa, etc. Oh yeah, and PIZZA. Pizza is probably the number one thing I think of when it comes to football food.
For my tailgating recipe, pizza gets a little bit of a healthy facelift with cauliflower crust! Veggie Pizza with Cauliflower Crust is loaded with fresh tomatoes and mushrooms and asparagus cooked in Gallo Family Merlot and balsamic vinegar. Mushrooms and red wine are an obvious choice. I liked the combination of merlot and balsamic vinegar too.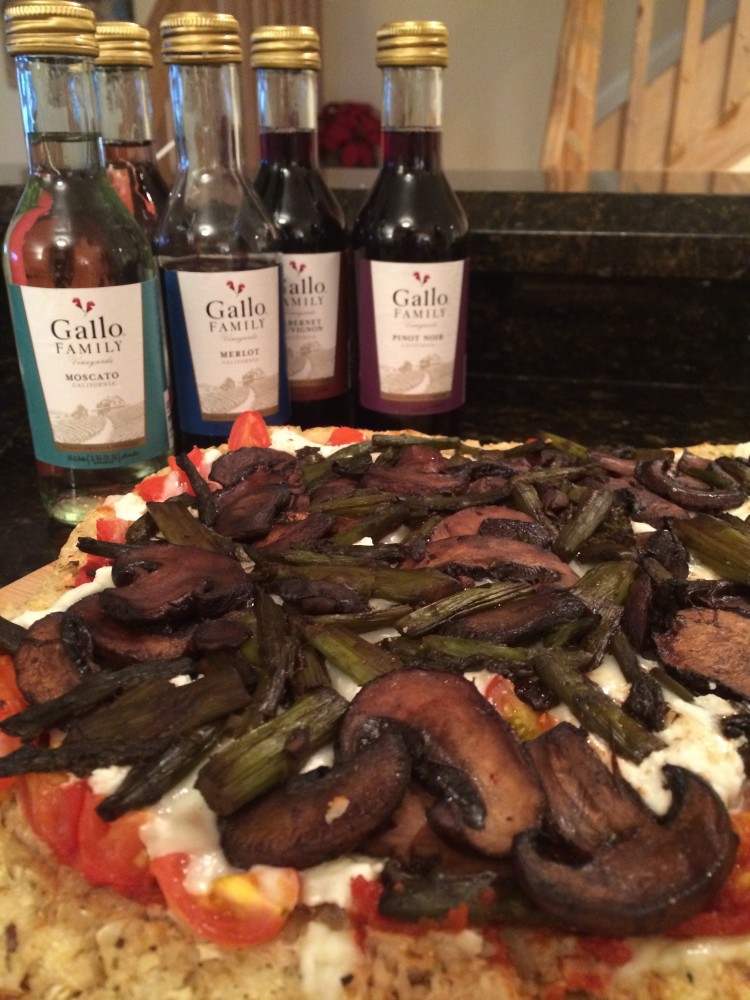 I crumbled on lots of goat cheese for extra creaminess and a little bit of tang, and I just had to sprinkle on some shredded mozzarella because pizza is just not pizza without mozzarella — even when it's trying to be healthy!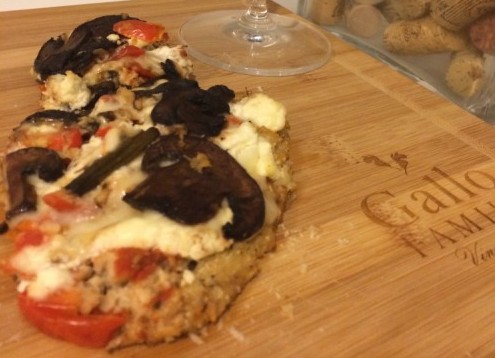 I have been wanting to try this amazing cauliflower pizza crust for months now and am so excited I finally got around to it. Veggie Pizza with Cauliflower Crust is definitely more of an eat-with-fork-and-knife kind of pizza. If you choose to use your hands, go for it, just make sure there are plenty of napkins nearby — and don't even attempt to pick up a big piece because it will probably fall apart. But football food is supposed to be messy right? So maybe this Veggie Pizza with Cauliflower Crust is exactly what you need.
However you choose to eat it is fine — just eat it. That's all I ask. Because it's yummy. And it's pizza. Without all the carbs. Don't you just love me right now?!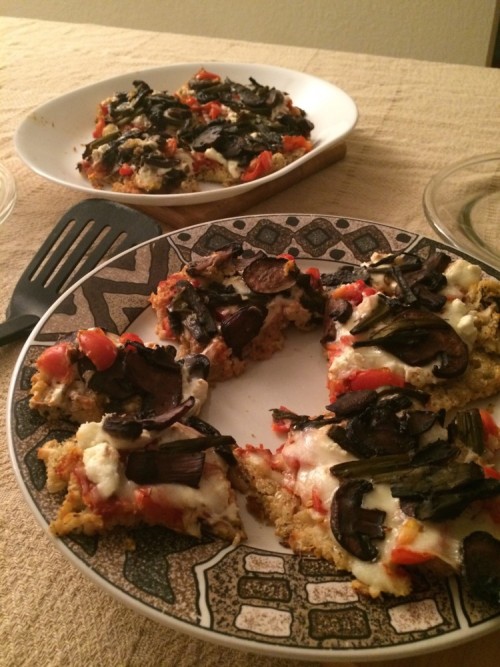 Gallo is here to help with wine pairings for all of our tailgating parties. Sometimes it's hard to figure out what goes with what, so this Wine and BBQ Pairing list is a great resource to have on hand.
For us wine lovers, Gallo Family Vineyards has the perfect size 187mL wine bottles! These mini wine bottles are super cute and the perfect amount to fit into those red solo cups being passed around at your tailgate. No beer for me, thanks, I'll stick to my Gallo wine!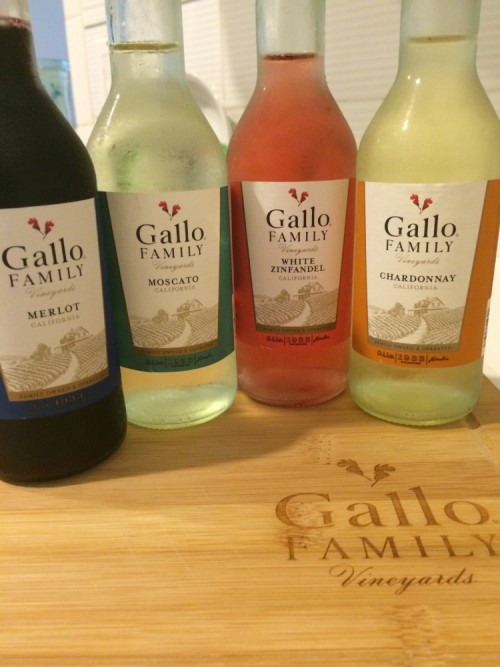 The mini wine bottles can be found at local wine retailers and grocers nationwide and cost $5.99 for a four-pack or $1.49 individually. To find a store near you, use Gallo's store locator. Here's a $1 off coupon for you to use!
Save these little bottles and help Gallo Family Vineyards end senior hunger! For the 5th year, Gallo's Every Cork Counts program invites Americans to send back their corks and capsules to benefit the Meals On Wheels Association of America. Every cork or capsule collected garners $1 for Meals on Wheels. It's easy to make your donation; just visit GalloFamily for more details.
Don't forget to follow GFV on Facebook, Twitter, Instagram, and YouTube too!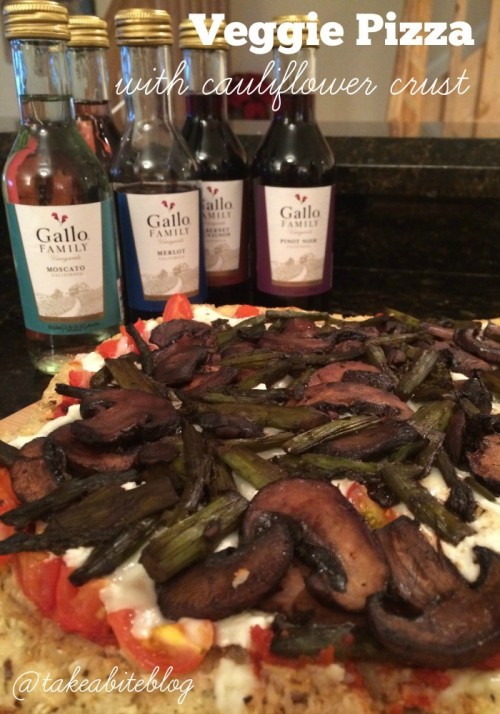 Veggie Pizza with Cauliflower Crust #SundaySupper
Author:
Pizza gets a little bit of a healthy facelift with cauliflower crust! Veggie Pizza with Cauliflower Crust is loaded with fresh tomatoes and mushrooms and asparagus cooked in Gallo Family Merlot and balsamic vinegar.
Ingredients
For the cauliflower crust:
2 12 oz. packages of cauliflower florets
1/2 cup parmesan cheese
1/2 cup mozzarella cheese
1/2 tsp dried basil
1/2 tsp dried oregano
1/2 tsp garlic powder
1/4 tsp red pepper flakes
salt and pepper
1 large egg
For the topping:
1 tbsp olive oil
1 8 oz. package sliced baby bella mushrooms
8-10 asparagus stalks, woody ends removed and cut into 1-inch pieces
1/2 cup Gallo Family Vineyards Merlot
1/4 cup balsamic vinegar
1/2 cup strained tomatoes (or your preferred tomato sauce)
1 8 oz. package grape tomatoes, quartered or sliced in half
4 oz. crumbled goat cheese
1 cup shredded mozzarella cheese
Instructions
Preheat the oven to 450 degrees. Line a baking sheet with parchment paper or a silicone baking mat and set aside.
Place the cauliflower in a food processor and pulse until very crumbly. You should get about 3 cups.
Place in a microwave safe bowl, cover with a paper towel, and cook for 4 minutes.
Pour the cooked cauliflower into a strainer and allow to cool for a few minutes.
Once cooled, put the cauliflower into a clean tea towel and squeeze to drain out all of the water.
Add the cauliflower, cheese, basil, oregano, garlic powder, red pepper flakes, salt and pepper into a bowl.
Add egg and mix well.
Use your hands to form a dough out of the mixture and press down into the prepared baking sheet. Make it round, square, triangle, or even the shape of a football!
Bake for 10 minutes or until the edges become a golden brown.
While your crust is baking, heat oil in a medium sauté pan on medium-high.
Add mushrooms and asparagus and cook until soft, about 5-6 minutes.
Pour in the wine and balsamic vinegar and cook until all of the liquid has been absorbed.
When your crust is ready, remove from oven and top with strained tomatoes or tomato sauce. Add the diced tomatoes on top of that, followed by the shredded mozzarella and crumbled goat cheese.
Finally top with the cooked mushrooms and asparagus and place back into the oven for another 5-7 minutes or until cheese has melted and starts to bubble.
Notes
Cauliflower crust recipe adapted from Tasty Kitchen Blog: http://tastykitchen.com/blog/2013/08/cauliflower-crust-pizza/
Check out all of these tailgating recipes from my Sunday Supper family. Let football season commence!
Join the #SundaySupper conversation on twitter on Sunday! We tweet throughout the day and share recipes from all over the world. Our weekly chat starts at 7:00 pm ET. Follow the #SundaySupper hashtag and remember to include it in your tweets to join in the chat. To get more great Sunday Supper Recipes, visit our website or check out our Pinterest board.
Would you like to join the Sunday Supper Movement? It's easy. You can sign up by clicking here: Sunday Supper Movement
Disclaimer: Compensation was provided by Gallo Family Vineyards via Sunday Supper, LLC. The opinions expressed herein are those of the author, and are not indicative of the opinions or positions of Gallo Family Vineyards.