Brunch Week continues! Are you guys loving all of these recipes or what? Imagine how much fun it would be if we all actually got together and hosted a huge brunch for all of our readers. The food! The drinks! It would be amazing…and our stomachs would be bursting at the seams. It'd be a total "fat pants" kind of day — which is why I'm giving you a very light, healthy recipe today.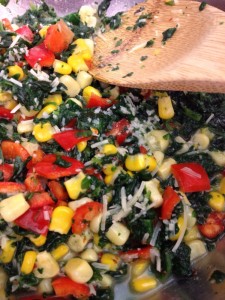 When I go out to brunch, I usually get one of two things: egg-white omelet with spinach and feta or whatever kind of vegetable quiche is on the menu. I'll never pick an omelet over quiche if it's available. Quiche can be a bit on the fattening side though, packed with lots of cheese, and then there's that crust…ohh the crust. Since I know you can't pass up a good quiche, either, here's one that will satisfy your craving and also leave you feeling guilt-free. They're low in fat and made in a muffin tin so you don't have to worry about portion control. You can pop these into the freezer for later use, as well.
Enter the giveaway in the rafflecopter below for a chance to win some great prizes from our Brunch Week sponsors. And don't forget to visit our other Brunch Week recipes for today!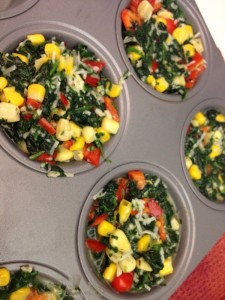 Veggie Quiche Cups
Makes 6-8
1 cup frozen spinach, thawed and drained
1 cup frozen sweet corn, thawed and drained
1/4 cup red bell pepper, chopped
1/4 cup parmesan cheese, shredded
3/4 cup egg whites
1 tsp red pepper flakes
1 tsp garlic powder
1 tsp oregano
salt and pepper

Preheat the oven to 350 degrees and line a muffin tin.

Make sure the frozen vegetables have been completely drained of any excess water. Mix all of the ingredients together in a bowl and stir until well combined. Divide evenly in the muffin tin and bake for 20 minutes.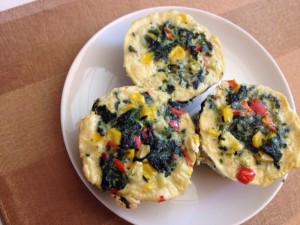 Brunch Recipes with Eggs
Asparagus and Leek Frittata by Rachel Cooks
Baked Ham and Egg Cups by Culinary Adventures with Camilla
Deviled Egg Spread with Home Rolled Crackers by Vanilla Lemonade
Asparagus and Eggs in Mornay Sauce by Noshing With The Nolands
Brunch Recipes with Potatoes
Traditional Home Fries by Sarcastic Cooking
Meat, Poultry and Fish Brunch Recipes
Chicken Pockets by Jane's Adventures in Dinner
Turkey Dill Crepes by Kokocooks
Breads, Grains, Cereals and Pancake-type Yums
Cherry Coconut Granola by Katie's Cucina
Brioche by poet in the pantry by poet in the pantry
Gold Goddess Steel Cut Oats by The Vintage Cook
Quick and Easy Early Morning Parfaits by Cravings of a Lunatic
Caramelized Onion & Bacon Croque Monsieur by The Kitchen Prep
Fruit and Vegetable Brunch Recipes
Warm Salad Three Ways by Cook the Story
Spreads for Brunch
Black & Blue Thyme Jam by Cooking In Stilettos
Brunch Dessert Recipes
Crumb-Top Blueberry Muffins by Love and Confections
Banana Walnut Scone (Gluten Free/Dairy Free) by Around My Family Table
Croissant & Chocolate Bread Pudding by White Lights on Wednesday
Honey Poached Pear "Sundae" by Amanda's Apron
Strawberries and Cream Muffins by The Domestic Mama & The Village Cook