Never miss a bite! Sign up here to receive new recipes and reviews straight to your inbox.
Disclosure: I was invited to dine as a guest of Viva La Playa in exchange for this post. As always, all opinions are 100% my own.
Viva La Playa Brings New Flavor to Lake Worth Beach
Viva La Playa introduces Latin American cuisine, cocktails, and culture to Lake Worth Beach. From the owners of popular Lake Worth restaurant, Benny's on the Beach, this hotspot features authentic and artisanal ingredients and preparations inspired by Executive Chef/Owner Jeremy Hanlon's travels, cooking, and culinary education.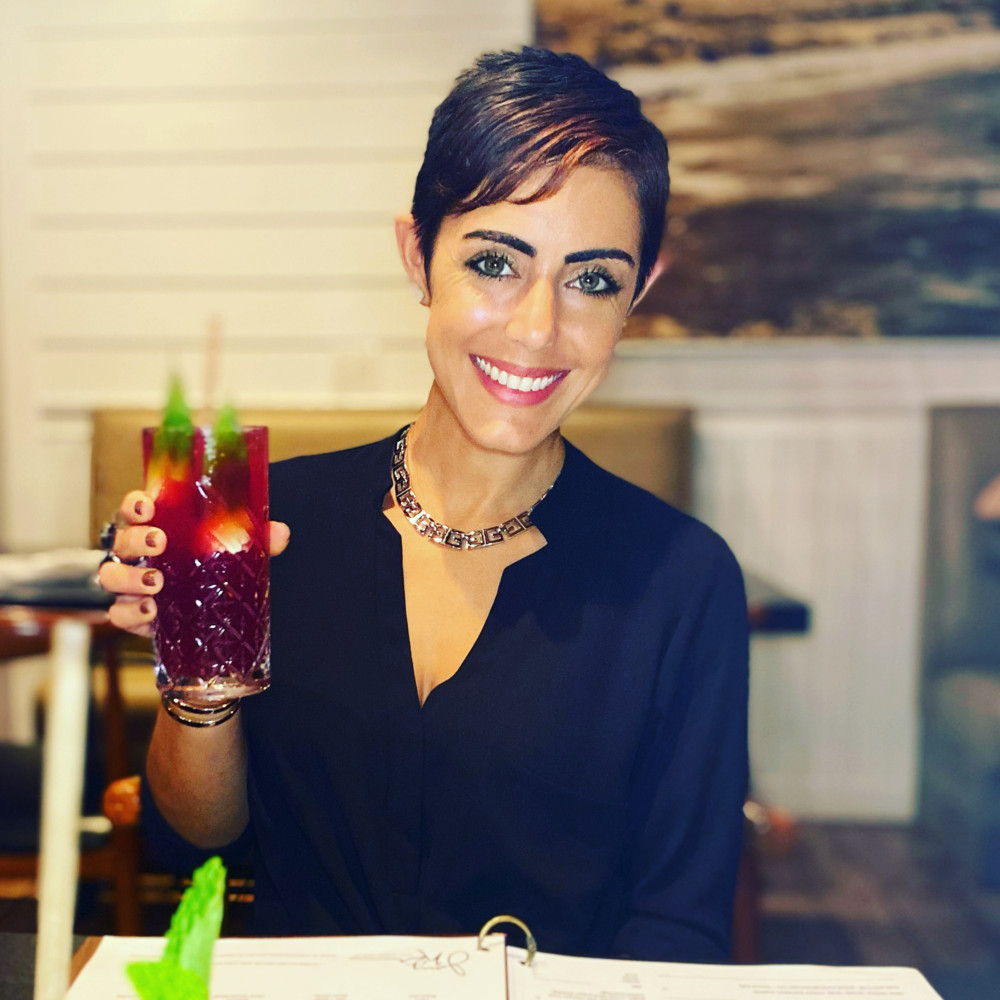 Everyone loves a restaurant with a view, especially if that view is a beautiful beach in Palm Beach County, Florida. Viva La Playa provides that incredible view, along with a vibrant bar scene, unique craft cocktails, and a menu that highlights the Latin American flavors from Mexico, Peru, Colombia, Cuba, and Brazil, just to name a few. Viva La Playa prides itself on its handmade ingredients — the tortillas are made from hand-ground corn, vegetables are prepared fresh for all sauces, and all juices are pressed by hand.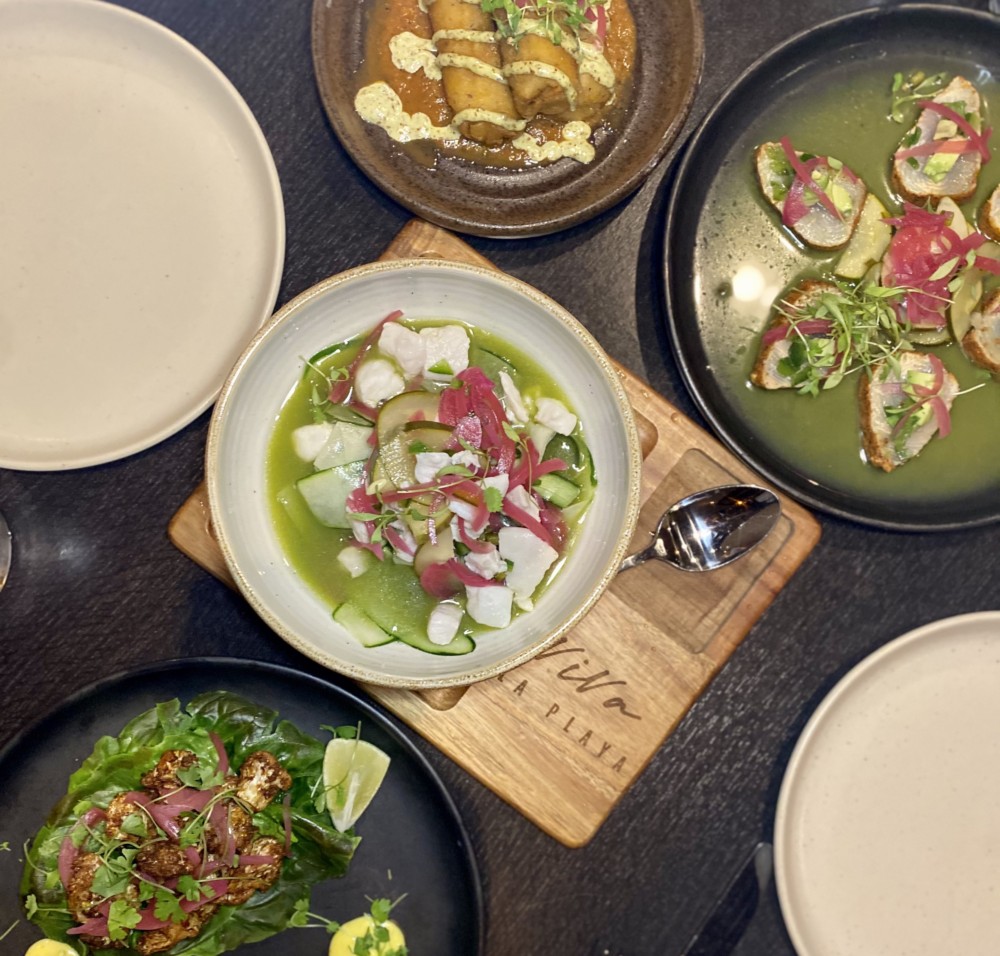 Not only are the ingredients impressive, but the service is as well. Our server was super friendly, fun, and able to figure out how to make everything work for me and my dietary restrictions. Even on a busy, bustling Friday night, he was attentive and never left us waiting.
First Things First…
We kicked off the evening at Viva La Playa with a cocktail, of course. I had the Diabla, a smokey concoction made with mezcal, chambord, beet, cassis, and ginger beer. Roger went with the Latin favorite, a Caipirinha made with Leblon cachaça, coconut rum, and coconut water. The cocktail menu is not to be ignored. Another interesting combination is the Molé Manhattan, made with bourbon, house-made molé sherry, and chocolate bitters, garnished with a chicharrón (pork rind).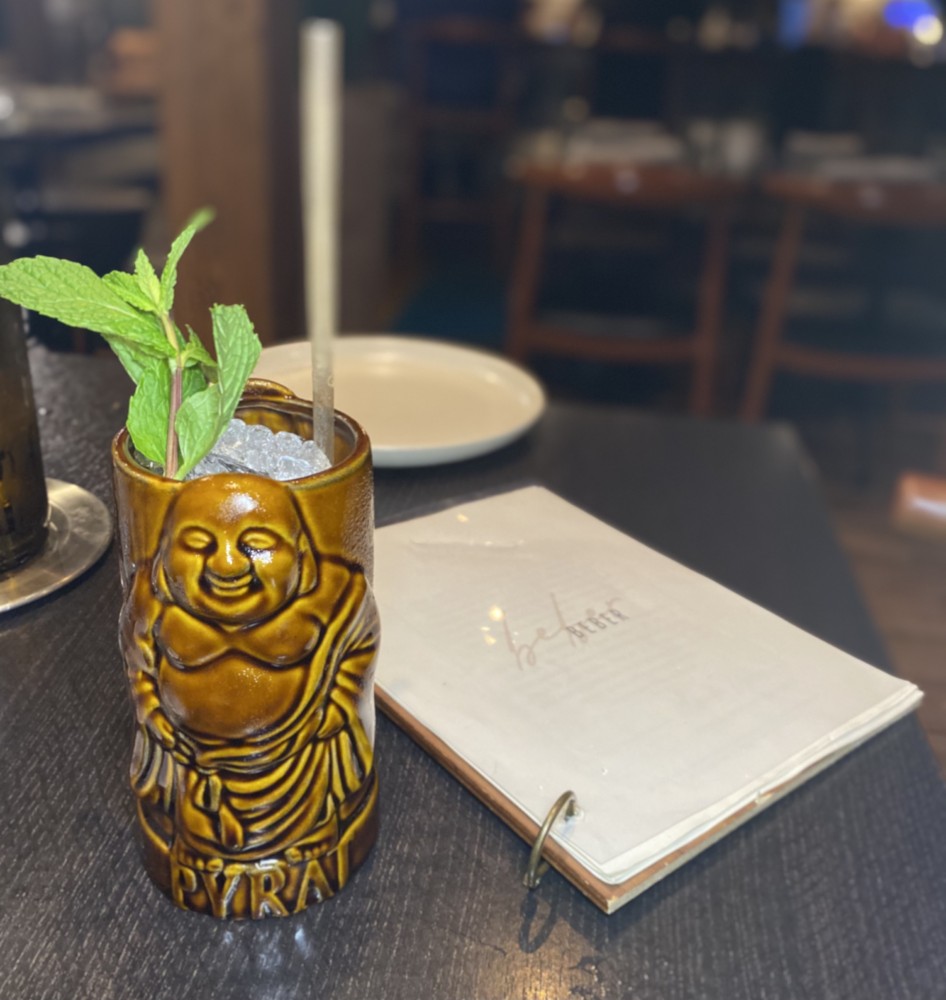 I highly, highly recommend starting your dining experience at Viva La Playa with the ceviche. It's made with halibut and wahoo, both very light and refreshing white fish, jalapeño, cucumber, jicama, red onion, choclo (a Peruvian corn, which I asked to omit) and served with plantain chips. The tiradito is another must-have. It's spice-crusted wahoo in a tomatillo juice-based sauce with avocado, jalapeño and shallots.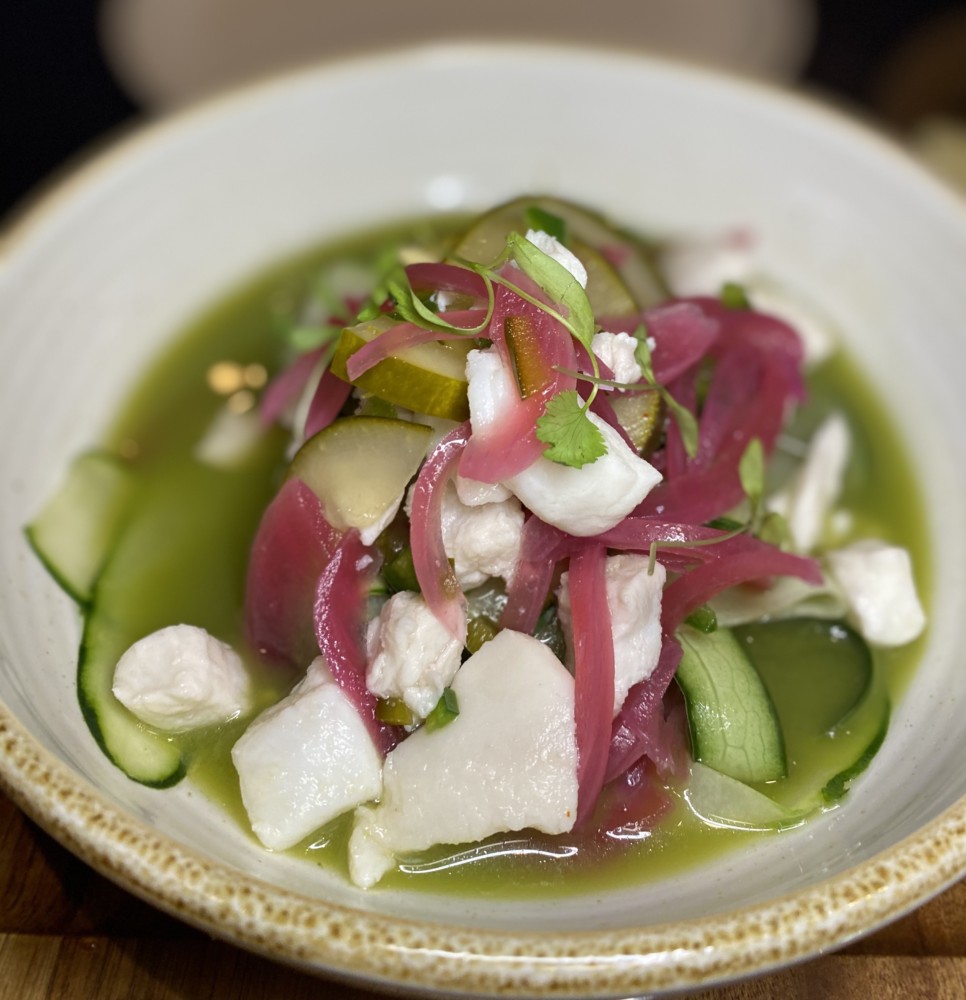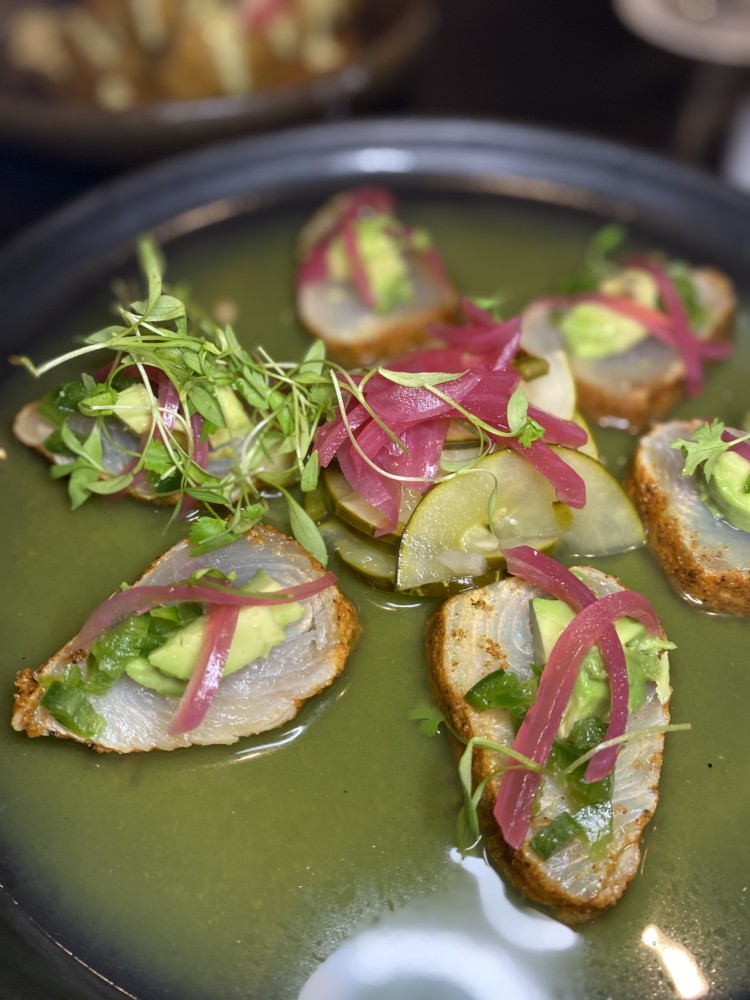 Roger also had the oxtail taquito, which consists of crispy masa, caramelized onion, braised red wine, salsa Americana, and crema. Although I couldn't taste this dish, it sure did look beautiful and he assured me it was a winner.
So far, so good. Little did we know, dinner at Viva La Playa was about to get MUCH better.
The Main Event
For our entrées, we chose the snapper and the churrasco. I honestly can't pick which one I liked better because they both were so good. Both were filled with plenty of flavor, color, and texture. Overall, I found them both to be very well balanced. The snapper was cooked perfectly, dusted with coriander and served over salsa verde with pickled cauliflower, baby carrots, artichokes, lime, and crispy capers. The unaltered dish also includes a brown butter sauce, but that was easy to omit. Here's a ordering tip for those with allergies/restrictions: always tell your server everything you are allergic to, or can't have, at the very beginning of the meal. Ask them to write it down, so they can check the list against everything you order.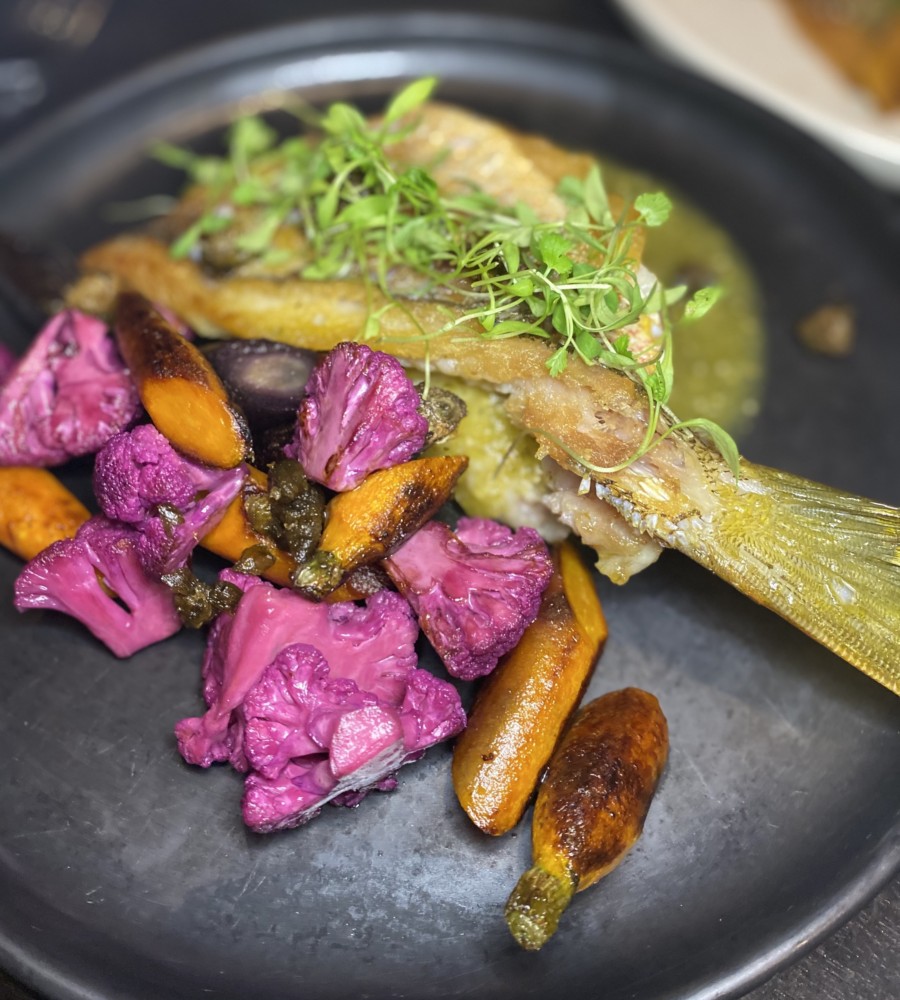 Churrasco is a very traditional Latin American dish — and it might just be my favorite one. It's typically a simple preparation of grilled skirt steak served with a chimichurri sauce. Viva La Playa puts their spin on it, serving it with an ancho-tomato butter, crispy smashed potatoes, cilantro, mushroom, plantain crips, and beef jus. Although they left off the butter for my dish, it was still an absolute masterpiece. The steak was on point, and we especially loved the potatoes! Crispy on the outside, soft on the inside, and a perfect complement to the tender, juicy steak.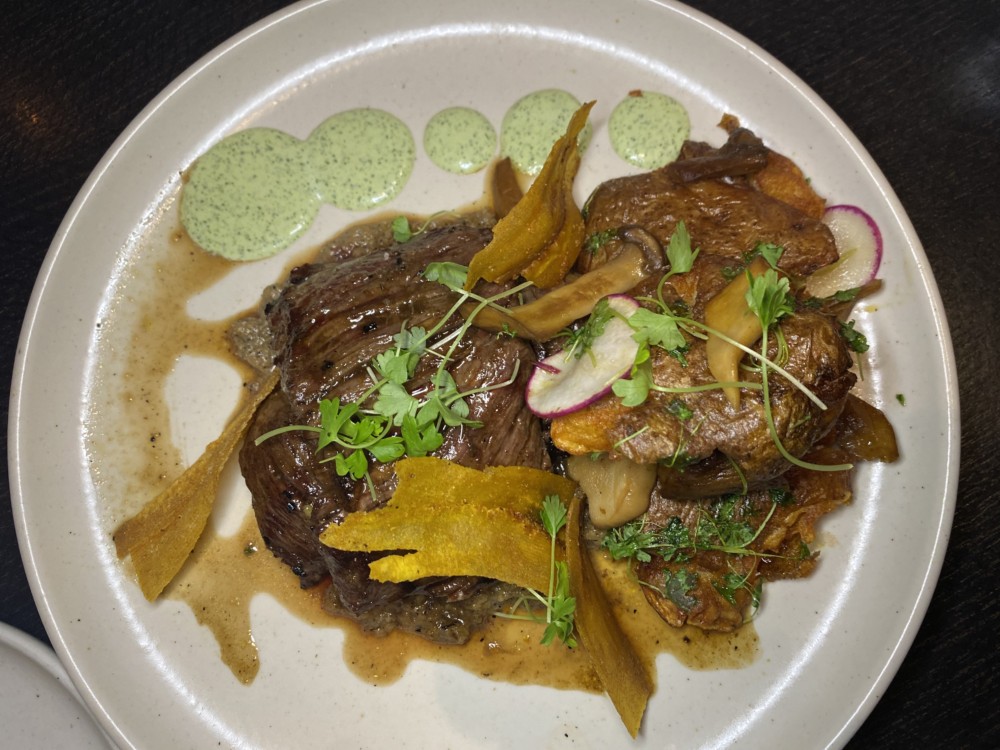 Reserve Your Table Now at Viva La Playa
Roger and I thoroughly enjoyed our experience at Viva La Playa. We are big fans of Benny's on the Beach, and are excited to now have two delicious beach-front locations to visit at Lake Worth Beach.
Viva La Playa is located at 10 South Ocean Boulevard in Lake Worth. The restaurant is open daily for lunch and dinner from 11am-11pm, and brunch is served on Saturday and Sunday from 10am-2pm.