Never miss a bite! Sign up here to receive new recipes and reviews straight to your inbox.
Disclosure: I was invited to dine as a guest of Warike Peruvian Bistro in West Palm Beach and received a complimentary meal in exchange for this post. As always, all opinions are 100% my own.
If what you want is authentic Peruvian cuisine from an authentic Peruvian family, than Warike Peruvian Bistro is the place to go. This hidden gem, located in Boca Raton, is family-owned-and-operated, with Chef/Owner Roxana Benvenuto heading the kitchen, using recipes that have been passed down through her family for generations, and her son, Carlo, handling the front of the house, making sure all of his guests are well taken care of.
Warike translates to "Hidden Stew" in the Quechua language spoken by the Incas, the ancient civilization that built Machu Picchu. This slang term is used by locals to describe a hole-in-the-wall type of place with amazing food.
This is exactly what Warike Peruvian Bistro is.
The restaurant is small in size, but big in passion and love for the Peruvian culture and cuisine. I could feel the love as I was welcomed with open arms during a recent wine pairing dinner, hosted by local food tour company, Craft Food Tours. The theme of the evening was Summer in Peru and the menu featured an assortment of Peruvian classics paired with a glass of wine from Argentina, New Zealand and Spain.
We started off with a mixed tapas sampler of mahi ceviche, crispy calamari and chicken causa, paired with a rosé from Mendoza, Argentina. Ceviche may be seen on many different restaurant menus, but there is something very unique about the proper Peruvian preparation. It's simple yet bursting with flavor, and it doesn't need very many ingredients to make the dish shine. The mahi was marinated in fresh lime juice, aji limo (a Peruvian chilli pepper), cilantro and onions, and served with roasted corn and camote (sweet potato). It was the perfect, refreshing start to our meal — and I cannot wait to go back for the full size dish!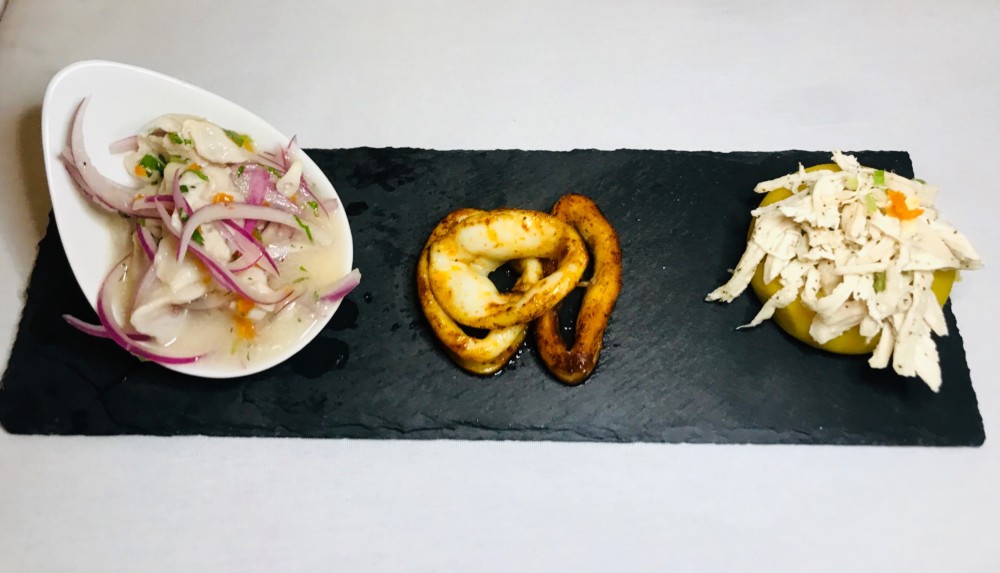 Since everything is made to order and made from scratch, Chef Roxana is able to accommodate allergies or dietary restrictions with no problem. For my sampler platter, she nixed the "crispy" calamari, and simply sautéed it — which, honestly, I like a lot more anyway.
She also was able to make the causa Shaina-friendly as well! Causa is a dish made of creamy mashed potatoes (dairy-free) stuffed with chicken, tuna, shrimp, etc. Normally the protein is mixed with mayonnaise, but Chef Roxana was able to make mine without and just seasoned it instead.
It means the world to me when a chef goes above and beyond to make sure that I can still enjoy a dish just as much as the other diners, despite my allergies. Chef Roxana welcomes the opportunity to challenge herself to create something new for her guests — you'll see what I mean when we get to dessert!
In between the appetizers and entrée, we had a taste of the Warike Salad dressed in a light mayo-aji amarillo viniagrette, pared with sauvignon blanc from New Zealand.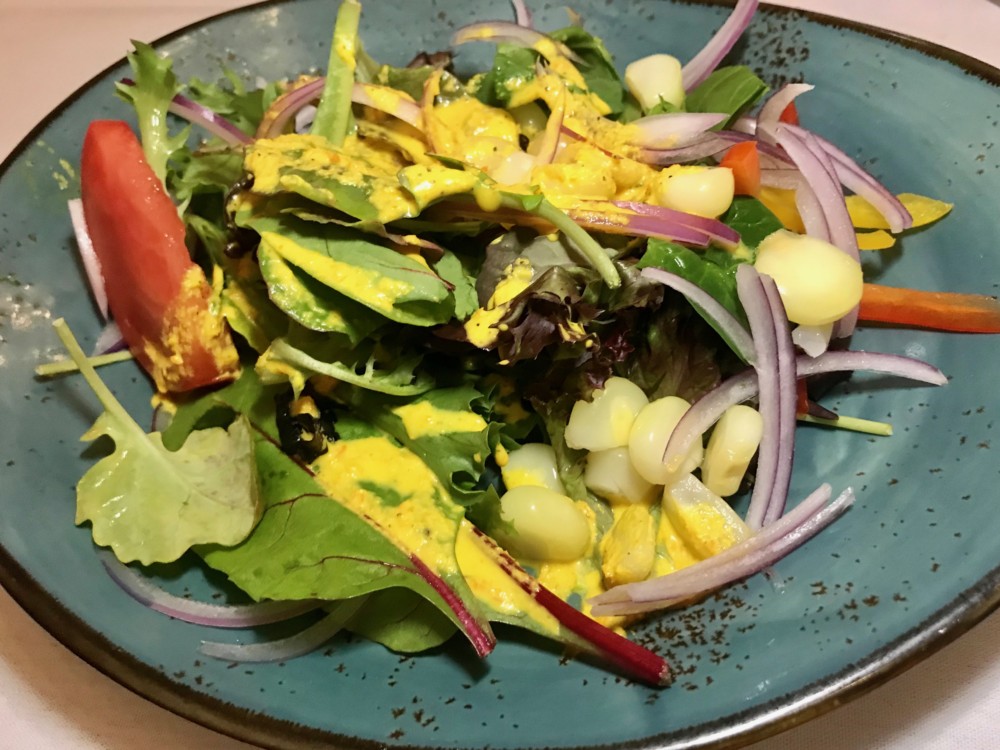 For the main course, we were able to choose between two entrées — Lomo Saltado, a popular wok-stir-fry dish made with beef tenderloin, tomatoes, onion, aji amarillo and soy sauce, or Pescado Warike, pan-seared mahi, scallops, shrimp and mussels, sautéed in Peruvian peppers, tomatoes, Peruvian beer (you can sub wine if gluten-free) and red bell pepper sauce. Both dishes were served with white rice, the seafood was also served with yucca and a glass of cava reserva from Spain, and the beef with steak-cut fries, and a glass of malbec from Mendoza, Argentina.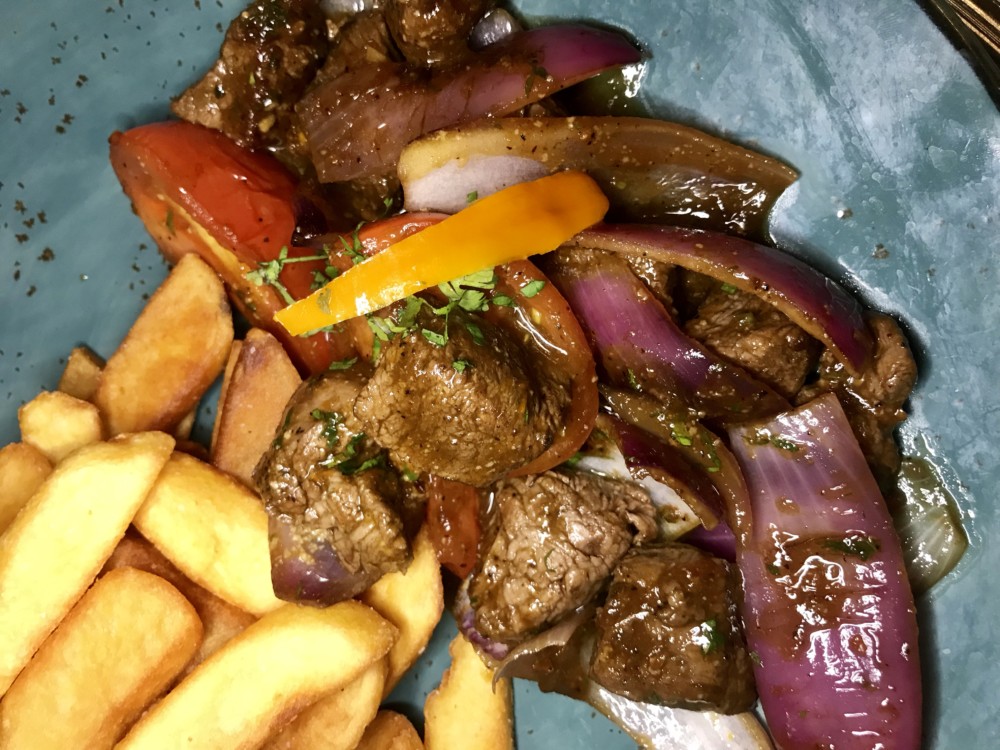 This is just a taste of what Warike offers on their menu. It has plenty of variety, including a kids menu. There are even vegan options as well.
Make sure to save room for dessert — even if you do have allergies like me. Chef Roxana was excited to make something completely off-book for me, and what she came up with was perfect. It was almost breakfast-like, but sweet enough to pass as dessert, using lots of cinnamon and nutmeg for spice, almond milk for creaminess, quinoa for texture, and topped off with sliced bananas. Yes, it was very much like rice pudding — but so much better.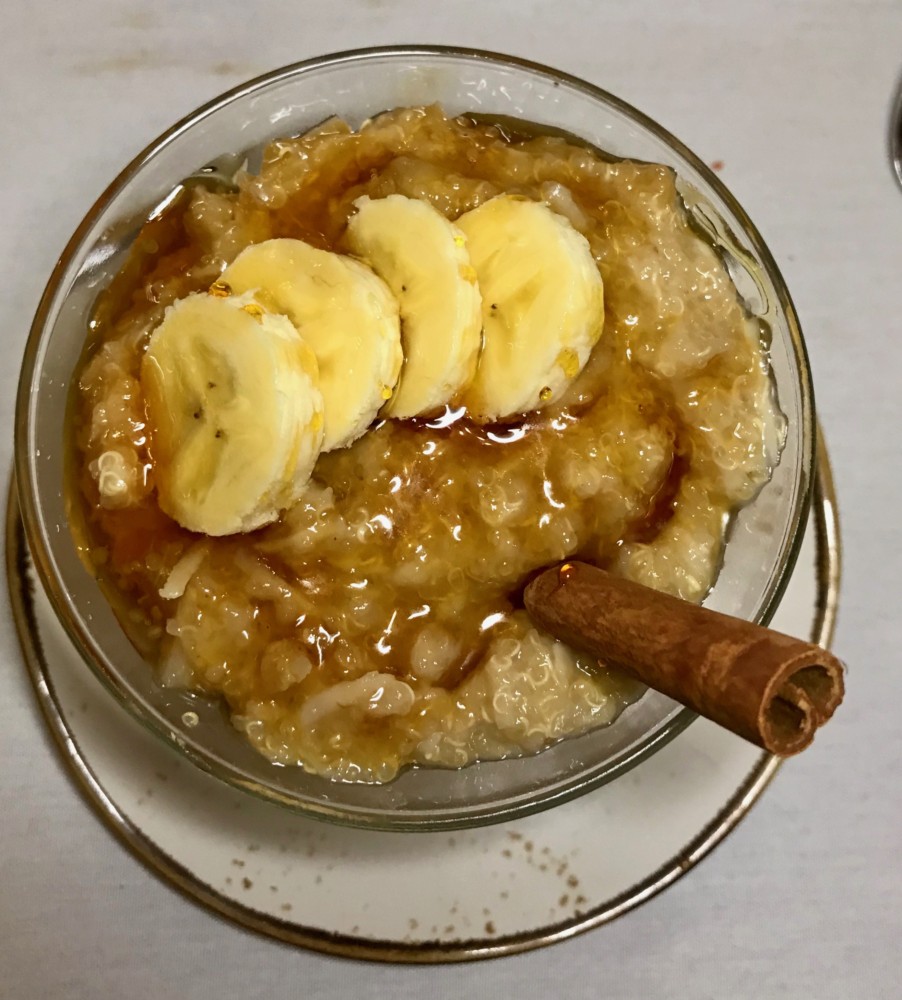 The rest of the group was treated to a Peruvian staple, Crocante de Lúcuma. This is a Peruvian-style cheesecake made with Lúcuma, which is a native exotic fruit, and topped with chocolate. The dessert wine pairing was a ruby port.
You'll feel like family the moment you walk into Warike Peruvian Bistro, and I highly suggest you make it a point to walk in there very soon.
Warike Peruvian Bistro is located at  2399 North Federal Highway, Suite B in Boca Raton. The restaurant is open on Monday from 11:30am-3pm, Tuesday through Thursday from 11:30am-9pm, Friday from 11:30am-10pm, Saturday from 12-10pm, and Sunday from 12-9pm.