Never miss a bite! Sign up here to receive new recipes and reviews straight to your inbox.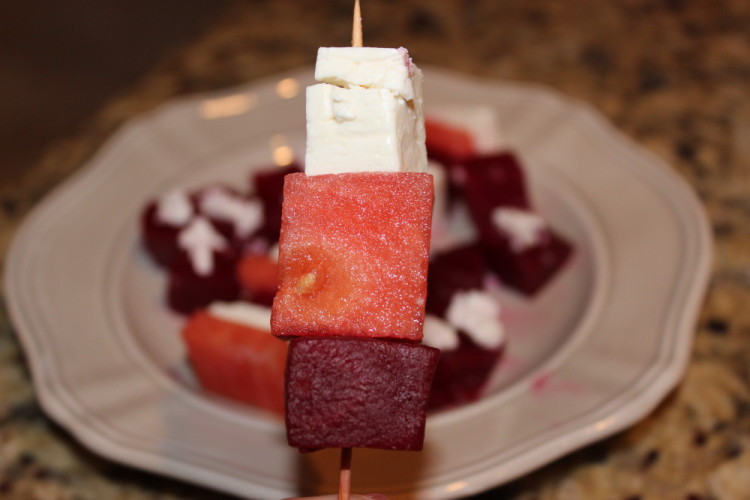 One food I must have in my fridge at all times during the summer is watermelon. When in season, watermelon is the sweet, juiciest, most refreshing fruit ever and I crave it all the time when the temperatures are soaring. Heading to the beach? There's a container of sliced watermelon in my bag. Pool time? I've got a plate of fresh watermelon coming outside with me. Happy Hour? You can bet I'm ordering the first cocktail I see that uses watermelon liqueur or some kind of house-made watermelon syrup or juice.
You've already seen proof of my crazy watermelon obsession when I told you about my trip to the Epicurean Hotel in Tampa. I ordered the watermelon pisco sour at the bar, and our salad had watermelon in it too.
Sorry if I've got you all watermeloned-out, but please — just humor me, because I have a super awesome, so simple it doesn't even need a written out recipe, oh-my-god delicious appetizer for you. Today is all about Red, White and Blue foods for #SundaySupper. We like to have fun with the holiday themes, so in celebration of Memorial Day (tomorrow), we're going patriotic with our recipes! Thanks so much to today's host, DB aka Foodie Stuntman of Crazy Foodie Stunts.
These Watermelon, Beet and Feta appetziers are technically red, white and purple, but I think my #SundaySupper crew will let me slide and count the beets as the blue component of my dish.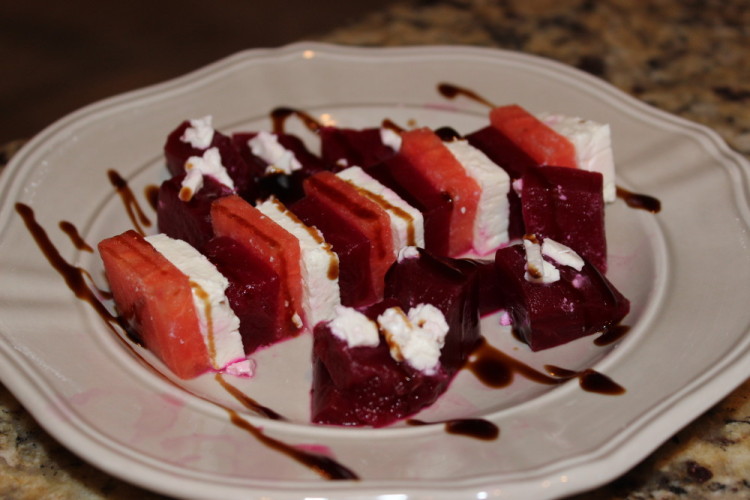 There are no measurement requirements — just slice up as much watermelon, beets and feta as you think you'll need for your guests. The hardest part is getting the pieces to match in size. You'll want to make sure you get a block of feta cheese — NOT the crumbled kind in a container. Also, see if you can find already-cut watermelon. They're usually in a rectangle or square already, which makes it that much easier to slice the same size as your feta. The beets can be tricky since, well, they are definitely not square. I bought a can of quartered beets and just used those, making little slices here and there.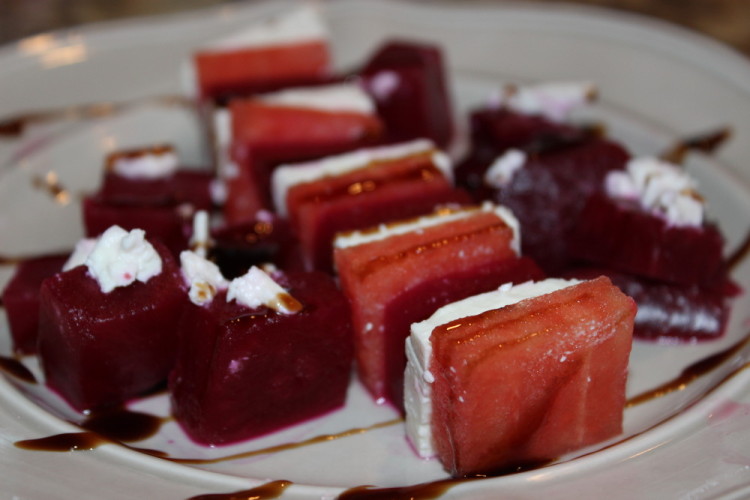 In the end, it really doesn't matter how you put this Watermelon, Beet and Feta appetizer together. All that matters is that all three of these ingredients make it onto one plate together. Oh, and don't forget the balsamic glaze. That's the most important part. Use store-bought or make your own if you so choose — just don't leave it out. Drizzle balsamic glaze over top to bring it all together into one of the tastiest, easiest, and prettiest appetizers you will ever make.
And it's red, white and purple-ish blue, so it's 100% appropriate for tomorrow's Memorial Day festivities. In fact, I think I'll go whip up a platter right now.
Watermelon, Feta and Beet Appetizer
Author:
Whip up this super easy Watermelon, Feta and Beet Appetizer all summer long! It's savory, sweet and refreshing — all in one bite!
Ingredients
Watermelon, sliced into small 1/2-inch thick squares or rectangles
Feta cheese (the kind that comes as a block, not crumbled in a container)
Canned quartered beets, cut to mimic the size of the watermelon slices
Balsamic Glaze
Instructions
Arrange the watermelon, feta and beets one after the other on a plate, making a pattern.
Drizzle with balsamic glaze.
Serve chilled.
Happy Memorial Day! Let's see what the rest of our #SundaySupper bloggers have for you today.
Food Using One Color
Red Food
White Food
Blue Food
Food Using Two Colors
Red and White Food
Blue and White Food
Red, White and Blue Food
5 Tips for Potlucks by Sunday Supper Movement
Join the #SundaySupper conversation on twitter on Sunday! We tweet throughout the day and share recipes from all over the world. Our weekly chat starts at 7:00 pm ET. Follow the #SundaySupper hashtag and remember to include it in your tweets to join in the chat. To get more great Sunday Supper Recipes, visit our website or check out our Pinterest board.
Would you like to join the Sunday Supper Movement? It's easy. You can sign up by clicking here: Sunday Supper Movement.