Never miss a bite! Sign up here to receive new recipes and reviews straight to your inbox.
Disclosure: I was invited to dine as a guest of the restaurant. No monetary compensation has been received for this post. As always, all opinions are 100% my own.
That adorable, historic home-turned-restaurant located on SE 6th Avenue in Delray Beach has re-opened, this time with new ownership and a new executive chef with a clear vision to bring a little something different to the Avenue. Corner Porch is just what Downtown Delray needed.
Owner Mahendra Mahabir and his wife are bringing new life to this quaint, Victorian-style home, while keeping true to its roots. It's been here since 1907, and the floors, walls and window treatments all definitely show its age. The building has so much character and it was a smart decision to keep these iconic features intact. Inside you'll find a small bar to your right with limited seating, and a small dining area to your left. Stairs in the center lead you up to another room that will soon become a lounge area, perfect for sipping on a happy hour cocktail with friends, hosting a private party or event, or even a business lunch. But the real charm of Corner Porch is outside on the lawn where you'll find picnic-style tables and booths. Since opening, restaurant management says that just about everyone has requested a table outside. This is where you want to be!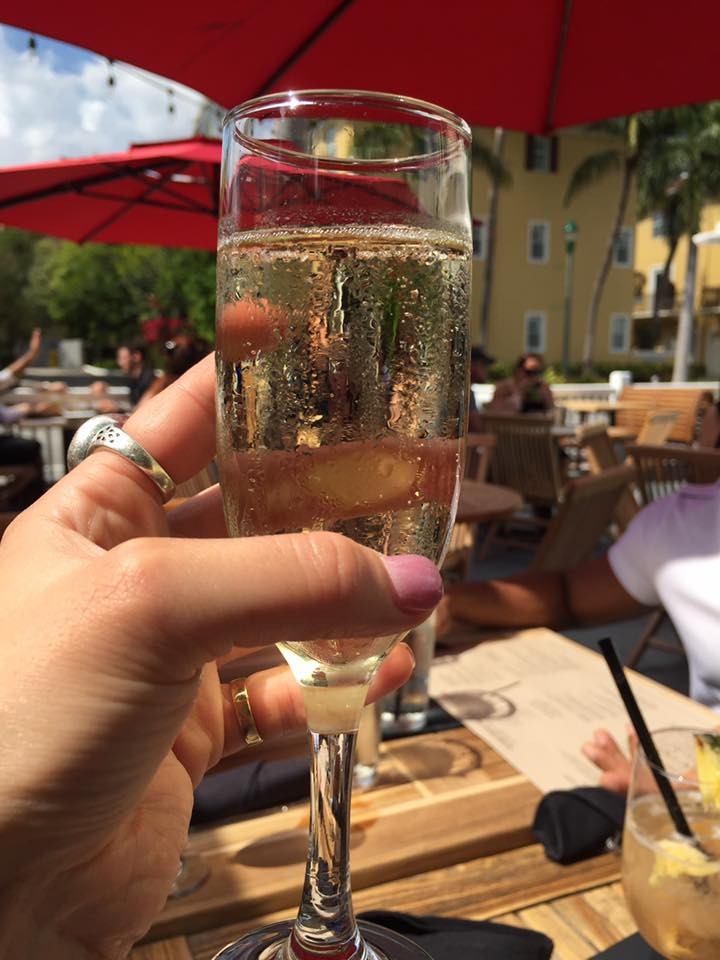 Executive Chef Addam Actis is excited to bring his expertise to Corner Porch. With a background in Italian cooking coupled with his South Florida/Caribbean training, he is proud to serve guests a modern twist on familiar favorites. Corner Porch serves small plates and craft cocktails in a fun atmosphere. They also strive to keep things on the healthier side. Mahabir is part of the American Heart Association and therefore made it a point not to use oil when cooking nor have a fryer in the kitchen. He believes that the style of small plates is inherently healthy anyway, as it promotes sharing and portion control.
Corner Porch opened on February 1st, but they officially celebrated their Grand Opening and launch of the new Sunday Brunch last weekend. A group of friends and I had the chance to join in on the celebration and got a taste of just about the entire menu…
A salad sampler came out first, featuring their kale chopped with corn, red onion, celery, shaved Brussels sprouts, beets, heirloom tomatoes, broccoli, cucumber, and pecorino in a citrus-coconut milk emulsion; and the shaved Brussels sprouts Caesar with pecorino, white anchovy and English muffin croutons (bacon is also normally included). While both salads were bright with flavor and super refreshing on that hot Sunday afternoon, my favorite was the Brussels Caesar — minus the anchovy. Sorry, but I don't think there's anything anyone could do to get me to actually eat that salty little fish. The salad itself, however, was simple and delicious and a perfect start to our meal.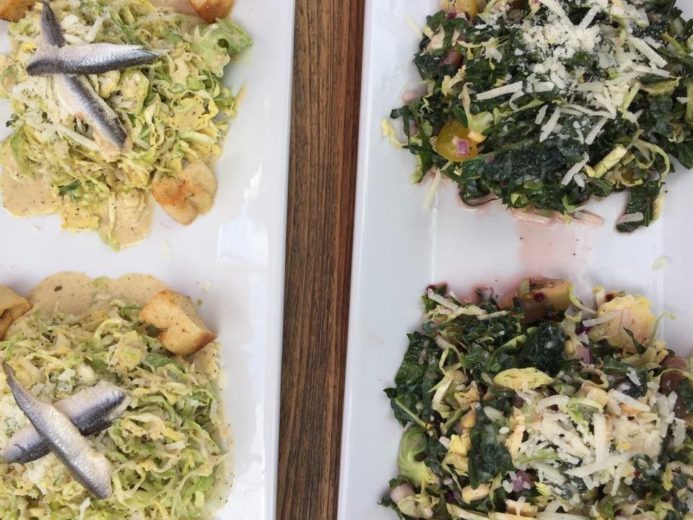 Plate after plate of deliciousness was to follow. Beet carpaccio with lemon oil, capers, fine herbs, beet yogurt and cracked pepper; local snapper ceviche with citrus-coconut milk marinade, fresno chili, red onion, cilantro, sweet potato, celery, mango and plantain chips; and Chef's unique take on guacamole: brocco-mole with lime, chili oil, jalapeño, cilantro and scallion, served with toasted pita chips. All three of these dishes, while small, are still good for two or three people to share. But, let's be honest — everything is so good here, you're going to want to order more than one.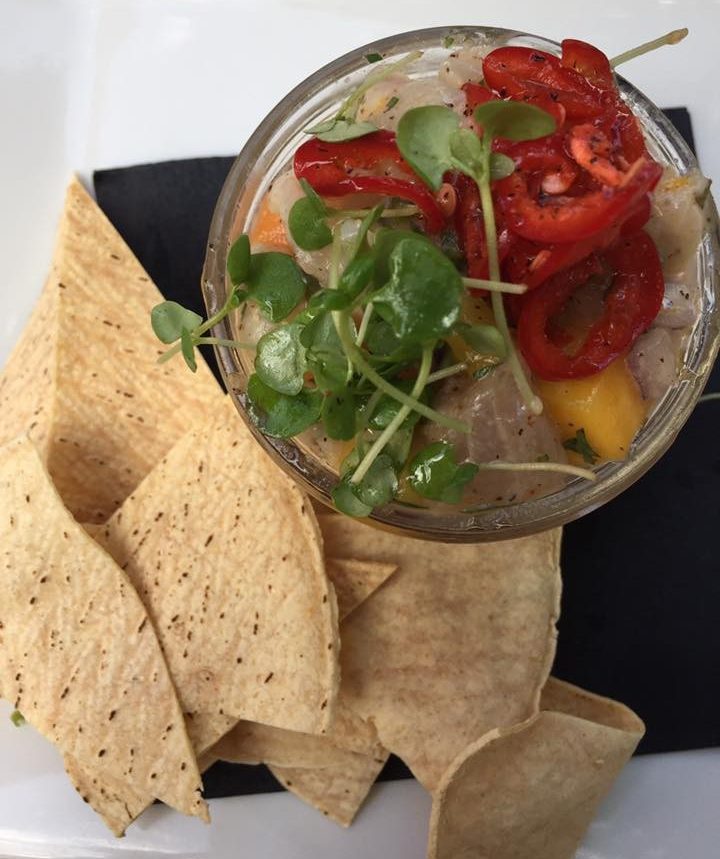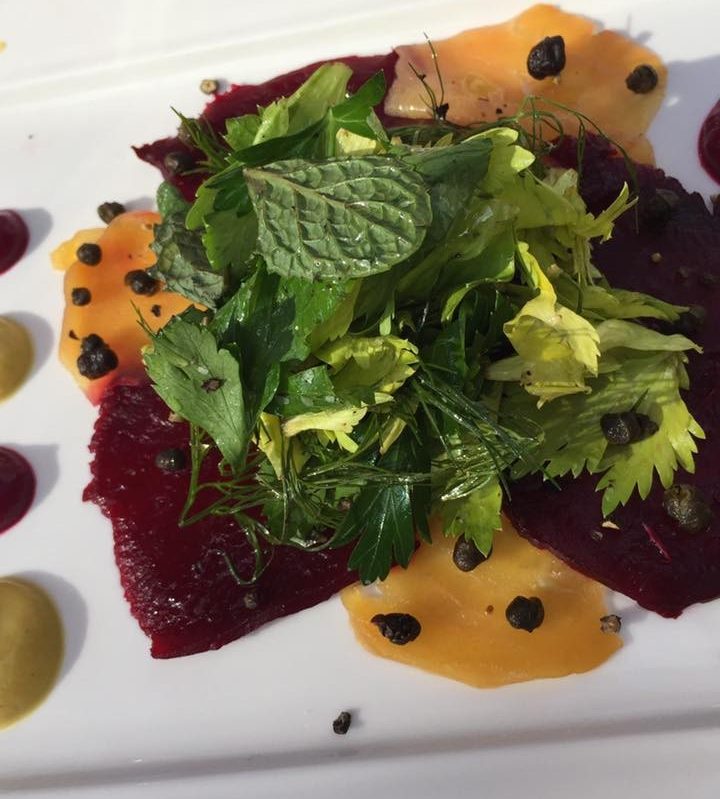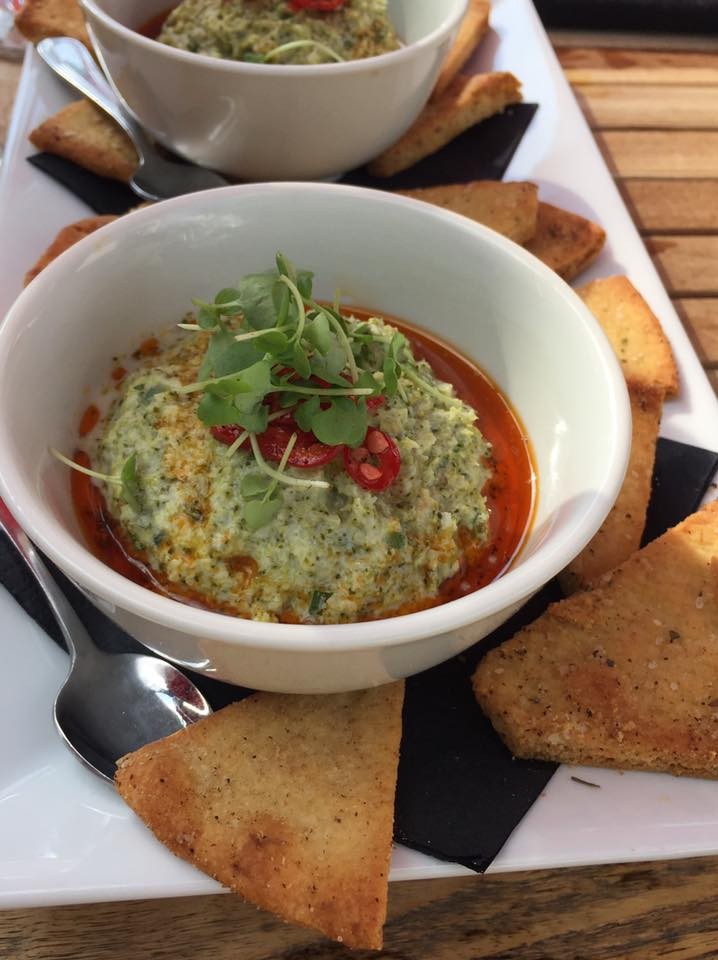 Next up, a long platter lined with adobo fish tacos (chicken is available as well) was brought to our table. While a regular order is only one taco, this was enough for each of us to get our own. A crisp corn tortilla is filled with pickled onion, micro cilantro, brocco-mole, roasted corn salsa and queso fresco — I absolutely loved this. I prefer corn tortillas over flour, and the adobo seasoning was pronounced enough without overpowering any of the other components.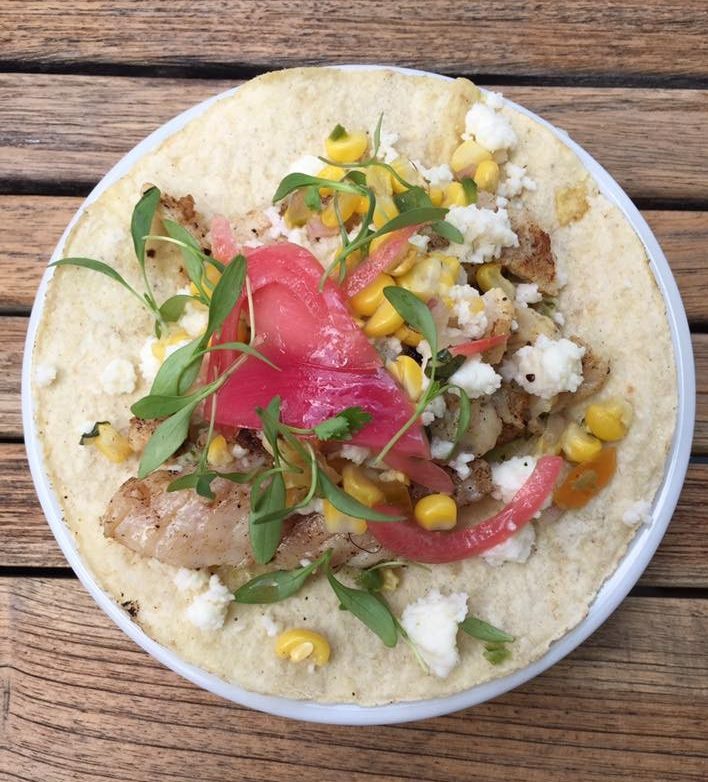 The flatbreads at Corner Porch are so thin and crispy that they aren't even called flatbreads; they're just simply called flats. The others were eyeing the brisket flat with caramelized onion, roasted corn, aged cheddar, potato creme, crispy Brussels leaves and horseradish, and we also got to try the caprese with house-made mozzarella, marinated tomato, pesto, baby arugula, sea salt and cracked pepper. It seems super simple, but sometimes the simplest things are the most impressive. That's what Chef Addam is striving for — giving that oomph to seemingly simple dishes.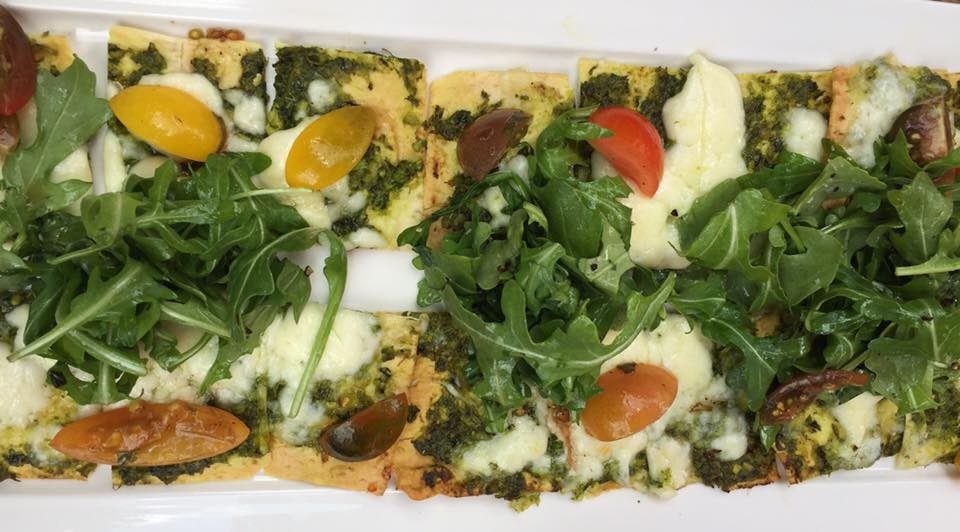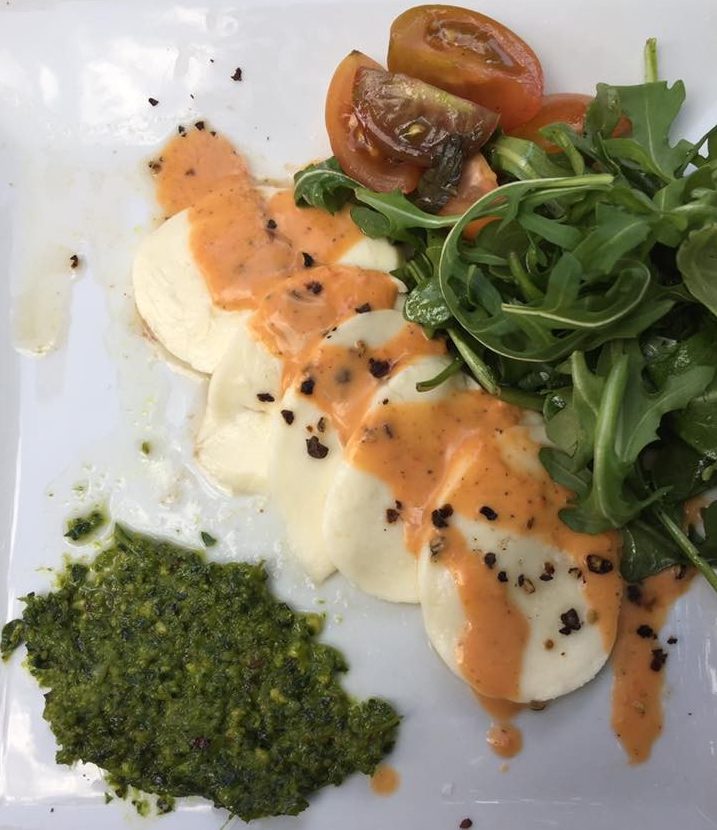 He definitely has succeeded, not only with that flatbread but with the house-made mozzarella salad as well. With pistachio-basil pesto, baby arugula, sea salt, heirloom tomato vinaigrette and cracked pepper, it was a deliciously satisfying plate.
For their brunch celebration, the regular a la carte menu was available, along with a few choice brunch specials including chicken and waffles eggs Benedict, an eggs & cheese BLT, Nutella french toast, root beer short rib hash and a Cap'n Crunch berry parfait. While I didn't try any of these, you can bet the eggs Benedict and BLT made an appearance in front of the others in my party — for no more than 5 seconds, as that's about all the time it took for them to wolf each dish down.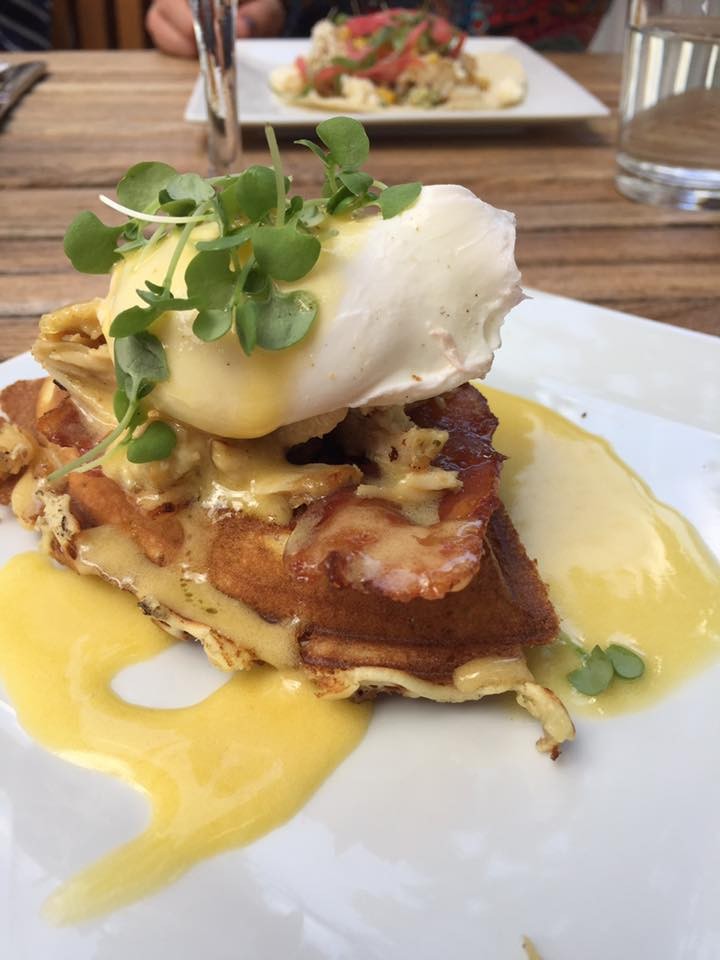 Corner Porch is a breath of fresh air in Downtown Delray and I'm excited to see what else they have up their sleeves. For now, visit them and enjoy Happy Hour Tuesday through Saturday from 4-6pm. Along with a separate menu of appetizers, drink specials include $2 off all beers, $5 house wine and call drinks, and $8 signature cocktails. On Wednesdays, enjoy 20% off bottles of wine starting at 6pm, and if you are "In The Biz," you'll receive happy hour pricing from 4pm to close.
Corner Porch is located at 85 SE 6th Ave. in Delray Beach.