Never miss a bite! Sign up here to receive new recipes and reviews straight to your inbox.
I don't get up to West Palm Beach/Palm Beach nearly enough. Every time I do, I remember how much I enjoy the area. There are some great new restaurants popping up around Clematis Street too, like The Alchemist Gastropub & Bar. This place is a little hard to find right there on the popular WPB street full of restaurants and bars. The building is dark and the sign is almost invisible. The restaurant's sign might not stand out, but the restaurant certainly does. Immediately upon walking inside you know you're in a cool spot — lights are dim, the bar is front and center, booths and high top tables are scattered strategically throughout the floor.
Mom, Dad and I sat at a high top and were immediately greeted by our newbie waiter and some freshly baked pita bread and homemade hummus sprinkled with paprika. The pita was warm and crisp on the outside and super soft and fluffy on the side, just how properly cooked pita should be! As easy as that sounds to accomplish, so few places get their pita just right…
The Alchemist has a very eclectic and unique menu with a nice variety of food. There are the traditional bar favorites — burgers, pizzas and sliders — amped up with modern twists on the ingredients and flavors. There is plenty of adventurous eating to be had if you're ordering from the "Nibbles and Bites" or "Signature Appetizers" lists, and some super flavorful salads too.
We ordered two appetizers to start. My mom and I chose the Crispy Brussels Sprouts with bacon and oven roasted shallots, tossed in a pearl onion mustard vinaigrette. We kept the bacon and vinaigrette (it was made with bacon) on the side. My dad has never been a Brussels sprouts fan — in fact, I always used to think I hated them because he did! Thank God I got over that and tried them. I would be missing out on the most delicious veggie ever. Now, when you fry something and make it all crispy and delicious, it's kind of hard to resist. Case in point: Dad decided to actually try the Brussels. And guess what? He LIKED them! He even asked for more. Mom and I stared at him, mouths dropped. 71 years of life without knowing how amazing crispy Brussels sprouts taste. I can't even imagine! So, thank you, Alchemist, for turning my dad onto Brussels sprouts!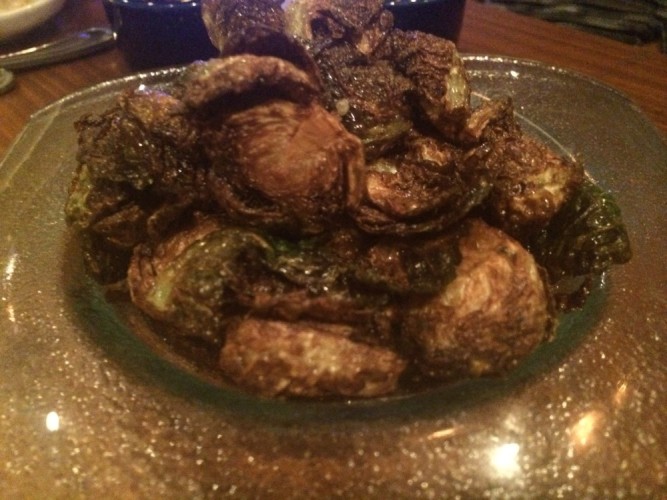 Our second appetizer was Dad's choice — and another first for him. He chose the King Crab Guacamole. Dad always thought avocados were high in cholesterol so he didn't eat them. Uh, except then we looked it up and it turns out avocados help lower cholesterol. Eat up, Dad! There were huge lumps of crab in every bite of this guacamole. I've had many different types of guacamole before, but never one with crab — it's a combination I'm definitely a fan of and will be trying on my own sometime for sure. It did feel kind of mild to me though; I would have liked it a bit spicier. The spiced tortilla chips were a little on the stale side, so I was using the pita bread to scoop up my guacamole. Actually, I probably used my fork more. This stuff was so good it didn't even need chips.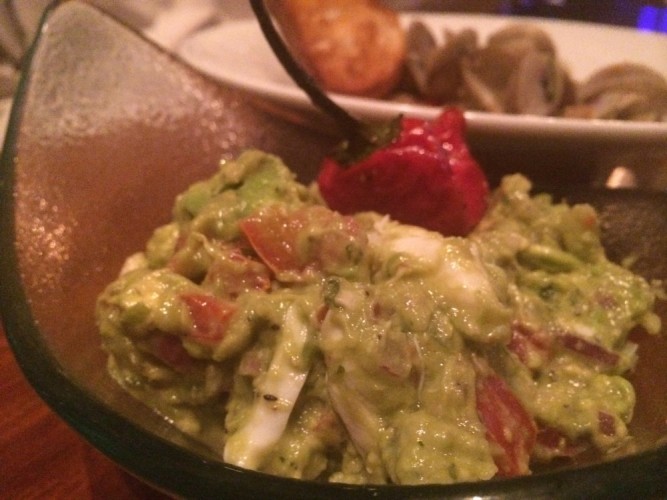 The staff brought out one of the chef's specials of the night — the steamed clams in a gorgeous white wine broth with whole cherry tomatoes and lots of toasted bread to sop up all that yumminess. The broth apparently had bacon in it (and there were tiny bits of bacon in the dish too) but I couldn't taste it at all, thank God. I'm a little in love with steamed clams, so the presence of bacon did not stop me — as long as I couldn't taste bacon-y flavors, I was perfectly content eating those clams. And it's a good thing I did because I would have been very upset to miss out on such a flavorful dish. This particular special has been so well-received by guests that it will be making its way onto the regular menu pretty soon.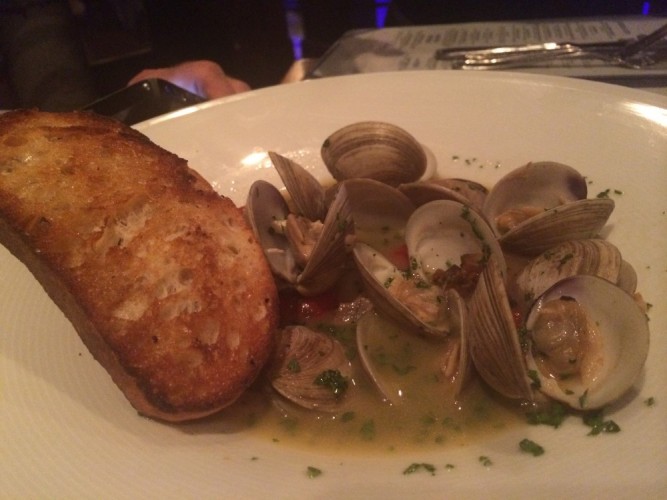 For dinner, Mom and I were both eyeing down two of the salads so we decided to each get one and share. Mom chose the Rainbow Beet Salad with watercress, pickled onion, goat cheese, pistachios and a lemon thyme vinaigrette. I got the Watermelon & Feta Salad with baby arugula, fennel and lemon thyme vinaigrette. Both salads were delicious, but that Watermelon & Feta one was so so so good. It was plated beautifully too. Big pieces of watermelon on one side, thick slices of feta cheese on the other, baby arugula and fennel piled high in the center, and balsamic reduction drizzled in perfect zig zags over it all. This is one of my favorite flavor combos — watermelon and feta — so you can bet there were no leftovers here. Mom's beet salad was good too — loved the creamy, tangy goat cheese and crunchy, salty pistachios. A salad that can play up different textures like this definitely has stand-out appeal.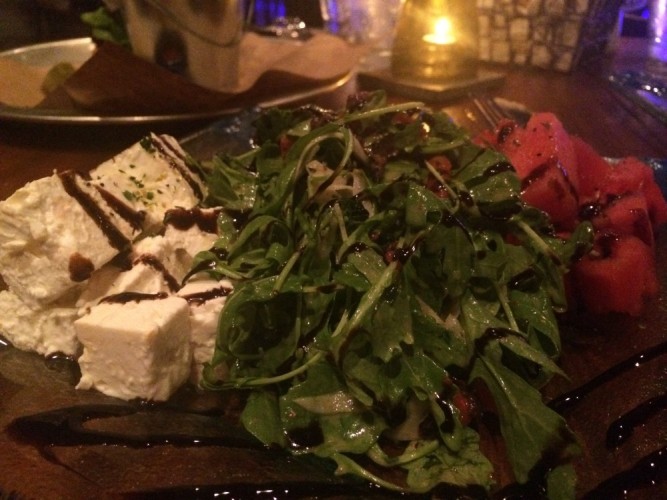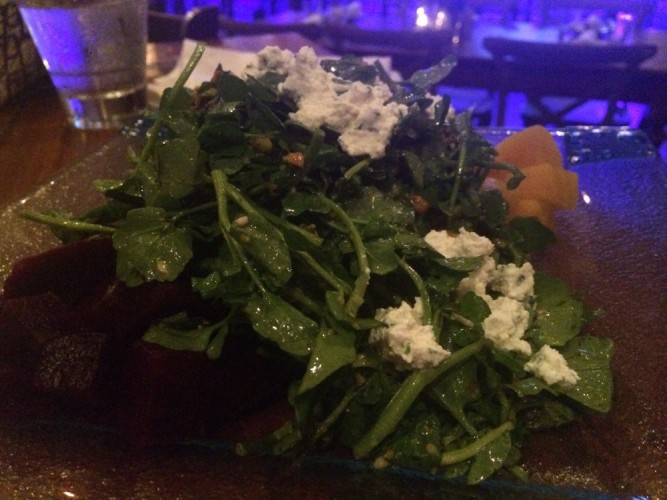 Dad went simple and ordered the Classic Burger, although I did convince him to go with the truffle fries instead of regular. That may have been a teeeeeeny bit of a selfish move — I wanted to try them! Truffle fries are always a favorite. No surprise that he loved 'em. He also really enjoyed his burger and was very happy that they actually cooked it well-done like he asked for.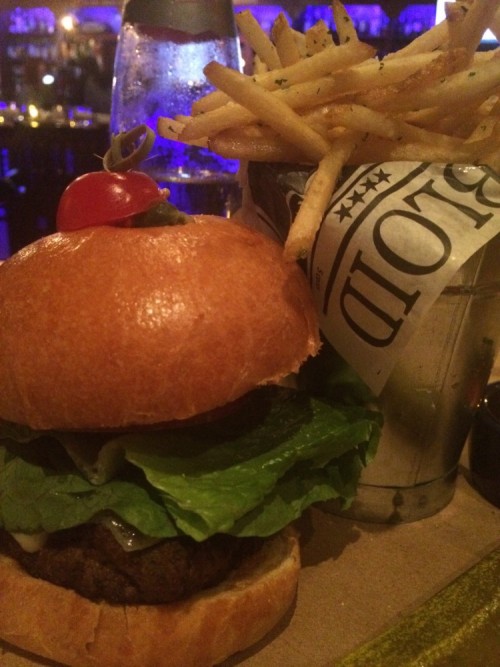 Dessert was a surprise from the kitchen. As we waited in anticipation of what was to come, we checked out the menu of sweets. Chocolate Tarte with white chocolate sauce and a framboise mousse — ohhh my goodness! Homemade chocolate chip cookies with a duo of milkshakes — not your average milk and cookies! Both of these made my mouth water and I secretly hoped for either one to appear, but nope — we got Berries in a Jar, an adorable Le Creuset honey pot filled to the brim with Grand Marnier-spiked marscapone crema and a mixture of medjool dates, raspberries, blueberries, blackberries and strawberries. On top of all that fruity sweetness were three flawless macarons — one vanilla, one pistachio, and one coffee. After having this dessert, you could offer me all the chocolate and cookies in the world and I still think I'd take Berries in a Jar.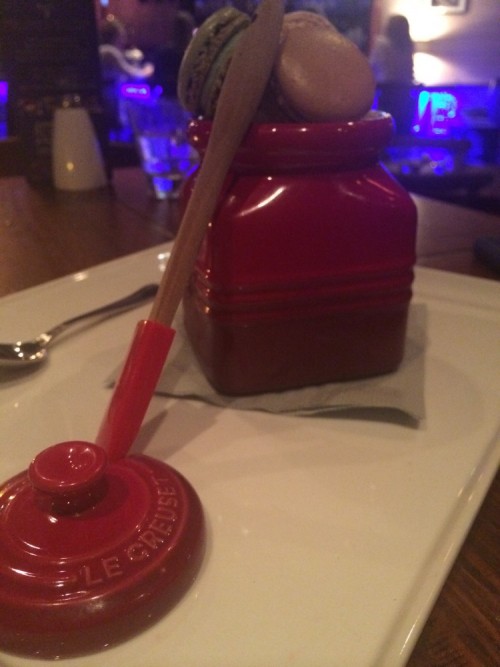 I can't wait to go back to The Alchemist. There are still so many other things I'd like to try. But no matter what I order, I think I might always be ending on a sweet berry-filled note.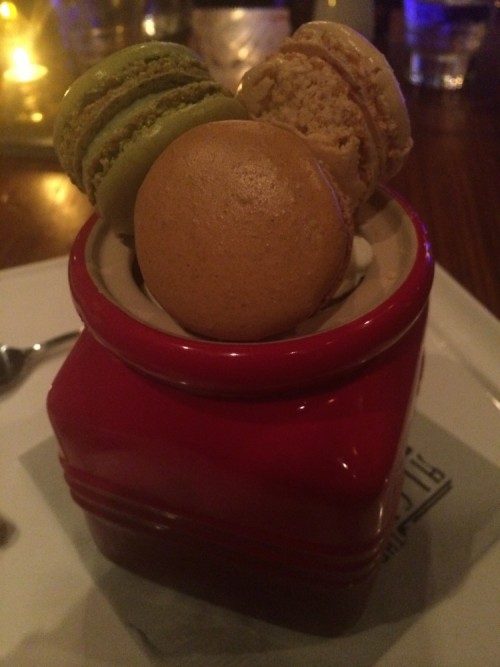 The Alchemist Gastropub & Bar is located at 223 Clematis Street in West Palm Beach.
Disclaimer: My parents and I were invited to dine as guests of the restaurant. No other compensation was received for this review. As always, all opinions are 100% my own.