Never miss a bite! Sign up here to receive new recipes and reviews straight to your inbox.
Disclosure: I was invited to dine as a guest of the restaurant. No monetary compensation has been received for this post. As always, all opinions are 100% my own.
Philadelphia sports fans will be thrilled to hear we have a new Philly bar in town! The original location is in University City, very close to where my sister lives (hint hint, Rebecca, you need to check this place out if you haven't already!), there's another location in Washington, D.C., and now we have one here in Downtown West Palm Beach!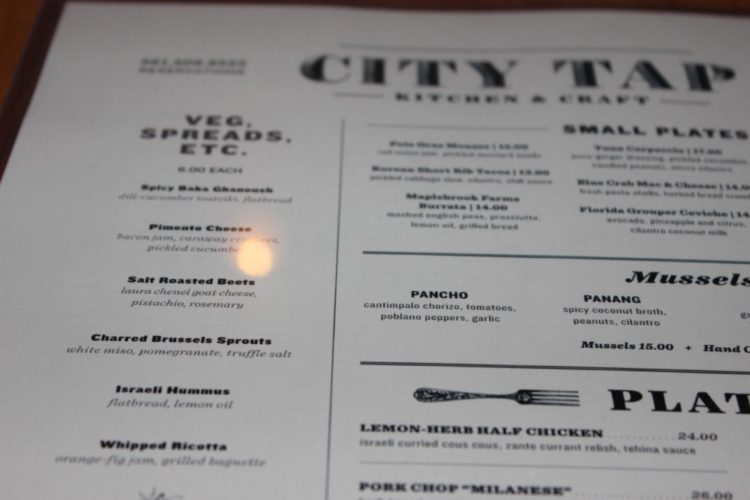 City Tap has taken over the incredibly large space previously housed by Brewzzi inside City Place — but this is no ordinary sports bar. The menu is inspired by a love affair with craft beer and a commitment to using only the finest ingredients. Sure, there's pizza and wings on the menu, but the pizza is topped with ingredients like truffle and pistachio pesto, and the wings are "ten-spiced" and served with crisp veggies. It's not bar food. Executive Chef Brian Stevenson both impressed and surprised me with his creative menu offerings.
This is the foodie-sports fans' heaven — a spacious bar with a huge variety of draft, cask, and bottled craft brews from local, regional and specialty breweries (58 taps!), a 15-foot multiscreen television, and an open view of the kitchen, where all of that delicious magic happens.
If you follow me on Facebook and Instagram, you saw that I attended City Tap's preview party before it opened in August. I had a chance to try some of their food that night — the pimento cheese and whipped ricotta appetizers, Florida grouper ceviche, corn and crab hushpuppies, blue crab mac and cheese and the tartufo wood-fired pizza with roasted portobellos, tallegio cheese and truffle. To say I was a happy camper is an understatement. I was hooked from the first bite and couldn't wait to return for a sit-down dinner, where Jill and I continued to tour the menu. Give us one more visit and we'll have tried almost the whole thing (with the exception of meat for me, obvs). 
The Veg/Spreads section of the menu is my favorite. We ordered three items and I honestly cannot say which one I liked most. The spicy baba ghanoush was topped with a dollop of dill-cucumber tzatziki and served with perfectly fluffy yet still crisp triangles of pita. If falling in love with freshly made bread bread is wrong, I'll never be right. There's a distinct presence of heat in the dip, but it's not overpowering and definitely not overly spicy. But man, that pita…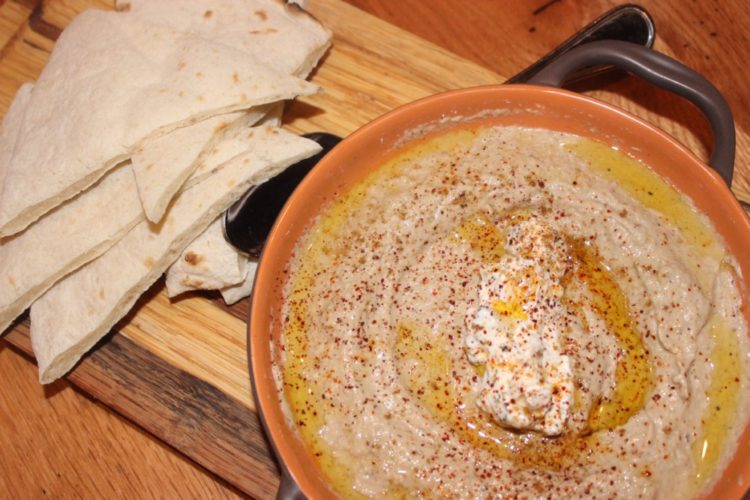 This appetizer combines three of my favorite ingredients — beets, goat cheese and pistachios. This is one of the best combinations on the planet. If you don't agree, that's ok — more for me! The salt roasted beets were super flavorful and cooked perfectly to stand up next to the creaminess of goat cheese and crunchiness of the pistachios. As if it wasn't already amazing, it's topped off with a little rosemary, an herb I go absolutely crazy over.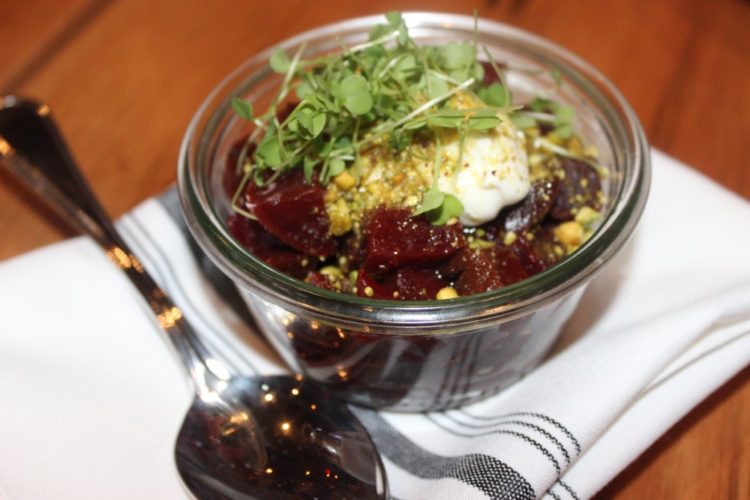 One of my favorite veggies has got to be Brussels sprouts, and it's on just about every restaurant menu nowadays. City Tap's version is on point. Charred sprouts, white miso, pomegranate arils and truffle. This was just perfection. You must see my dilemma here in choosing a favorite among the three. They were all fan-freaking-tastic.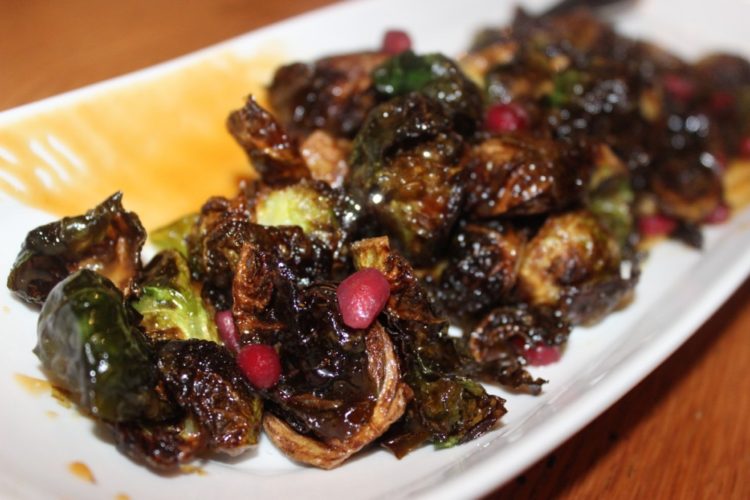 The manager suggested we also try the tuna carpaccio with yuzu-ginger dressing, pickled cucumber, candied peanuts and micro cilantro. How can you say no to that?! The flavors were bright and refreshing and the tuna was sliced so expertly thin, you could practically see right through it. Now that's a carpaccio!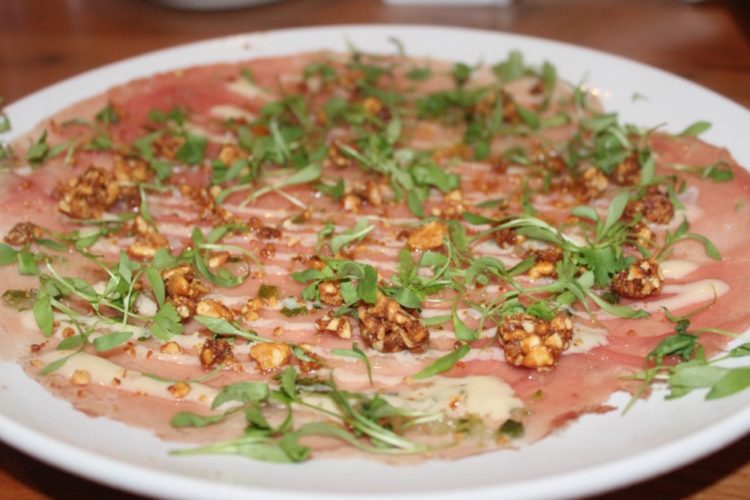 City Tap has four different preparations of mussels on their menu, with the option to add on hand cut fries for their take on the classic "mussels and frites" experience. We chose the Thai-style Panang mussels with spicy coconut broth, peanuts and cilantro. I love Thai flavors and the broth was spot on. It was definitely on the spicy side, but it all worked. I even dipped my fries into it. And some of that insanely delicious pita bread. I probably would have dipped the Brussel sprouts in it too, had there been any left.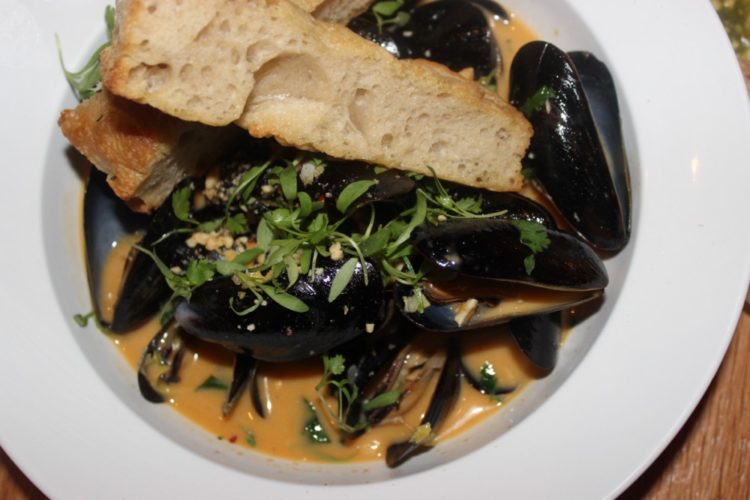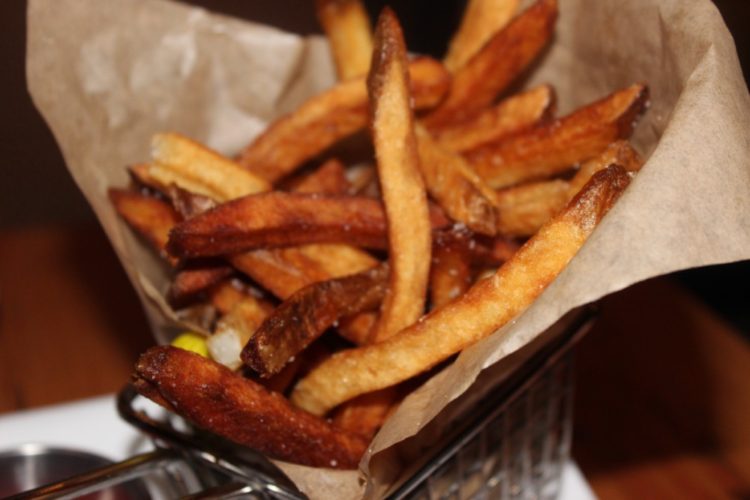 We saved just enough room for one slice of the honey-goat cheese wood-fired pizza. The crust was just as amazing as the pita. City Tap definitely knows their bread! The flavor combination was very similar to the beet dish, minus the beets. Goat cheese, pistachio pesto and rosemary were married with sliced red onions and truffled honey. The pizza was very light on the onion, which made me happy since I'm not really a fan. Their flavor can be overwhelming, but not so in this case. The goat cheese, pesto, rosemary and truffle were equal stars, making for one really delicious pie.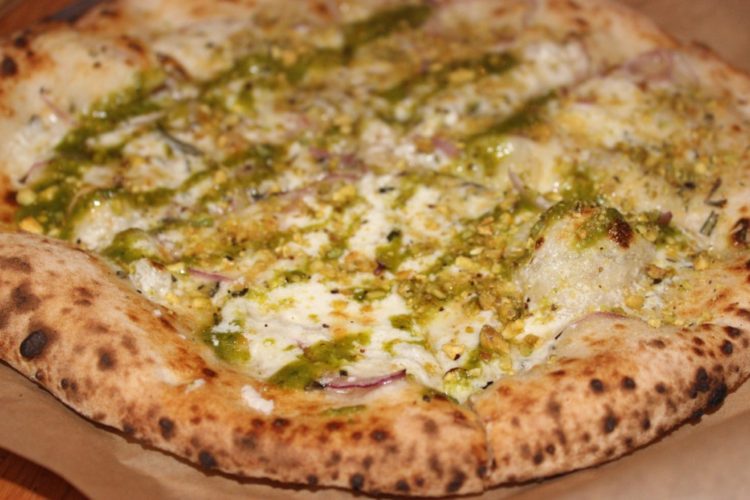 It took all of my willpower to not go for a second slice. It was a battle, but I resisted so I could dabble in a little dessert… a cool, creamy chocolate pot de creme topped with vanilla crème fraiche, bruléed banana and macadamia nut crumble. The custard was rich and decadent and banana was the cherry (or, I guess…banana) on top. All I needed was a big spoonful to satisfy my end-of-night sweet tooth.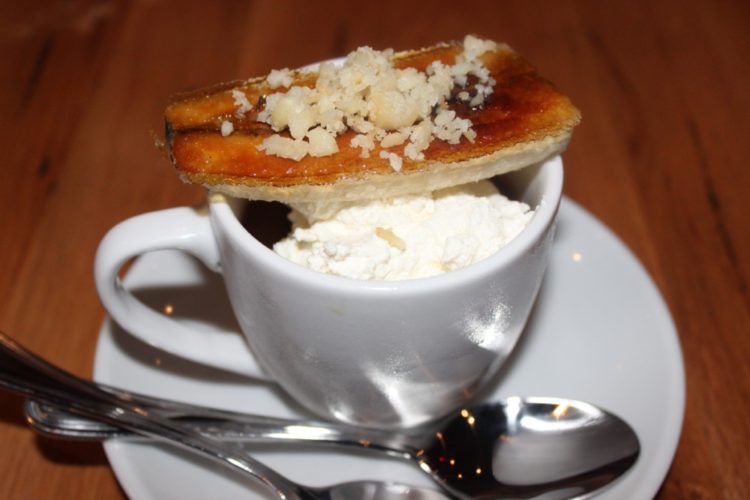 So now that I've successfully eaten about two-thirds of the menu, I'll need to go back again soon to finish it off. City Tap has happy hour Monday through Friday from 3-7pm with small plate specials and weekend brunch with $18 unlimited Bloody Mary and mimosas with the purchase of an entree.
City Tap is located in City Place at 700 S. Rosemary Avenue in West Palm Beach.