Never miss a bite! Sign up here to receive new recipes and reviews straight to your inbox.
Disclosure: I was invited to dine as a guest of the restaurant. No monetary compensation has been received for this post. As always, all opinions are 100% my own.
Downtown West Palm Beach welcomes Jardin with wide-open arms, friendly smiles, and high hopes. This new hot spot is owned by the newlywed chef duo, Jordan Lerman and Stephanie Cohen, both with super impressive culinary backgrounds. Executive Chef Jordan was sous chef at one of my favorite Boca spots, The Rebel House, but before that he was cooking at Eleven Madison in New York City. Pastry Chef, Stephanie, creates such incredible desserts that it's no surprise she was working at Dominique Ansel, also in Manhattan. With their diverse cultural backgrounds and global travels, it's safe to say these two know what they're doing in the kitchen. The fresh, seasonal, and inventive menu at Jardin certainly proves that.
I got my first taste of Jardin at the No Kid Hungry Taste of the Nation held back in April, before Jardin had even opened its doors down on Clematis Street. At the event, Jardin's dish was their signature crispy hummus. Imagine polenta fries, but with hummus. Creamy inside, crispy outside, and just downright delicious. It was easily one of my favorite bites of the night, and I couldn't wait for the restaurant to open so I could experience more of what they had to offer.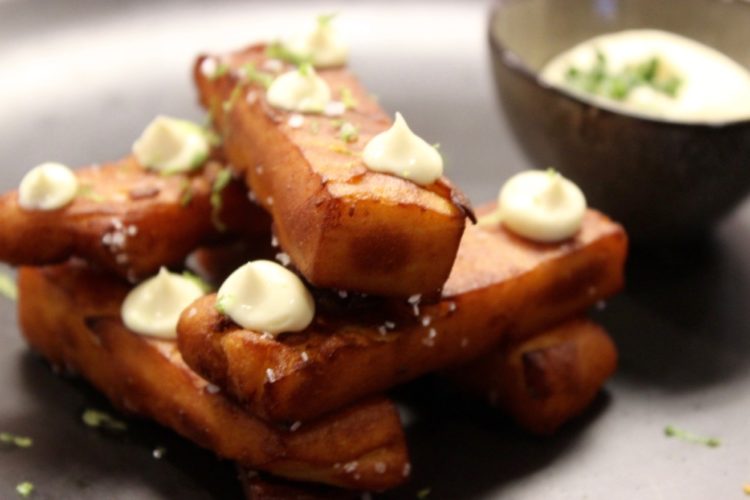 Jardin's cocktails are just as creative as the food. I was immediately drawn to The Avenue, a hibiscus-infused tequila cocktail with pineapple, lime, and agave. The big chunks of pineapple at the bottom of the glass soak up all the delicious flavors by the time you get to them and are a treat all on their own!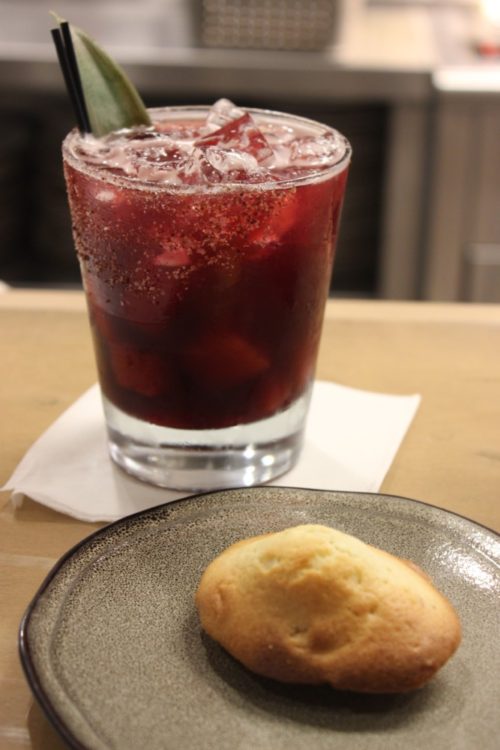 To start, Jardin doesn't serve just any plain ol' bread — they serve savory madeleines. The flavors change daily. Ours were roasted garlic and mushroom, an insanely tasty twist on what is usually a sweeter biscuit-esque cookie. This is such a great concept, and especially fun to be surprised by new flavors each time you visit.
I knew we had to get the crispy hummus as one of our appetizers, but there were so many other things I wanted to try, it was hard to choose! Keeping with a crispy theme, I decided on the crispy cauliflower with maple yogurt, Vandouvan cashews, and grapes. As much as I loved that hummus, I think liked this even more! The flavors, the textures… everything was so perfect on that plate. What a way to start a meal…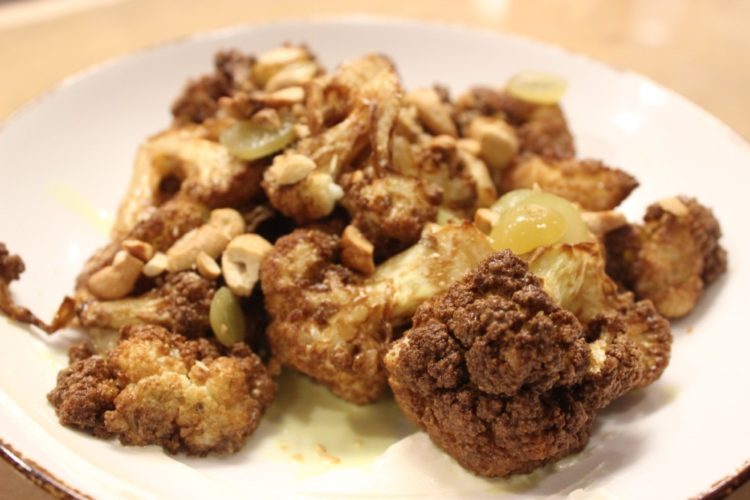 My friend Nancy can sometimes be pretty adventurous in her eating, and decided that this was the night she was going to try bone marrow. It was beautifully presented on a long plate with crispy toast points, mushrooms, grilled onions, and a gremolata. As she smeared the creamy bone marrow onto a slice of bread and popped it into her mouth, the look on her face was pretty telling. She liked it. A lot. She said it basically melts in your mouth the moment you take a bite. I admit I was almost tempted to try, but I think bone marrow may be a little much for me.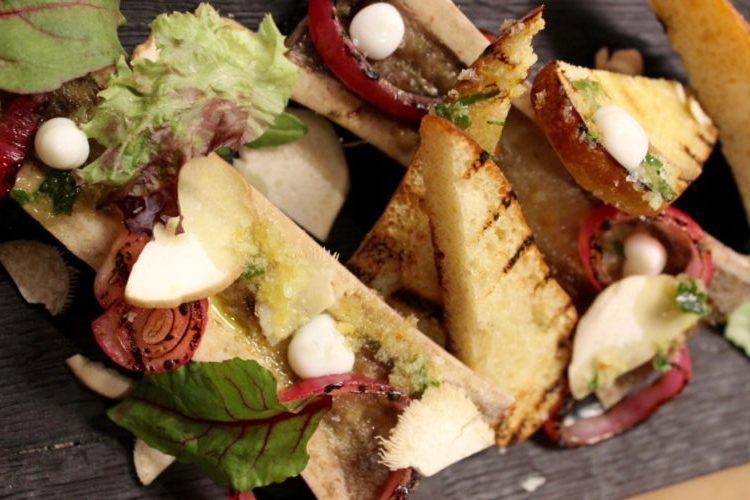 While the menu is very meat-forward, there are a lot of vegetarian and pescatarian-friendly dishes that I wanted to try. I decided on the seasonal fish dish, which was red snapper that night, served with slow-cooked tomato broth, avocado, forbidden rice, and green chickpeas. (Note that the actual dish includes a chorizo crust on the fish, but they can accommodate those who do not eat meat and omit the crust). If you're unfamiliar with forbidden rice, also called black rice, it's an ancient grain with lots of health benefits. I had ever seen nor heard of green chickpeas before, but they were a welcome new taste. Essentially a young chickpea, with a little more bite. Every component of the dish worked well with each other and looked absolutely beautiful. The broth is poured table side, which I showed on my Instagram.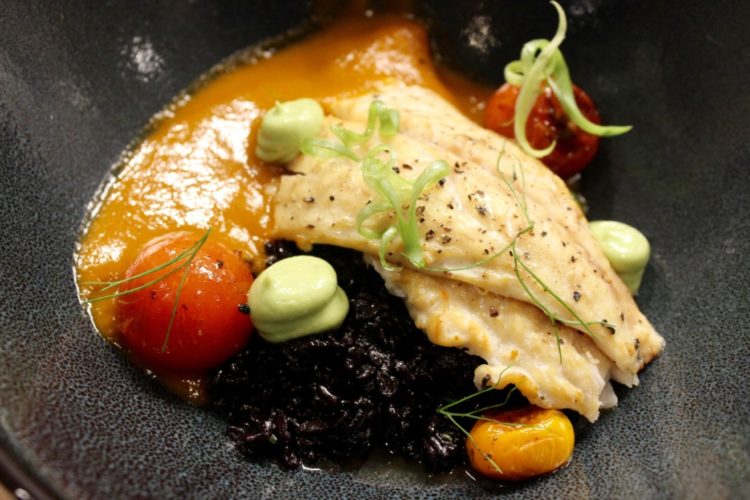 Nancy ordered the vegetarian entree. The plate looked like a garden — so many colors, shapes, and sizes. It was truly a work of art. The dish consists of smoked haloumi cheese, mushroom-stuffed tomatoes, summer squash, bulgar, and charred corn. It was almost too pretty to eat, but I had to have a taste — and it was just as appealing to my palate as it was to my eye.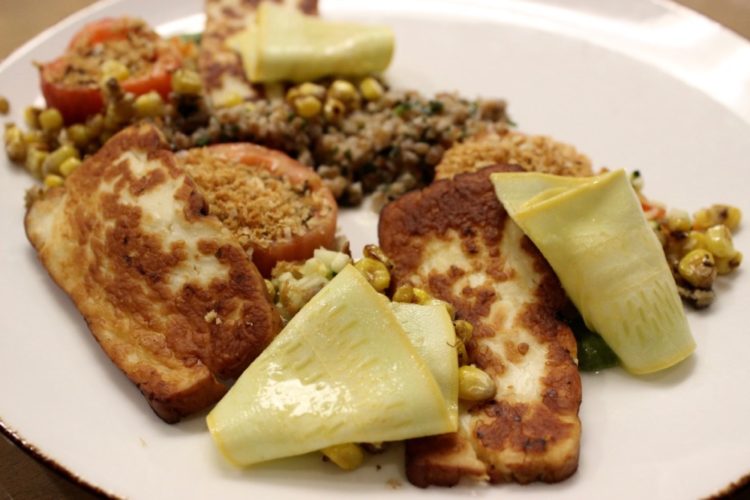 You cannot, and I repeat cannot, leave Jardin without experiencing Chef Stephanie's desserts. I was hesitant to order the panna cotta because it's not normally something I like, but was convinced to go for it — and I am so glad that I did! Buttermilk panna cotta, pistachios, strawberries and rhubarb, strawberry-hibiscus sorbet, and a crumb topping. This is a dessert fit for a queen, a king, and then some. I could not put down my spoon. I've never experienced a balance of flavors like this before and just could not get over how amazing it was.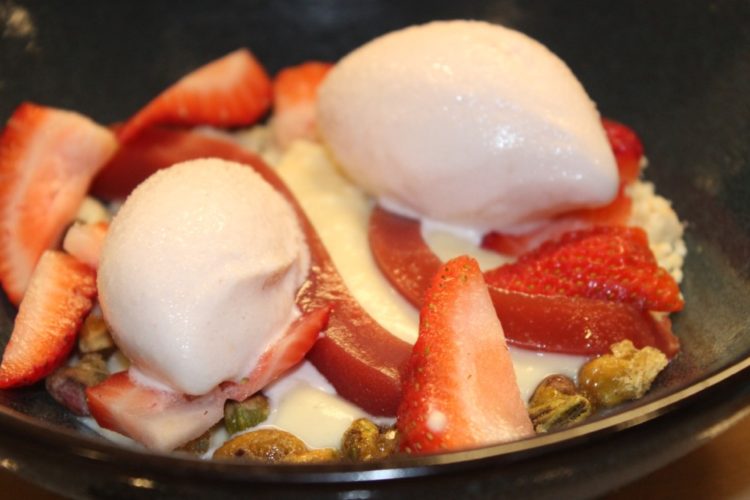 Our meal was fantastic, but the best part was where we were sitting. Directly in front of the open kitchen is a counter with eight seats, allowing guests to get a full-frontal view of what goes down. I found myself mesmerized by Chef Jordan as he closely examined each and every dish before expediting, carefully wiping down plates for pristine presentation and making sure every component of the dish was positioned perfectly. You can see the love and passion that both Jordan and Stephanie put into their food, and seeing it up close was so cool to watch and felt super special.
For guests who enjoy this kind of intimate dining experience, Jardin is now offering a Chef's Grand Tasting dinner series every Monday night through August 29, 2016. Eight lucky diners will have the opportunity to have the whole restaurant to themselves while they sit at the Chef's Counter just like I did and watch all the action as Chefs Jordan and Stephanie prepare a fifteen-course dinner. Yep, fifteen courses — you'd better show up hungry! The tasting dinner is $100 per person, with optional wine pairings for an additional $40.
Jardin also offers a great Happy Hour everyday from 4-7pm (except on Mondays during the summer due to the Chef's Grand Tasting) with two-for-one craft beer, $7 bottled beer, $8 draft beer on tap, $8 select craft cocktails, and $5 glasses of house red and white wine. 
Jardin is located at 330 Clematis Street in West Palm Beach.