Never miss a bite! Sign up here to receive new recipes and reviews straight to your inbox.
Disclosure: This post contains affiliate links. Shopping through these links helps support my small business. As always, all opinions are 100% my own.
With many of us under a Stay-At-Home Order to reduce the spread of COVID-19, you guys are probably doing way more online shopping than normal, right? Whether it's for groceries and essentials, or totally unnecessary shoe and clothing purchases, because who knows when we'll even be able to wear any of it out in public. I'm guilty of both, but what I'm not guilty of is paying FULL PRICE for anything — especially right now when finances are very up-in-the-air for many of us. I'm always on the hunt for a good sale or bargain price, which is why I love shopping for deals on Amazon or through my blogger friends' affiliate codes that usually come with some sort of discount.
Lucky for you guys, I have plenty of affiliate codes to go around! So sit back, relax, and get those credit cards ready — here's what I'm loving lately, COVID-19 edition!
Snacks
No self-quarantine is complete without a good snack stash, am I right? There's something about a worldwide pandemic that makes everyone so hungry, all the time. Quarantine rules are like airport rules — traditional eating times go out the window and it's basically a free-for-all. Want a piece of chocolate cake first thing when you wake up? Go for it. Want eggs and bacon for dinner? I'm not mad about it. Want to take five or six snack breaks throughout the day? Awesome — here's what you should be snacking on: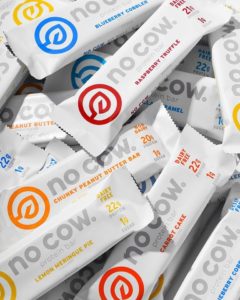 No Cow Protein Bars
There are a ton of protein/energy bars out there, but No Cow Protein Bars are my favorite. These plant-based bars are also certified gluten-free and kosher, vegan, non-GMO project verified, soy-free, and made with pea and rice protein, stevia and monkfruit — there's only 1 gram of sugar in an entire bar! They are high in fiber and protein, but low in calories and low in carbs, so they're Keto-friendly too. I like to have them as a post-workout or on-the-go snack, and they are good to stash in your carry-on when traveling (ugh, I can't wait until we CAN travel again.)
I love the chewy texture, even more so by putting them in the fridge, and the flavors are super yummy. There are a lot to choose from. Two of the newest ones, Birthday Cake and Sticky Cinnamon Roll, are my favorites, and I also love Carrot Cake. Use code TAKEABITEfor 10% off.
SmartSweets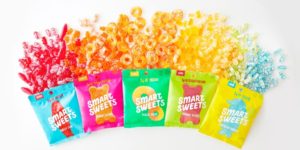 I don't know about you, but I am a sucker for gummy candy — Gummy Bears, Swedish Fish, Sour Patch Kids — they used to be my weakness. Unfortunately, as tasty as they are, they're basically just sugar, and eating that much sugar doesn't do too much good for your well being, in more ways than one. Thankfully, I found SmartSweets, the answer to my gummy-loving sweet tooth's prayers! SmartSweets come in five varieties: fruity gummy bears, sour gummy bears, sweet fish, sour blast buddies and, my favorite, peach rings. Here are the stats:
3 grams of sugar per bag.
No sugar alcohols, artificial sweeteners, or added sugars.
Made with soluble plant-based fiber.
Naturally flavored/colored with fruit and vegetable juices.
Non-GMO and gluten-free
Made without any of the major allergens: tree nuts, peanuts, wheat, soybeans, milk, eggs, fish, and shellfish.
Shop SmartSweets and get free shipping on purchases of $30 or more with code TAKEABITE!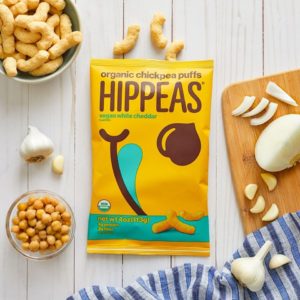 Hippeas Organic Chickpea Puffs
Ok, so I have a love/hate relationship with this particular snack. I absolutely LOVE Hippeas Organic Chickpea Puffs in Vegan White Cheddar, but I also hate them, because as soon as I open the bag, I can't put it down! They are seriously so freaking good. I mean, I guess there are way worse things I could binge snack on, so it's not that bad. Hippeas are certified gluten-free, kosher, vegan, USDA organic, non-GMO, nut-free and soy-free.
Other flavors include Nacho Vibe, Bohemian Barbeque, Sriracha Sunshine and Himalayan Happiness — but the Vegan White Cheddar is where it's at for me. They are the perfect TV show or movie snack, which we are all definitely in need of right now. Hippeas also makes tortilla chips now too!
Drinks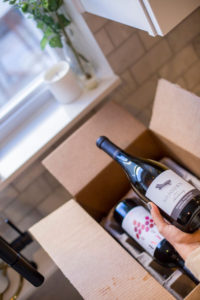 WTSO — Wines 'Til Sold Out
I know the Stay-At-Home Order doesn't prevent us from going out to shop for food and drinks — but why take the risk when you can safely have whatever you need delivered right to your doorstep? Wine is especially better to purchase online for a few reasons:
You have access to a much larger variety of inventory, including many bottles you might never be able to find at a typical wine shop or grocery store, and thus never be introduced to. Online wine sellers, like WTSO, strive to sell top quality products, so you might come across better quality wines than you would elsewhere.
You can buy whenever you'd like! Online shopping is all about convenience.
Right now, no-contact delivery is at the top of everyone's minds, so having your package of wine delivered to your door is ideal for many.
The prices are great! An online wine store has no overhead or storefront, so their operational costs are much lower than a typical wine store, which gives them the ability to offer customers can't-beat prices.
WTSO is an online wine retailer that connects their members to thousands of wines from all over the world. Whether you're a wine novice or wine snob, you'll love being part of this wine community. Shop now and save $10 off purchases of $50+ with code TAKEABITE20.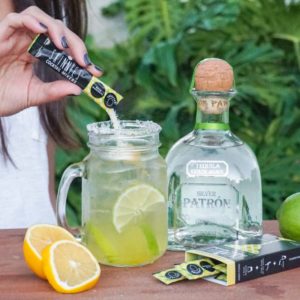 RSVP Skinnies
Love a good cocktail but hate the sugar hangover? I hear ya. Over the summer, when my boyfriend and I tried a month of living that Keto life, we were introduced to RSVP Skinnies, zero-calorie, stevia-sweetened cocktail mixers in flavors like Cranberry Twist, Baja Margarita, Maui Mai Tai, Moscow Mule, Bellini, and Mojito Twist. The mixes are made from dehydrated fruits and plants, without the sugar, with a hint of stevia and erythritol (from plants). Add the packet to your liquor of choice, and voila! You've got yourself a cocktail with way less sugar than usual. I use tequila or vodka, unflavored, to keep it totally sugar-free. You can even use the packets to add flavor to plain or sparkling water if you want a non-alcoholic alternative.
Try RSVP Skinnies for yourself and save 10% with code TAKEABITE10.
Lifestyle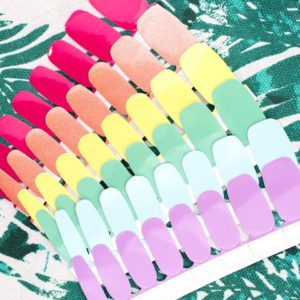 Color Street
Some of you may know about my struggles with having my nails professionally done. In a nutshell, I figured out last May that some kind of chemical present in both gel nail polish and the powder dip causes my skin to severely break out and my face to swell. Not long after coming to this conclusion and swearing off gel and powder nails for life — I haven't had this kind of reaction ever since — I discovered Color Street, nail polish strips that adhere to nails instantly. The strips are made from 100% real nail polish, but so much easier and more convenient than using regular polish. There's no dry time, smudges or streaks, and they last longer than regular polish — because, let's be honest, normal nail polish would not stand up to the amount of typing I do in a day. There are so many beautiful, vibrant colors and patterns, and there are lots of fun themed designs as well. Pedicure designs are also available. Shop now and get one free design with the purchase of three!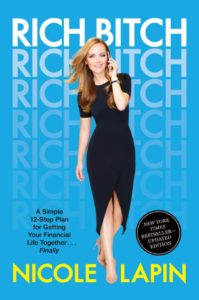 Amazon Books
Reading by the pool has skyrocketed to the top of my hobbies list within the last couple weeks. I used to read a lot, like one book per week. In high school, I read every chick-lit, young adult novel series you could think of, and even after that, I was a regular at the library. I never got into the whole eReader trend, because I love the feeling of holding a book in my hands. Amazon has great deals on books, new and used, and you can pretty much find whatever it is you're in the mood to read. Here's what's on my current reading list: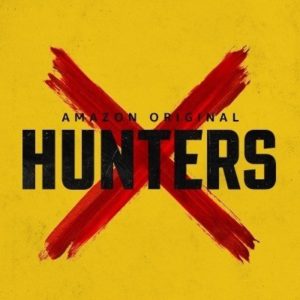 Prime Video
There are a lot of great TV shows and moves available through Amazon Prime Video, and I know you have plenty of time on your hands now to watch all the things. If you're looking for something new to watch, I recommend these Amazon Original series:
Happy Social Distancing, friends! If you want more details about what I'm loving right now during the COVID-19 outbreak, shoot me an email at takeabiteoutofboca@gmail.com or send me a message on Instagram @takeabiteoutofboca.