Never miss a bite! Sign up here to receive new recipes and reviews straight to your inbox.
Disclosure: This is a sponsored post by the InterContinental at Doral Miami and CityPlace Doral. Details and information have been provided by the sponsors. As always, all opinions are 100% my own.
Where to Eat, Stay and Play in Doral, Miami
Check out this comprehensive guide to visiting Doral, Miami, a Miami-Dade County municipality just one mile from Miami International Airport and 13 miles from Downtown Miami.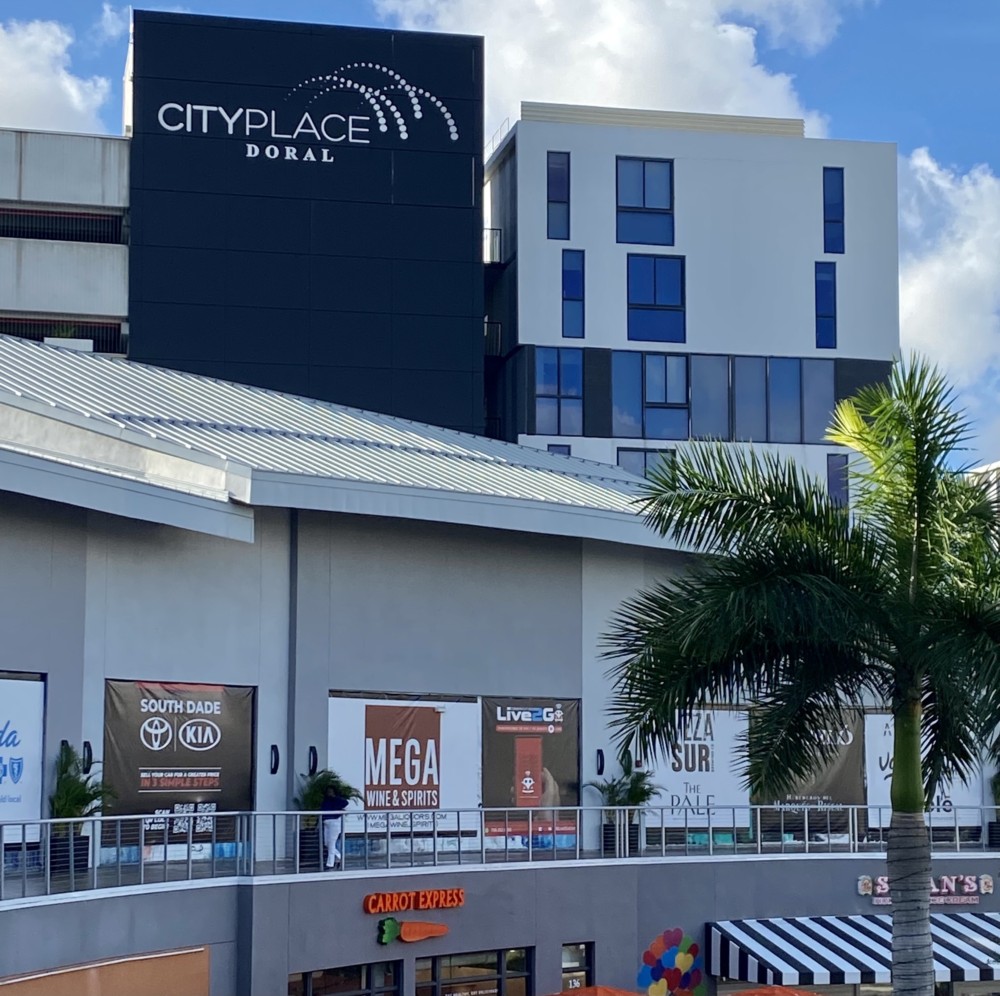 After a seven year battle, Doral finally incorporated in January 2003. This meant the former sector of Miami would now be its own city, with its own local government and more service for its tax dollars. Although it has been an official city for a short period of time, it has won many accolades. It's been ranked the #3 best small city for small businesses in the US. BusinessWeek even named it the best city in Florida for business start-ups, and it came in at 51 in CNNMoney's Top 100 Places to Live and Launch a Business in the United States.
Doral has been named the fastest growing city in Florida, and the 11th in the entire country, by the Florida International University's Metropolitan Center, and the US News & World Report named it the 3rd Best Place in the USA to Retire. In addition, Forbes named Doral #2 of America's Top 25 Towns to Live Well for its cultural amenities, pro-business environments, and highly educated workforce. 
Doral is also held in high regard as a place to live, work, and spend leisure time. There are over 10 colleges, universities and technical schools in the city, as well as over 10 artistic-expression schools and multiple public, charter and private schools all having a grade "A" status. Doral is home to some of the most well known Fortune 500 companies and government headquarters, such as Carnival Cruise Lines, Walmart, Doral Trump Golf Resort & Spa, Gold Coast Beverage (Pepsi-Cola), Brinks Inc., Blue Cross Blue Shield of Florida, and Perry Ellis International.
Pretty impressive, huh? I was shocked when I heard some of these notable accomplishments and attributes. Truth be told… I knew nothing about Doral before deciding to come for a little Girls Weekend Staycation. If Doral has been off your radar, I encourage you to check it out and see what the city has to offer. Here are some tips for what to do when visiting Doral.
Where to Stay in Doral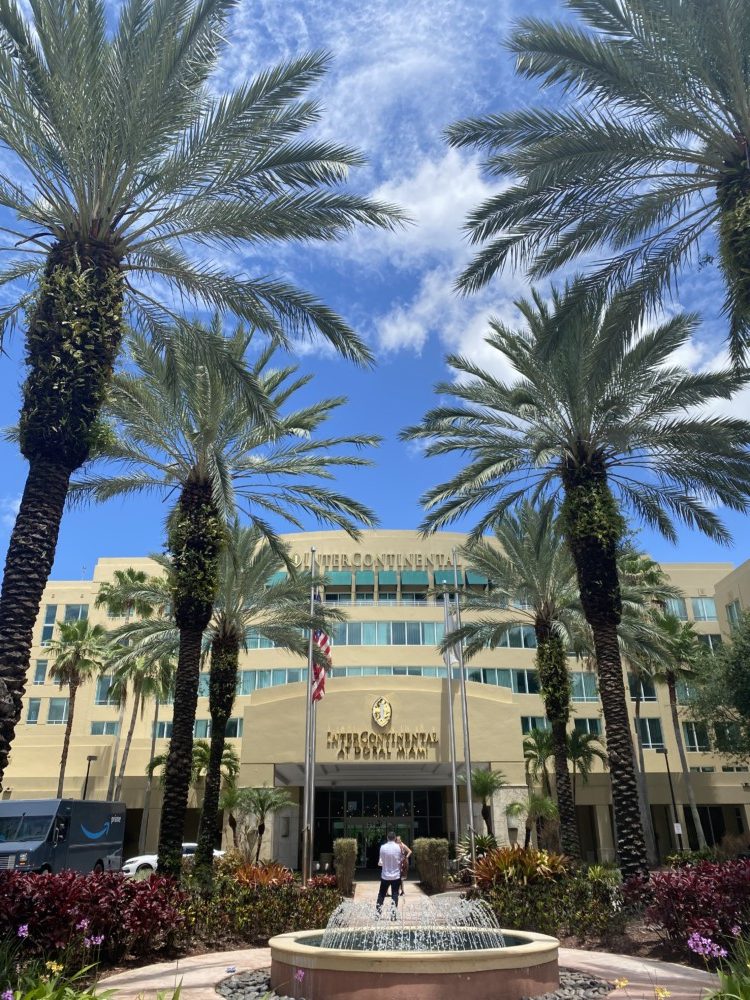 The InterContinental at Doral Miami is located in the heart of the city, with quick and easy access to shopping, dining and entertainment in CityPlace, Downtown Doral, the International Mall and the Dolphin Mall. Parking at the hotel is completely free of charge, and a buffet breakfast is included when you stay for two nights. There is a 24-hour fitness center, spacious outdoor pool area, and 10,000 square feet of meeting space to accommodate everything from small conference board meetings to large conventions, accommodating up to 500 people.
The hotel also has a vibrant and largely International culinary scene at its restaurant, Blue Matisse, as well as an intimate bar area in the Nau Lounge. The restaurant is open to the public for a la carte lunch and dinner Monday through Saturday from 11:30am to 10pm. Breakfast is also offered a la carte Monday through Friday from 6:30-10:30am, and Saturday and Sunday from 6:30-11:30am.
Executive Chef Bryan Hill has created a unique lunch experience during the week, focusing on specific types of cuisine each day. This buffet-style 'On-The-Fly Lunch' is available Monday through Friday from 11:30am-2:30pm. The cost is only $22 per person, and special pricing is available for groups of six or more. On top of the featured dishes, there is always a ceviche station, lots of build-your-own salad ingredients, cheese and charcuterie, sweet treats, and more. Believe me, you will not leave this buffet hungry!  The menu themes not only change every week, but Chef Bryan also switches things up each month. Currently, the schedule is:
Monday: Latin American, featuring a chili-crusted beef shoulder carving station, coctel campechana and pescado encocado.
Tuesday: European, featuring a salmon en croute carving station, pork schnitzel and chicken cacciatore.
Wednesday: Asian, featuring a five-spice chicken carving station, spicy tuna wontons and miso-glazed cod.
Thursday: American, featuring a BBQ ribs carving station, avocado toast with crab, and fresh oysters.
Friday: Peruvian, featuring a pork belly chicharron carving station, crab causa and seco de res.
During our visit last month, we enjoyed a Peruvian-themed feast complete with traditional dishes like tuna tiradito, causa de pulpo, shrimp ceviche, lomo saltado, pescada a lo macho and a slow-roasted pork carving station. There was a huge variety of food, and the presentation of everything was beautiful.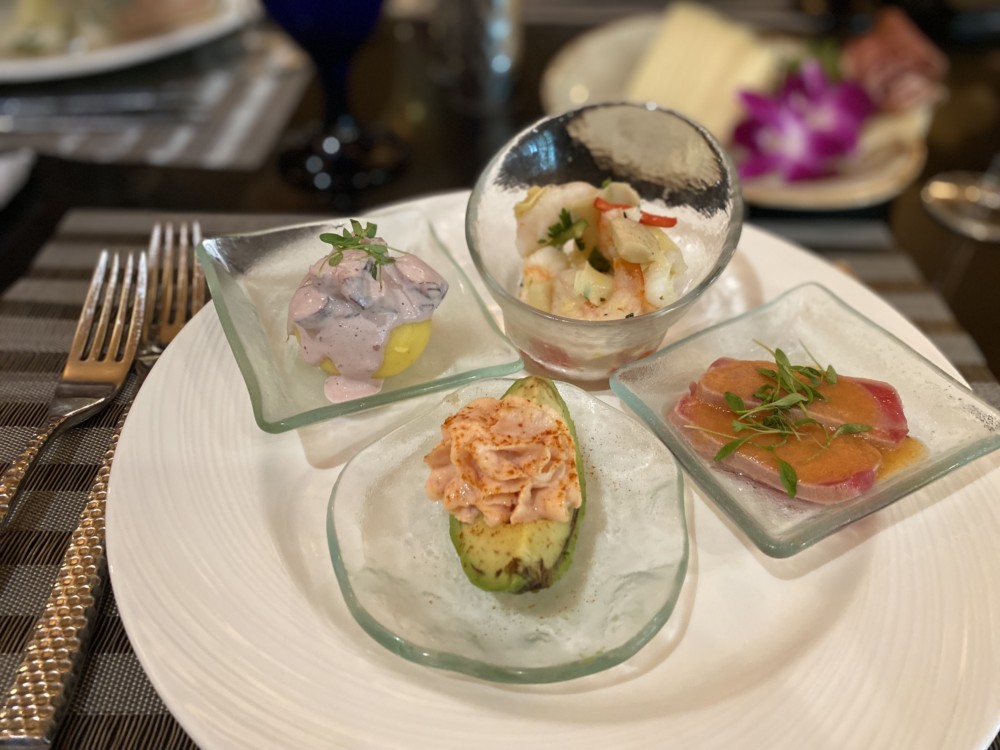 One of my favorite bites was the whipped smoked-salmon-stuffed avocado — not a traditional Peruvian dish that I'm aware of, but it was SO good and something I would definitely like to recreate at home.
Additionally, there are daily specials at the Nau Lounge that both hotel guests and locals can take advantage of:
Happy Hour: Monday through Sunday 5-7pm. $4 domestic beers, $5 imported beers, $6 craft beers, $6 house wine, $7 house brand liqueurs, $6 bar bites.
Bubbles & Shells: Wednesday 5-7pm. Live DJ entertainment, $1 oysters (minimum 5 per order) and $6 glasses of champagne.
Tacos & Chelas: Thursday 5-7pm. $6 tacos and $6 local craft beer.
Wine & Tapas: Friday 5-7pm. 50% off all wine and $6 tapas.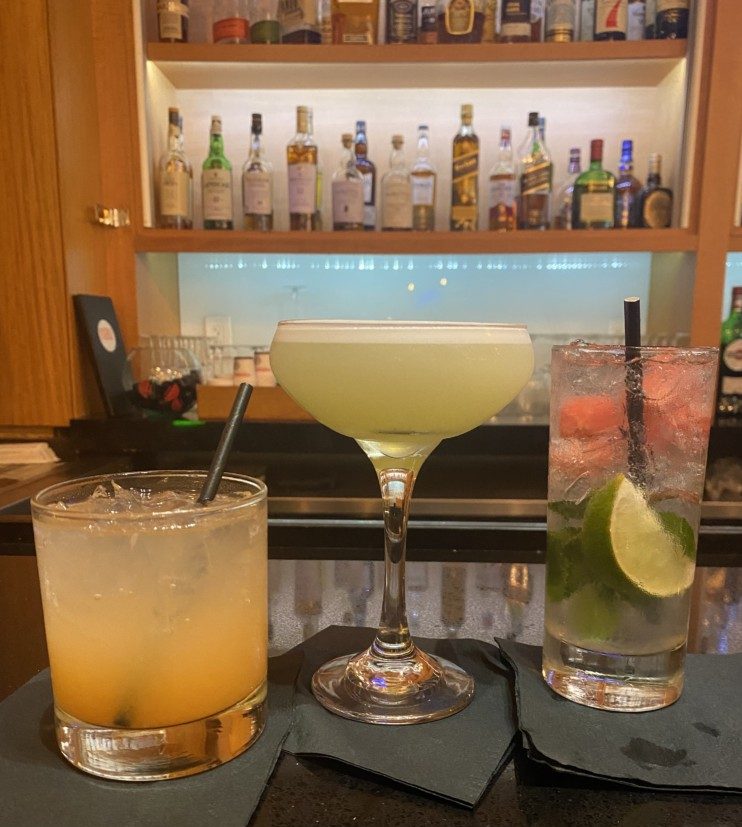 Where to Eat in Doral
Aside from the great restaurant option at the InterContinental at Doral Miami, plenty more delicious dining awaits just a few minutes down the road. CityPlace Doral offers over 40 dining, shopping, wellness, and entertainment venues. When it comes to food, Doral has got it going on! Whether you're looking for brunch, lunch, happy hour, dinner or just a few drinks, you will not have trouble finding somewhere to go. If you're planning an outing to CityPlace Doral, here are my top picks for food and drinks.
Carrot Express: Since the newest Carrot Express opened in Boca, I've become a big fan of this healthy, fast casual spot. There are a bunch of other Miami locations, and many more soon to come all over South Florida. The menu features fresh juices and smoothies, salads and power bowls, açai bowls and avocado toast, burgers and wraps, stuffed sweet potato and spinach pies, and a signature carrot cake dessert that people go nuts for.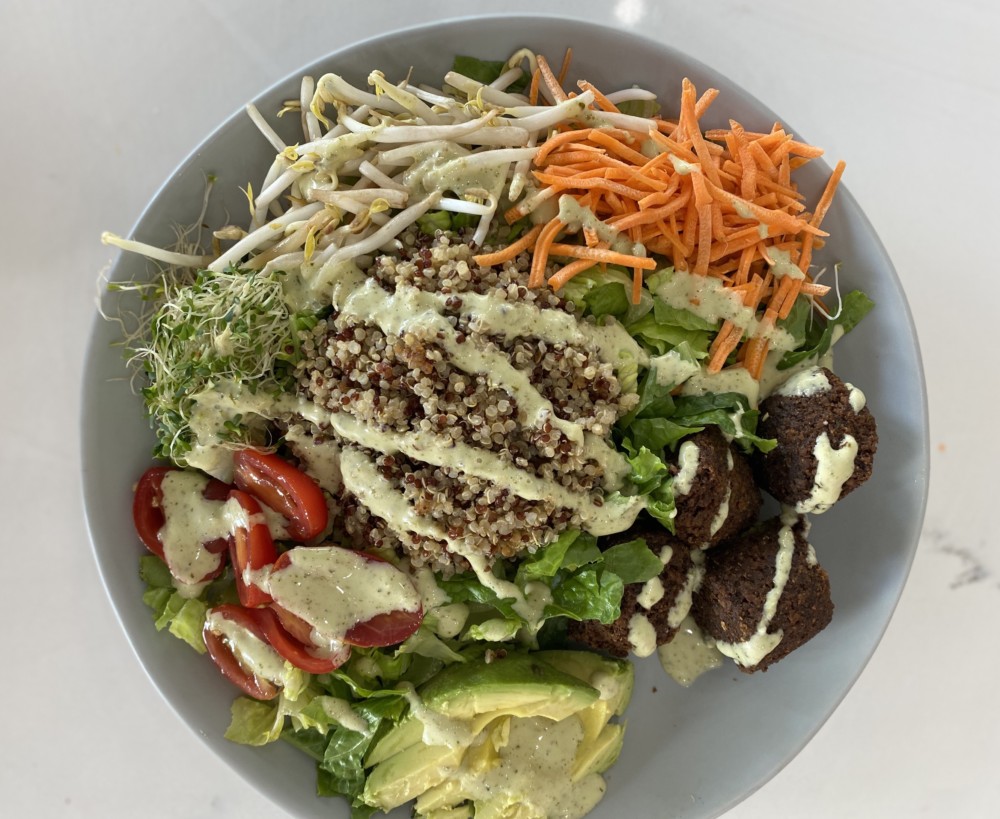 Must-have dish: Any of the salads or power bowls with the falafel! It's gluten-free and vegan and absolutely delicious. Also, always get the cilantro lime sauce. It's addicting.
Other notables: Mario's Favorite Chicken Bowl with arugula, kale, spinach, toasted almonds, peas, golden raisins, quinoa, scallions and cilantro brown rice with citrus sauce. I suggest subbing out the citrus for the cilantro lime, though.
Chico Malo: Combine Mexican gastropub with alfresco dining in Tulum, and you've got Chico Malo. The restaurant is well known for its inventive beverage program, featuring a variety of agave-focused cocktails made with tequila and mezcal, and a broad range of Mexican beers. This is a great spot to go out for some fun, as DJ entertainment is offered on the terrace every Friday, Saturday and Sunday. This is the restaurant's only other location aside from its flagship in Phoenix, AZ, so I'd say Doral is pretty lucky to have it.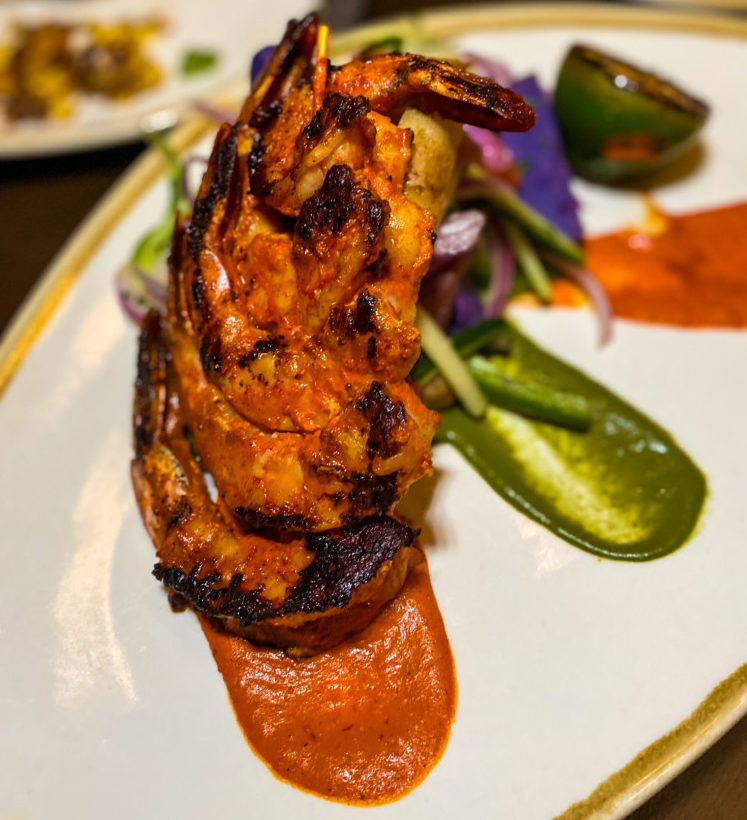 Must-have dish: Shrimp Diablo with wild caught Mexican white shrimp, heirloom potatoes, charred lime and aguachile. The shrimp was super flavorful without being too spicy. Also, don't skip the cocktails. Try the Alebrije with mezcal, hibiscus, ginger, lemon (I got lime instead), and mint.
Other noteables: Charred cauliflower steak with a slaw of burnt lime jicama, cabbage and naranja agria. It also comes with a chimichurri black bean & avocado puree, which I could not have, but that slaw was great!
Heaven Mykonos: One foot through the doors of this Mediterranean restaurant, and you're instantly transported to a Grecian paradise. The bright white decor completely evokes Greek Islands vibes, and the food feels as authentic as it gets. I swooned over just about every dish we tried. There's an outdoor terrace and a second floor VIP area that can be booked for private events. Dinner time is calm and collected, but it definitely turns into a party late in the night, complete with musical performances and special celebrity DJ appearances, robot dancers, video walls, and more.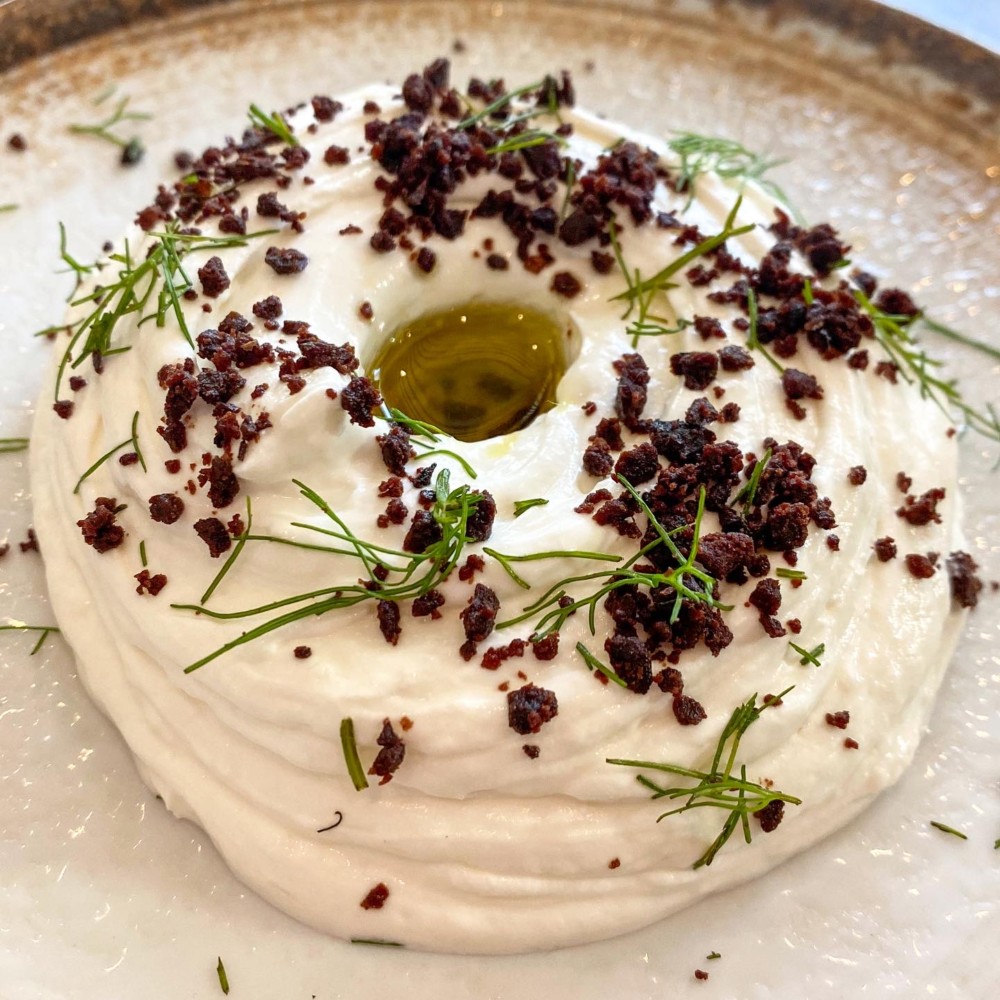 Must-have dish: The feta cheese dip. It's a whipped sheep's milk feta dusted with kalamata olive and dill, and will send your tastebuds on a wild ride they will never want to get off of.
Other notables: Saganaki (sheep's milk Vlahotiri cheese flambéed with brandy), and the swordfish carpaccio.
Kuba Cabana: If you want a Havana Nights late-night experience, this is the place to go. Kuba Cabana is actually the sister restaurant to Heaven Mykonos, and it's obvious the owners like a good party atmosphere! This Latin-inspired venue is described as "Old World Cuba Meets Modern Miami" and features plush lounge seating, hand-painted walls, a stage for entertainment, as well as an outdoor terrace. There's also a private Chef's Table room with a floor that has been hand-painted by local Miami artists. I didn't eat here — just stopped in for drinks — so I don't have recommendations on the food, but since I know it's the same chef as Heaven, I would bet the menu is just as incredible.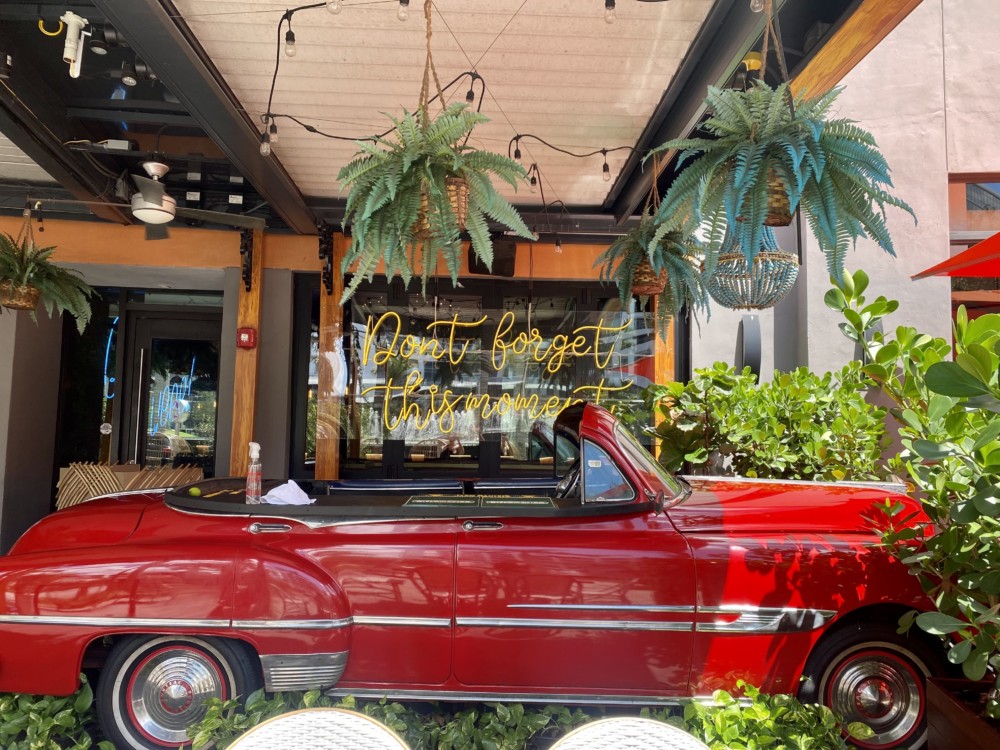 SuViche: This is the best of two incredible food worlds — Peruvian and Japanese. The menu features classic Peruvian dishes like causa and ceviche, as well as a variety of sushi and other Asian-inspired dishes. The cocktail list features over 15 house-made Pisco infusions using fresh herbs, fruits and spices, and a nice selection of sake too. SuViche is all about bold and fresh flavor, blending the two cuisine's traditions, ingredients and culture into one unbeatable menu.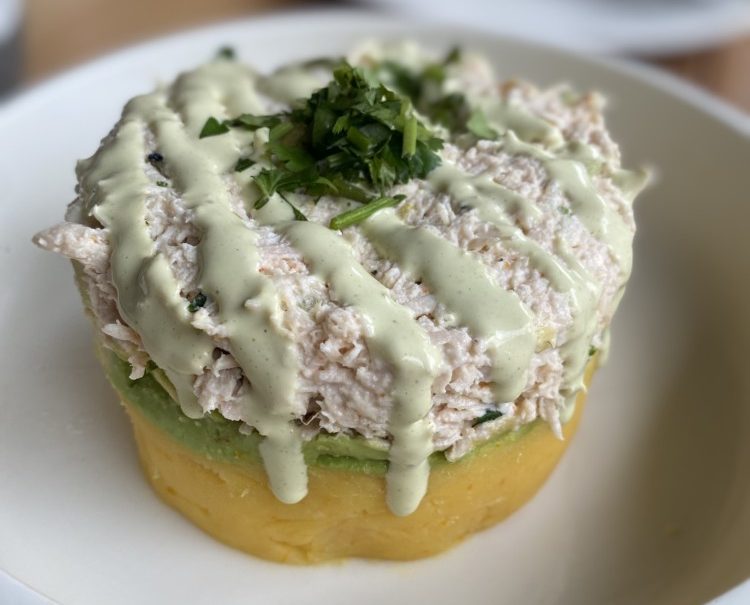 Must-have dish: The causa is out of this world. Layers of lime and aji amarillo-infused mashed potato, avocado, and your choice of tuna, chicken, crab or spicy tuna. Do not leave SuViche without ordering this.
Other notables: You can't go wrong with ceviche at a Peruvian restaurant.
Additional dining options at CityPlace Doral include Brimstone Woodfire Grill, Bugerfi, Cooper's Hawk, Copper Blue's, Juan Valdez Café, Martini Bar, Novecento, Savour Baked, Tap 42 and The Cheese Course. Indulge your sweet tooth at 4D Gelateria or Sloane's Ice Cream.
What to Do in Doral
You're probably going to want to break up of all the food and drinks with a little exercise. After all, life is all about balance right? Good thing there is a CycleBar in CityPlace. This Cycling™ franchise offers low-impact, high-intensity experiences for riders of all ages, experience levels and body types. The bikes are set up stadium style so you are always able to see the instructor as they guide you through your 45-minute workout. We had so much fun during the 90s-themed ride! Right now, first-timers can take advantage of the New Rider 3-Pack for just $39.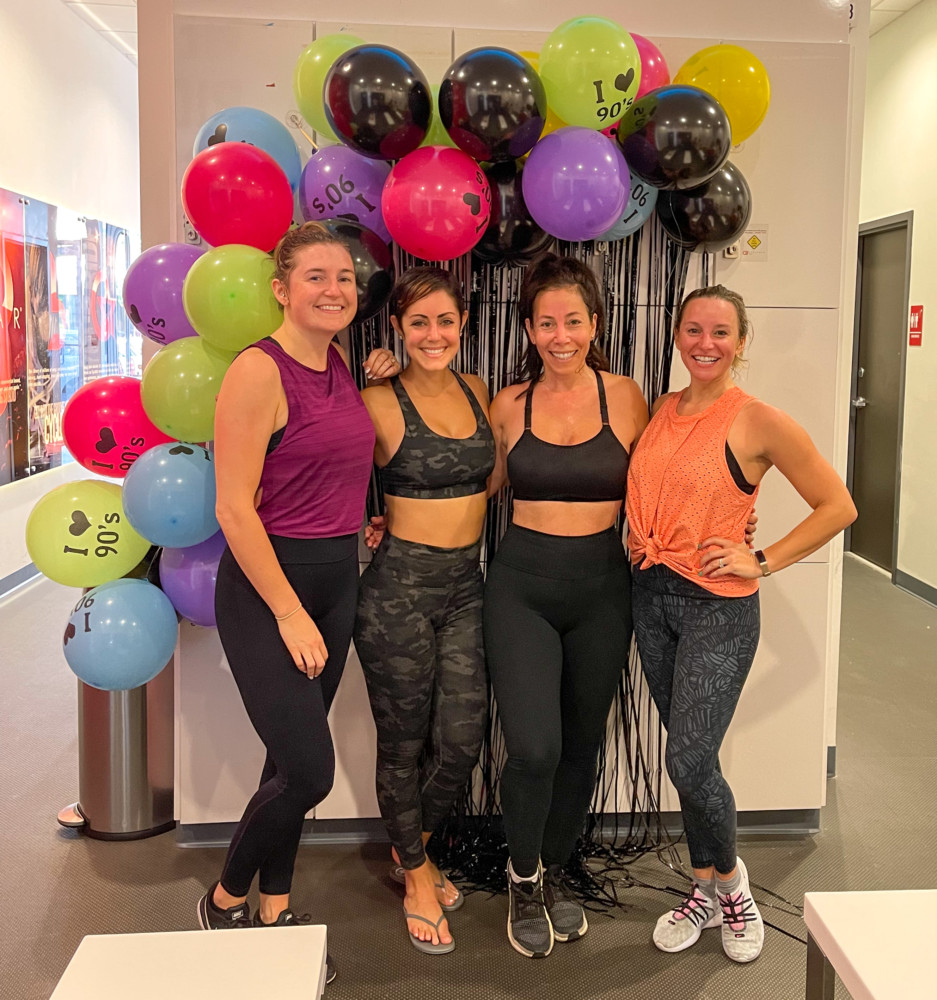 CityPlace is also home to a CMX Cinébistro, a Kings Dining & Entertainment, a Marina Kids Park, art galleries, boutiques, salons, and an Improv Comedy Club. The city itself is also home to world-class parks and cultural activities. As you can see, there is plenty to do while in Doral!
Visit Doral Florida
The InterContinental at Doral Miami is located at 2505 North West 87th Ave. Click here for more information about the hotel and to book your stay. For restaurant menus and reservations, visit Blue Matisse.
Carrot Express is located at 3450 NW 83rd Ave., Suite 136. The restaurant is open daily from 11am-9pm.
Chico Malo is located at 3450 NW 83rd Ave., Suite 220. The restaurant is open Monday through Wednesday from 4-10pm, Thursday and Sunday from 4-11pm, and Friday and Saturday from 4pm-3am. Brunch is served Saturday and Sunday from 11am-3pm, and happy hour is Monday through Friday from 4-7pm.
Heaven Mykonos is located at 3450 NW 83rd Ave., Suite 216. The restaurant is open Monday through Thursday from 4pm-midnight, and Friday and Saturday from 4pm-3am, and Sunday from 1-11pm. Brunch is served Sunday from 1-5pm, and happy hour is Monday through Friday from 4-7pm.
Kuba Cabana is located at 3450 NW 83rd Ave., Suite #140. The restaurant is open Monday through Thursday from 4pm-2am, Friday from 4pm-3am, Saturday from 3pm-3am, and Sunday from 12pm-2am. Brunch is served on Sunday from 12-4pm, and happy hour is Monday through Friday from 4-6pm.
SuViche is located at 3450 Nw 83rd Ave., Suite 148. The restaurant is open Monday through Wednesday from 11:30am-10pm, Thursday from 11:30am-11pm, Friday from 11:30am-midnight, Saturday from 12pm-midnight and Sunday from 12-10pm.
CycleBar is located at 3535 NW 83 Ave. The studio is open daily from 6am-8pm.