Never miss a bite! Sign up here to receive new recipes and reviews straight to your inbox.
Disclosure: I was invited to dine as a guest of Wild Thyme Oceanside Eatery in exchange for this post. As always, all opinions are 100% my own.
The Atlantic Hotel and Spa has once again reinvented their on-site restaurant — but it still has the same great oceanfront view of Fort Lauderdale Beach. Wild Thyme Oceanside Eatery describes itself as a grown-up interpretation of a chic boardwalk dining experience — and as someone who grew up going to the boardwalk in the summers, it does kind of feel like that.
With a perfect view of the water and the cool ocean breeze, dining at Wild Thyme did bring me back to my days on the boardwalk in Ocean City, NJ. No matter where you dined on that boardwalk, the beach was footsteps away and you have awesome opportunities for people watching. The vibes are similar at Wild Thyme, but the food is much more elevated than your standard boardwalk fries and funnel cake.
Case in point: you can get a whole grilled octopus. Not just one tentacle, but all eight! Sure, you can get the half order — but why would you? The whole charred octopus entrée is seasoned with fresh herbs and olive oil, and comes with a side of absolutely delicious and perfectly seasoned roasted fingerling potatoes. I've had plenty of octopus in my lifetime, but never have I seen a dish like this. The presentation was impressive, as was the flavor. To be honest, I saw this on the menu before going to the restaurant, and it's pretty much the entire reason I wanted to go.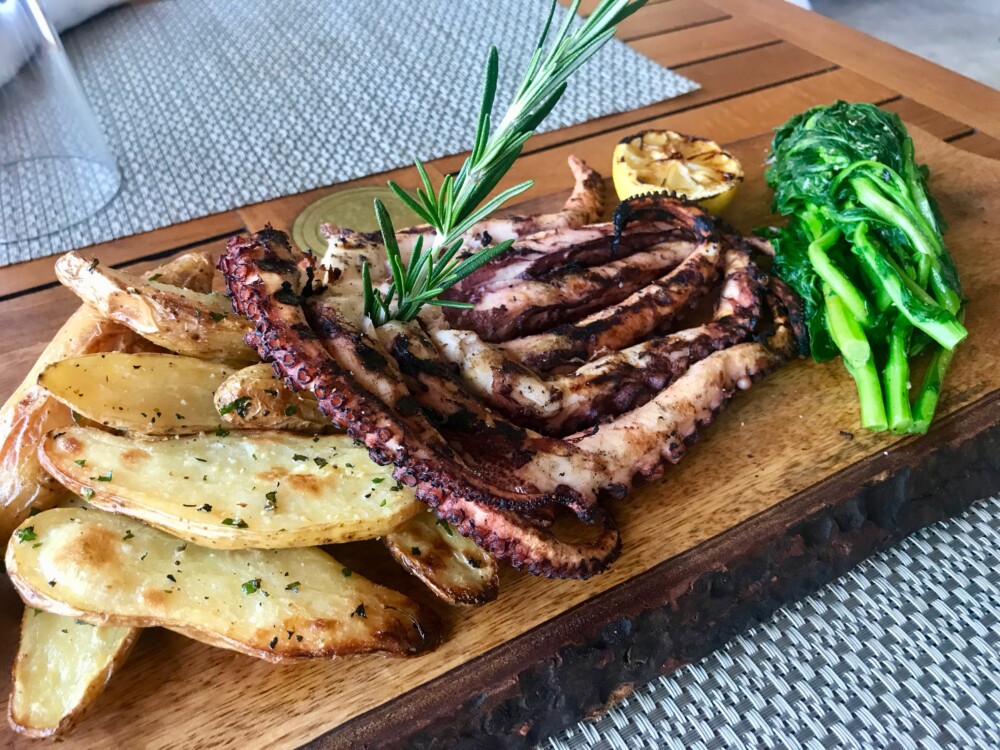 Actually, there was one more reason. Maple-bourbon bacon — and it's served dangling from clothespins, dripping sweet, sticky and seriously delicious maple-bourbon sauce all over a piece of jalapeño-cheddar cornbread. You must start off your meal at Wild Thyme with this. One order comes with four pieces of thick-cut bacon, so it's enough to share. Or not. Totally up to you. Whatever you do, do not miss out on this.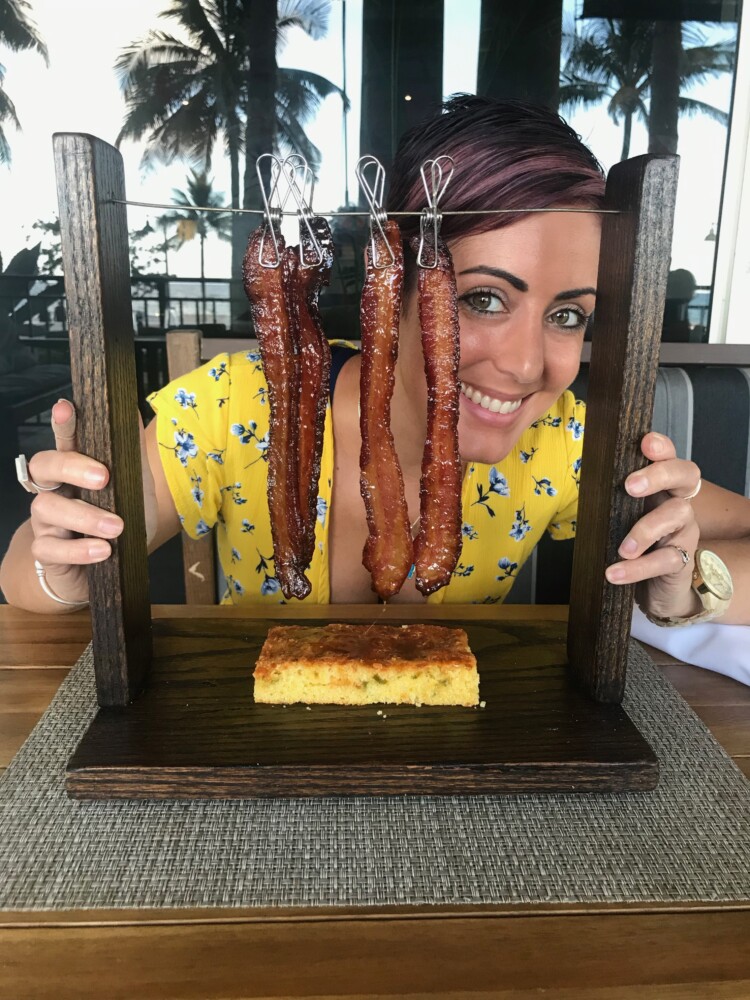 After devouring the bacon, we ordered a couple appetizers — the lamb ribs and dancing shrimp. I didn't think I was going to become much of a lamb fan when I started eating meat again, but I was sorely mistaken. When prepared right, lamb is so good. These lamb ribs were as meaty as they come, topped with a roasted tomato jam and scallions. In lieu of the tzatziki and honey-turmeric tahini drizzle, the kitchen was able to prepare mine with a sesame-free hummus. If dairy and sesame aren't an issue for you, order the dish as is and prepare to be amazed — but if you do have allergies, just let your server know and the team will be happy to accommodate.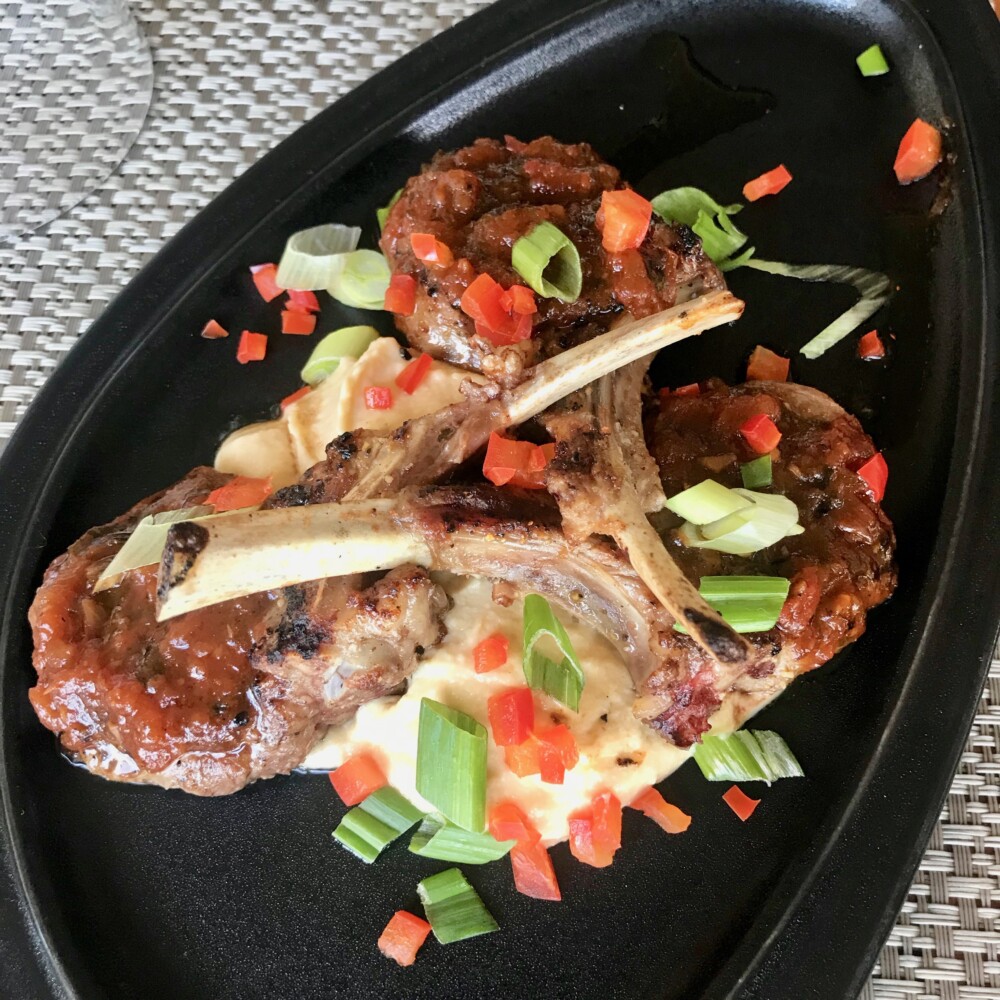 The dancing shrimp appetizer is another great choice. It's jumbo shrimp wrapped in prosciutto and covered in honey, garlic and basil. I mean, how can you go wrong with that?!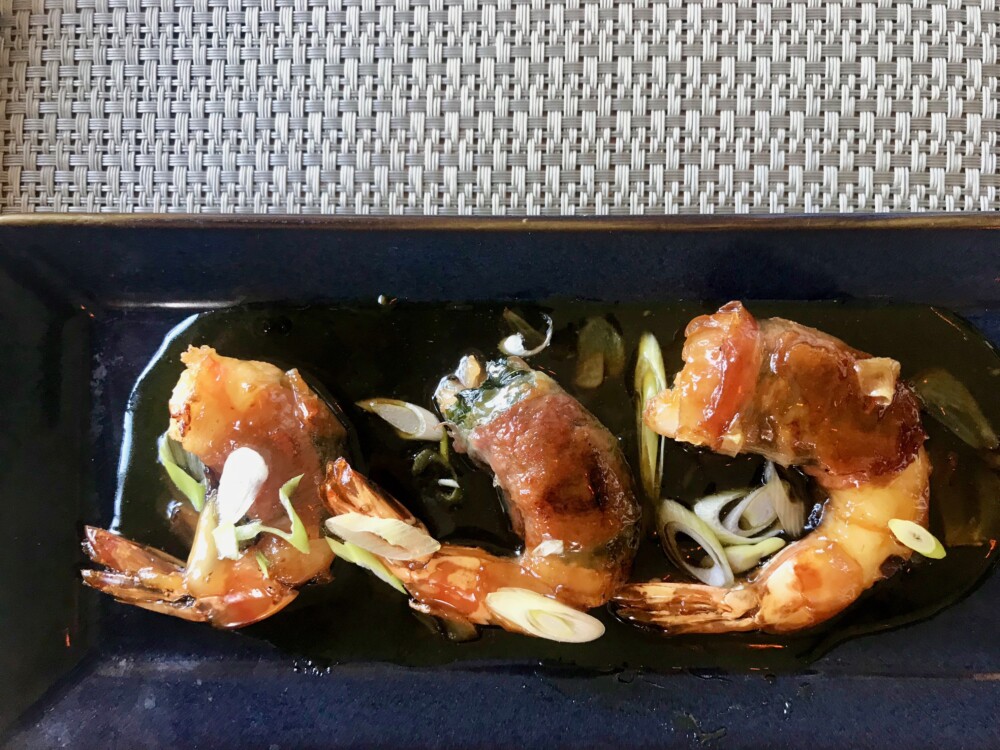 For our entrées, the octopus I raved about earlier was accompanied by the whole roasted cauliflower — a gorgeous plate filled with fresh herbs, pistachio nuts, fresno chili, pomegranate arils, and pickled red onions. A turmeric-honey tahini sauce is usually drizzled on top, but we had it served on the side (by the way, for those of you who have followed along, this newfound allergy to sesame has proven very likely to be one of the ultimate causes for my skin and digestive issues.)
Whole roasted cauliflower is totally having a moment. It's on so many menus now as a main vegetarian entrée option, and I am just loving the trend. Wild Thyme did theirs right. The vibrant colors make it a visually stunning plate, and all of the different flavors and textures just make it that much better. Whether you're vegetarian or not, this is a winner.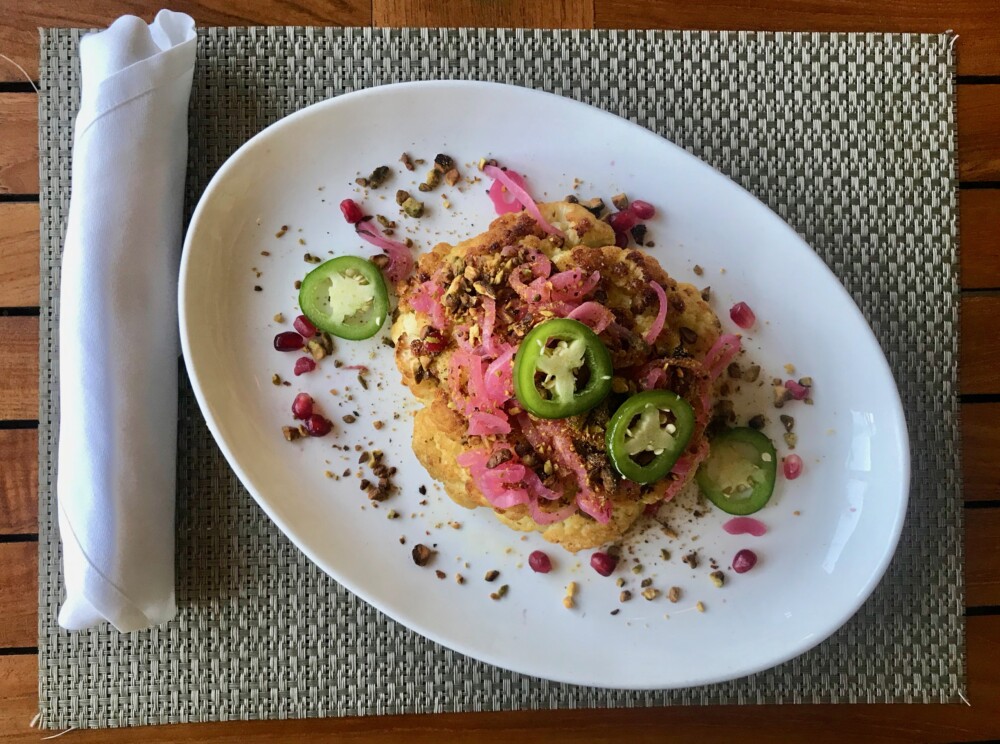 While we didn't indulge in dessert, I recommend you do just that — indulge. Wild Thyme has a milkshake bar with five different over-the-top creations with all kinds of ingredients that will make your inner child squeal with excitement. Just to give you an example of these totally Instagrammable desserts, the Carnival is a milkshake with salted caramel ice cream, topped with a chocolate mousse mini cupcake, chocolate-covered pretzels, caramel popcorn and whipped cream.
Hungry? Yeah, me too.
You don't have to be a hotel guest at the Atlantic Hotel and Spa to enjoy the dining options at Wild Thyme, so go ahead — oceanfront Fort Lauderdale dining awaits.
Wild Thyme Oceanside Eatery is located at 601 North Fort Lauderdale Beach Boulevard. The restaurant is open Sunday through Thursday from 7am-10pm and Friday and Saturday from 7am-11pm. Breakfast is served daily, and every Sunday from 11am-3pm there is a Sunday Brunch Feast with various food stations, flowing small plates and bottomless mimosas, Bloody Marys and bellinis. Happy hour is Monday through Saturday from 4-7pm and Sunday from 3-7pm and always includes a featured cocktail of the month for $7.
Wild Thyme is also available for private events, and hosts a special Full Moon Dinner party every month on the oceanfront terrace. The dinner features a four-course menu, entertainment and music. More information on all of Wild Thyme's upcoming events can be found here.