Never miss a bite! Sign up here to receive new recipes and reviews straight to your inbox.
NOTE: This restaurant has since closed.
Disclosure: I was invited to dine as a guest of The Winemaker's Table. No monetary compensation has been received for this post. As always, all opinions are 100% my own.
The Winemaker's Table, an elegant fine dining space in Delray Beach, welcomes Jessica Scialetti as its new owner. Jessica brings with her a love of European culinary arts, as well as a background in dessert creation and a business-minded ethic. She is excited to introduce her guests to unique, unforgettable wine pairing experiences, created by Chef Joshua Bradley, who has been cooking since the age of 14, and in-house certified sommelier, Fernando Ballesteros, whose career includes positions at the Rainbow Room Spark's Steak House in New York, Coppola's Family Restaurants in Boca Raton, and Casa d'Angelo and Serafina in Fort Lauderdale.
I had the opportunity to experience a wine-pairing dinner at The Winemaker's Table when it first opened around this time last year, and it was truly one-of-a-kind. The food was prepared perfectly, and the wines were the best I'd ever tasted — ones I had never even heard of before. Jessica has made sure to keep the exclusivity of The Winemaker's Table intact, offering incredibly creative dishes and wines to match. While I would definitely describe the restaurant as a special occasion destination, it's certainly also suitable for casual dinner dates and girls night out.
The Winemaker's Table is open for regular dinner service, but the themed wine-pairing dinners are where it's at. An all-inclusive price gets you a four- or five-course meal with expertly paired wines. Jessica, Chef Joshua and Fernando, graciously took me and a group of local media and influencers on a 5-course Tasting Tour Around the World, featuring a menu that truly swept me off my feet. This particular tasting dinner was extra special for me — for the first time, I didn't have to ask the chef to substitute for the meat dishes, allowing me to truly taste and understand the intended pairings for each glass of wine. I also now have a new favorite thing — duck. But more on that later…
The evening kicked off with a champagne reception, giving us an opportunity to really take in the beautiful atmosphere of the restaurant. Its old world European style makes you feel as though you've traveled to across the Atlantic, somewhere in the rustic countryside where meals are authentically prepared by family members and the wines were produced from grapes grown right outside. The first course was a watermelon salad with dark cherry balsamic and herb pesto, paired with Maison de Chanzy Rosé from Provence, France. There was a lot going on here flavor wise, but all married together beautifully. The dark cherry balsamic — my favorite element of the dish — was almost jam-like, and its tartness balanced out the savory pesto and sweet, refreshing watermelon. The rosé was light and a little on the dryer side. I think of rosé as a daytime sip-by-the-pool drink, the same way I think of watermelon as a daytime eat-by-the-pool snack. So for me, it was a perfect pairing.
Next up was an extremely interesting fish course — black grouper brandade tots with chipotle aioli and sweet potato orange coulis. I had never heard of this "brandade" preparation before, but essentially it is a French-style appetizer, made of salt cod, potatoes, olive oil and garlic, and normally served as a spread with crostini. Chef Joshua took his own liberty here, using black grouper and creating "tots." I mean, anything that resembles a tater tot is A-okay in my book! They reminded me of fish croquettes, with a crisp exterior and an almost melt-in-your-mouth center. Since I could not have the aioli or coulis, Chef Joshua put together a refreshing salad of mixed greens, and thinly sliced radish and carrots. Paired with course number two was Selendi Wines Chardonnay & Viogne from Akishar, Turkey. I normally don't like chardonnay because of its intense buttery taste, but this one was particularly light and smooth, and definitely played to the ingredients of the dish. This was also the very first Turkish wine I have ever tried, and I hope it's not the last.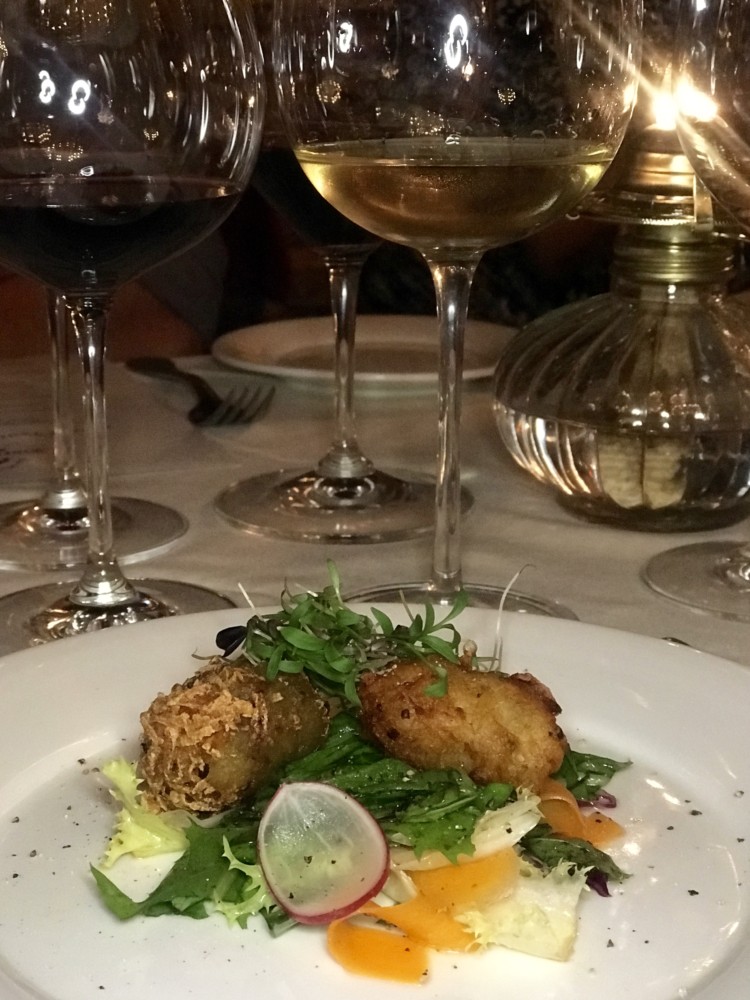 Now, we get into the meat of the dinner! This is when I just about cried over how amazing duck is and declared it my favorite part of the night. The Moulard duck duo, served with a strawberry red wine gastrique and white bean cassoulet, paired with Coats and Whitney Pinot Noir from Yamhill District, Oregon. The duck was prepared two absolutely delicious ways — the only part I didn't care for was the sliver of fat that coated one of the pieces, but luckily Roger took care of that for me. Those crispy edges and the juicy center? I could die. I don't know how I have deprived myself of this for so long! The pinot noir was all too perfect for this dish too, with its smooth mouthfeel and light, earthy taste. Duck and pinot for the win!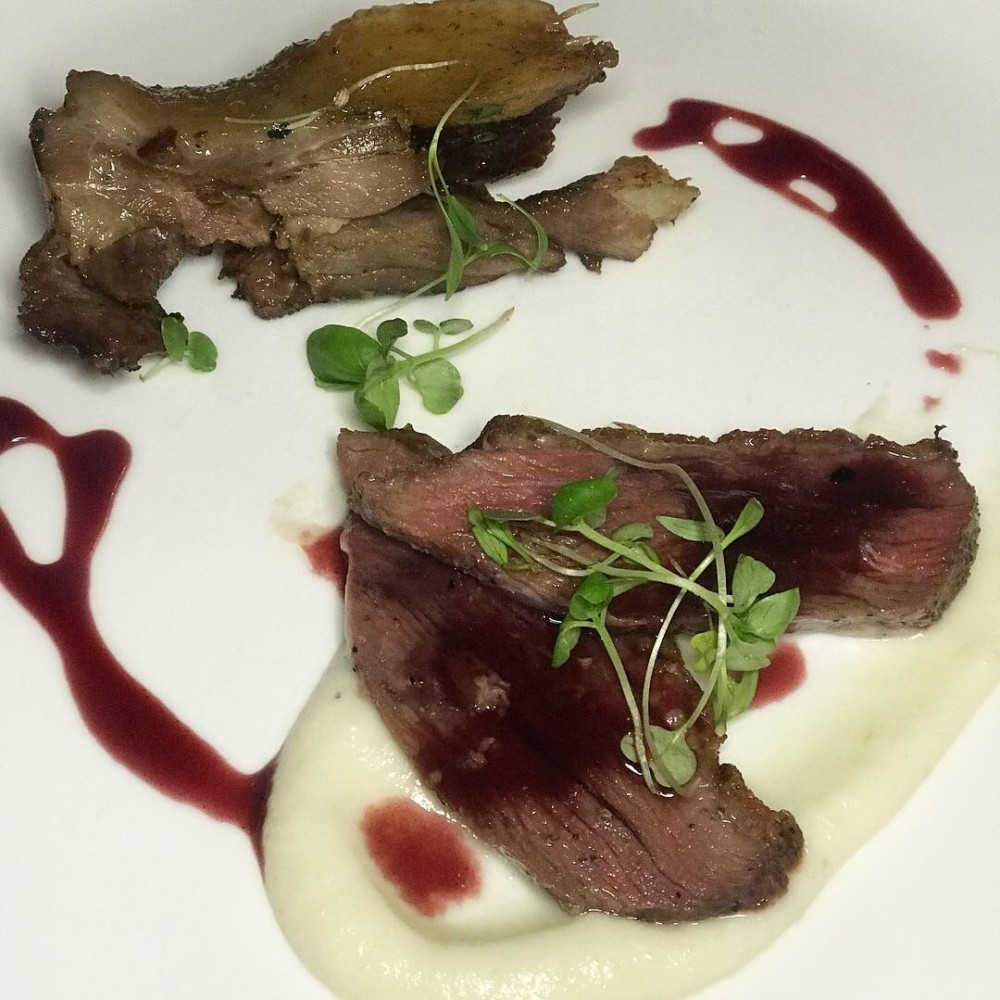 The fourth course was another star of the night — smoked Wagyu beef short rib with fermented barley and wild mushroom risotto (subbed with quinoa for me) paired with Deerfield Ranch Winery Red Rex from Sonoma, California. Again, why did I do this to myself for so long? The short rib was so tender, so flavorful, so worthy of every ooh and aah that follows each bite. You need a big red wine to stand up to the intensity of this kind of dish, and the Red Rex was just that.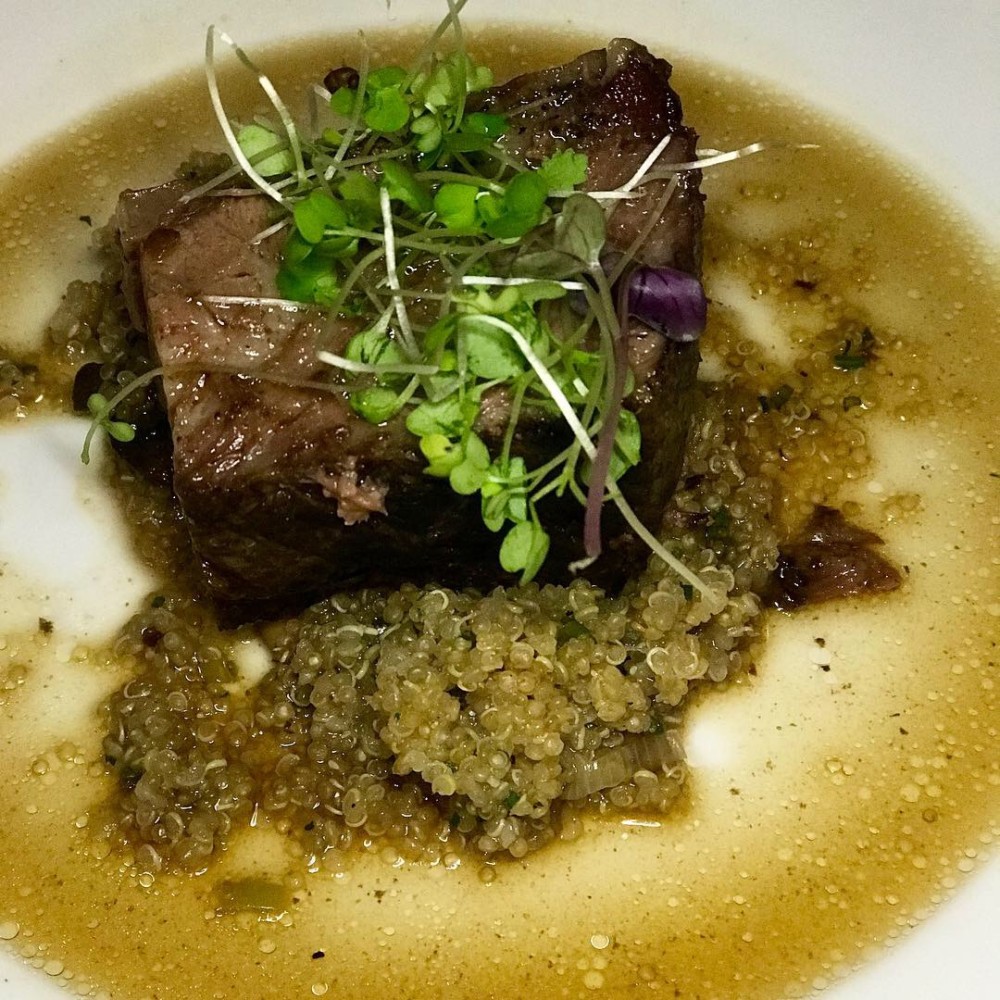 As I mentioned earlier, the new owner, Jessica, is a chef in her own right, mastering the art of cake design and desserts. She took careful consideration when putting together a gorgeous dessert platter, featuring some of her most treasured sweets. For me, she created a strawberry oat crumble (both vegan and gluten-free), which coincidentally happens to be one of my favorite kinds of desserts. Crisps, crumbles, cobblers — anything involving baked fruit and some kind of topping — I'm always excited to try. With dessert, we were treated to more bubbly, this time the Añoranza Frizante Dessert Rosé from Bodegas Lozano in La Mancha, Spain. Sparkling rosé is at the top of my favorites list, mostly for its clean, crisp taste and never-too-sweet flavor. All in all, the perfect ending note.
Simply reading the description of the night is impressive, and should pretty much have you drooling all over yourself by now, but you need to experience it for yourself. The Winemaker's Table is located at 2875 South Congress Ave. in Delray Beach. The restaurant is open Tuesday through Saturday from 5-11pm. Catering and private booking for special events are also available. The private room can be reserved for small groups up to 15 people, and exclusive use of the restaurant can be arranged for larger parties.