The best part about family vacation is all the great dinners we get to enjoy together. My dad has some relatives who also live here in South Florida, so we met up with them in Hallandale Beach for dinner at the Yard House. The location of the restaurant is at the Gulfstream Park Racetrack, which is what you would call a "Racino," a racetrack and casino. There was a beautiful holiday display in the center of all the shops and restaurants surrounding the racino, and we were lucky to catch the musical light show before we left. Although it was about 75 degrees out and the tree was nowhere near as big as the one in Rockefeller Center, it felt a little like celebrating the holidays in the city.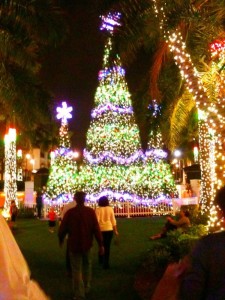 But back to our dinner… The Yard House has one of the most versatile menus I've seen at a restaurant in a great while. There are classic American dishes such as pizza, sandwiches and burgers, as well as a large selection of Asian-American inspired entrees and some great seafood, steak, and chicken options. Their drink list was pretty extensive, too, and they even had a "Skinny" drink menu. I ordered a Ruby X, a very light and fruity drink with 1800 Silver Tequila, X-Rated Fusion liqueur and fresh grapefruit. For the beer lovers, there is a huge list of all types of beers to try. 
I got the classic salad as a starter: iceberg and Boston lettuce with tomatoes, carrots, sweet corn, jack & cheddar in a gorgonzola vinaigrette. Other starters included the organic tomato bisque and a Caesar salad that had these delicious parmesan crisps tossed throughout. Deciding what to order for dinner was quite the project considering how large this menu was. I kept going back and forth between a few different options and finally decided on the Miso Glazed Sea Bass over brown rice with bok choy, carrots and edamame. It just so happened that my mom and I were both deciding between the same two dishes, so we each ordered one and tried a little of each. She got the Lobster Garlic Noodles with shrimp, crab, lobster, shiitake mushrooms, fresh spinach & parmesan.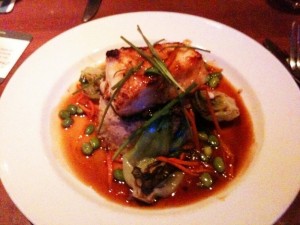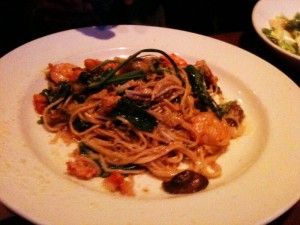 Both entrees were delicious. Asian food is one of my favorite cuisines; if there are Asian options on a menu, I almost always order one of them. These two dishes had such great bursts of flavor in each bite. The seafood was cooked really nicely and paired really well with the tastes of the sauces. The sea bass was so delicate and I especially liked the crab and mushrooms in the noodle dish. 
My sister got the Vodka Shrimp Pasta with chopped shrimp tossed in angel hair pasta in a light vodka tomato cream sauce and parmesan. My dad and his cousin both got the Roast Beef Dip with Swiss cheese on garlic toasted French bread served au jus with horseradish cream. My dad's other cousin's son and his wife were dining with us, also. They got the Mac & Cheese: chicken, applewood bacon, wild mushrooms, cheddar, and parmesan tossed with campenelle pasta and truffle oil. I tried a taste of this rich, cheesy dish and I can understand why it is the first entree listed under "House Favorites." This is what you would call some good gourmet mac & cheese. His wife got the Ginger Crusted Norwegian Salmon with wasabi mashed potatoes, snow peas and carrots in a spicy peanut vinaigrette.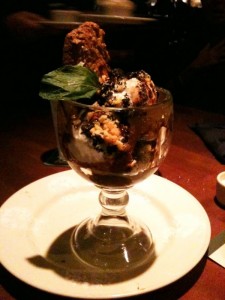 Even the dessert menu had a lot to choose from, but we all were able to pick what we wanted pretty quickly. As always, my sister and I ordered something pretty lavish to share while the others at the table opted for the "mini" dessert options: the Peach Apple Cobbler with caramel ice cream, and the Creme Brûlée with vanilla bean custard and chocolate topped with caramelized bananas. Rebecca and I got the Kona Coffee Ice Cream Sundae topped with Oreo cookie crumbles, macadamia nuts and chocolate sauce and a macadamia nut cookie. When it comes to dessert for us, it's go big or go home. I love the combination of coffee and chocolate. A little bit of sweet with a little bit of bitter. The crushed Oreos were a nice addition and I definitely aimed to scoop up a piece of cookie with every spoonful. I didn't like the macadamia nut cookie too much. It was a little too hard for my liking. I like my cookies soft and chewy and this one wasn't either.
Everyone seemed very pleased with their dinner from start to finish. I would definitely go back to Yard House and recommend it to others for a night when they're looking for good food with a low-key atmosphere.