Never miss a bite! Sign up here to receive new recipes and reviews straight to your inbox.
Disclosure: I was invited to dine as a guest of Yellowtail, Modern Asian Cuisine and Sushi. As always, all opinions are 100% my own.
Yellowtail: Chef-Driven, Modern Asian Restaurant in West Delray
Yellowtail, Modern Asian Cuisine and Sushi bridges the gap between upscale Asian restaurant and casual sushi spot, offering a variety of Japan-, Thailand- and Chinese-inspired dishes, featuring only the freshest and highest quality of ingredients.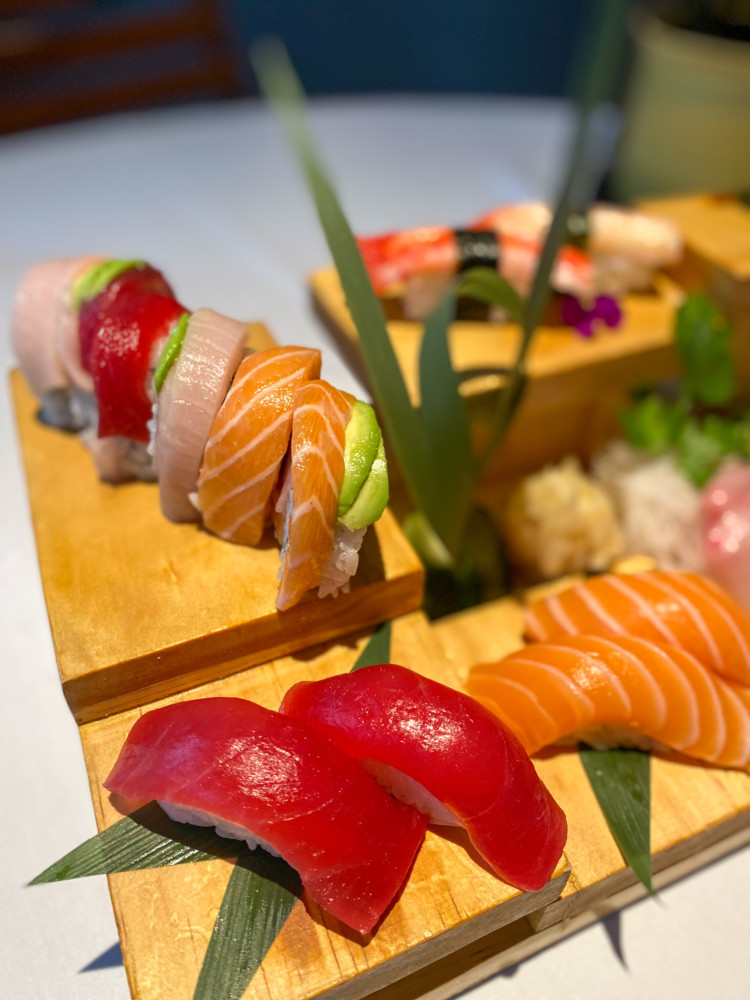 Chef/owner Andrew Marc Rothschild is no stranger to the culinary world, especially when it comes to high-end fine dining. Chef Andrew started his career training right here in Palm Beach County at The Breakers Hotel, and went on to work top positions with some of America's most acclaimed restaurants, such as The Marc and Gordon in Chicago, The River Café and Restaurant Raphael in New York, and Bourbon Steak, Annabelle's, The Forge and Tsunami in South Florida.
Seeing as Chef Andrew clearly knows his way around the kitchen, my dinner date, Destiny, and I figured the best way to experience Yellowtail was to let him lead us through our dinner. The menu is pretty big, so this made things easier for me too — although, I desperately need to go back again soon because there is so much more I want to try!
What to Eat at Yellowtail, Modern Asian Cuisine and Sushi
One of the things I love about Asian dining is that many of the dishes can be considered share plates. If you're dining with friends, I suggest ordering a bunch of different things so you can each get a little taste of everything. We started off with one of the most popular appetizers, the crispy Brussels sprouts and bok choy. There is a reason why everyone orders this when they go to Yellowtail. It is a must-have! It's a perfect balance of sweet and savory, and the texture is just perfection.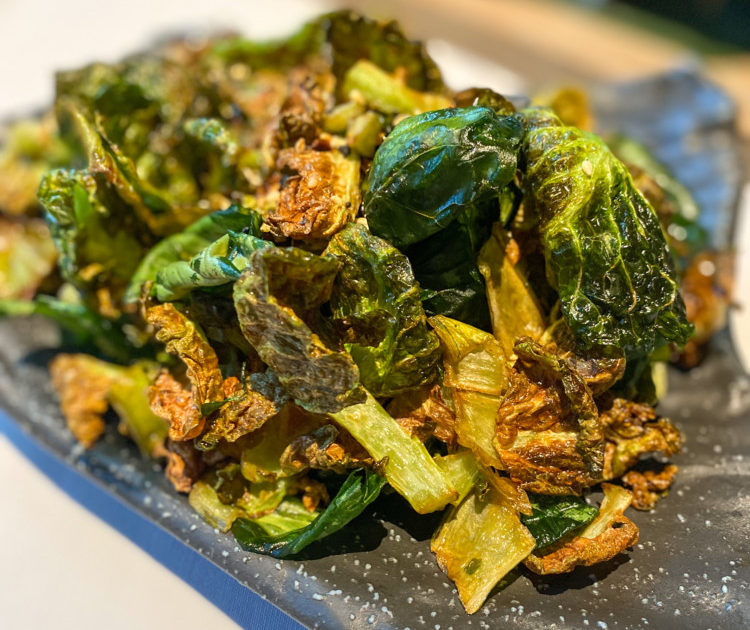 The dish comes with a miso demi-glace, but this sauce is not gluten-free so Chef put it on the side. Instead, I used a sweet chili sauce that was freakin' fantastic. I was hesitant to even let the server take it away from me after this course — I wanted to be able to have it for whatever else came out that could use a dipping sauce, ha!
You can't go to Yellowtail without getting the sushi. Choose from the list of classic rolls, or if you're feeling adventurous, opt for one of the signature varieties. There are some super unique options like the Candy Yellowtail made with hamachi, jalapeño, candied garlic chips, smoked skin crunchies, eel sauce and cilantro essence, and The S.O.B. (South of the Border) made with tequila-cured salmon, avocado, scallions, sun-dried tomatoes, cream cheese, pine nuts and smoked poblano aioli. You can also customize your own. Choose from over 20 selections of seafood to make a maki roll (the traditional 8-piece roll), nigiri (one piece of fish over rice), sashimi (two pieces of fish, no rice), or temaki (one handroll).
My preference, however, is to sit back and let Chef Andrew and his team present an Omakasa experience. "Omakasa" essentially means "trust the Chef," and that is exactly what we did. Our Omakasa featured King crab nigiri, monkfish liver with fresh ginger and dashi ponzu, Faroe Island salmon, Ahi tuna and hamachi sashimi and nigiri, and a rainbow roll, which is a California roll topped with tuna, salmon and white fish.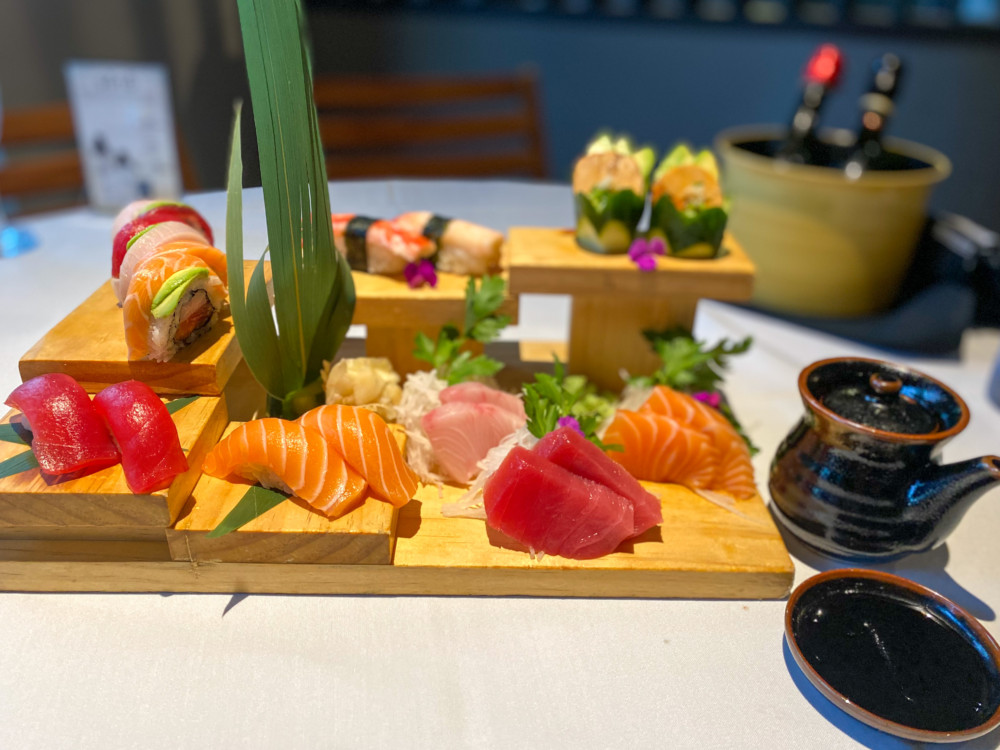 Everything was so fresh and flavorful. The monkfish liver was something neither of us had ever had before. We were excited to try something new, and we both really liked it. It has the texture of a traditional pâté, but felt much lighter on the palate.
Off Menu Specialities at Yellowtail, Modern Asian Cuisine and Sushi
Chef Andrew did go a bit off-menu for us, bringing out a few dishes that are not regularly available — but if you see something here you're interested in, you might as well ask Chef Andrew about it when you visit Yellowtail and maybe he can make it special for you too!
The very first dish he brought out was a pork and shrimp siu mai with red wine vinegar gel and hoisin. Siu mai is basically like a steamed dumpling. Unfortunately, this was not gluten-free so it wasn't something I tried, but Destiny definitely enjoyed it!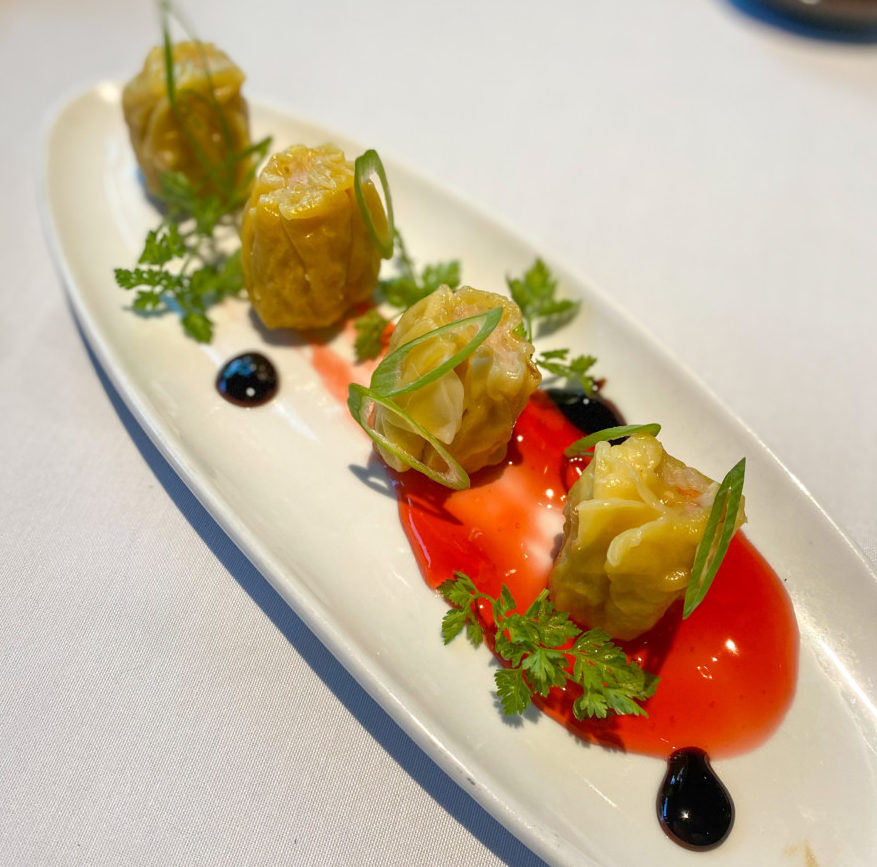 Accompanying those delicious crispy Brussels sprouts and bok choy leaves, was a pretty shrimp presentation — some simply seasoned, and some wrapped in crispy wonton wrappers. This is where that addicting sweet chili dipping sauce came into play. It was intended to be used as a dipping sauce for the shrimp, but as I mentioned, the crispy greens were a great vehicle for digging into it as well.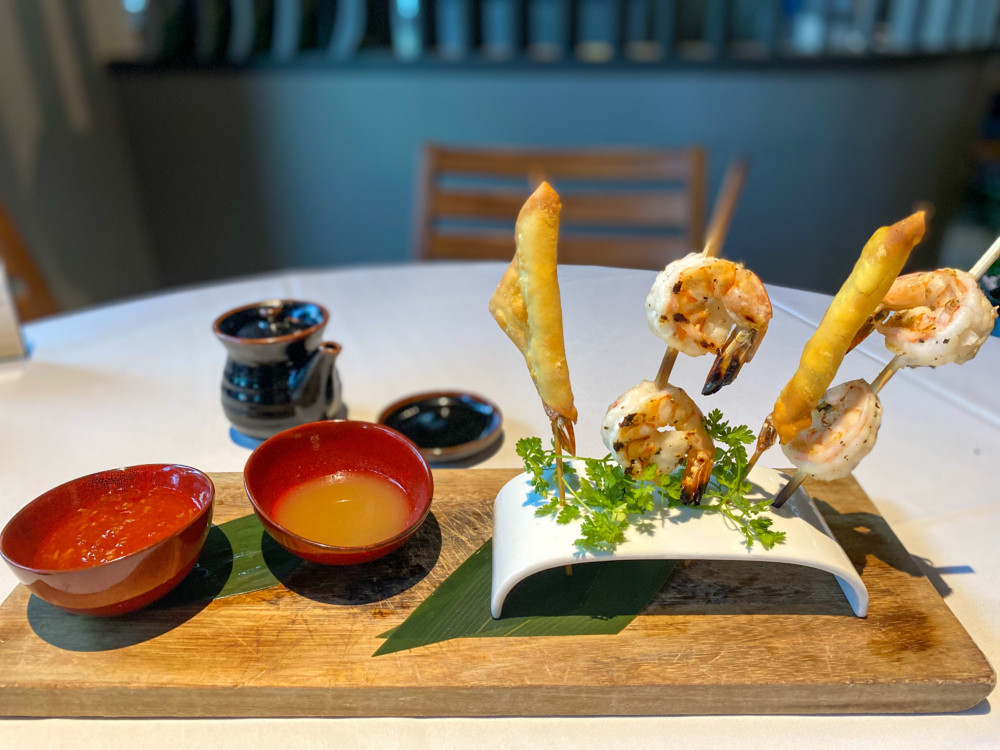 Yellowtail does offer a selection of crudos, tartars and tatakis (different types of raw preparations), featuring hamachi, Ahi tuna, salmon and even NY strip. What he made for us, however, was on an entirely different level. It was quite possibly the best and most inventive crudo dish I have ever had. Striped bass, with a calamansi-laced ponzu (calamansi is a Philippine lime), sweet pea leaf, and a passion fruit sorbet that lent the most incredible sweetness to the dish. It was as tasty as it was gorgeous, and I highly recommend asking Chef about this special when you dine at Yellowtail. Maybe even call ahead to see if he has the ingredients, because like I said, Chef Andrew works with the highest quality, freshest ingredients, so some things might not always be readily available.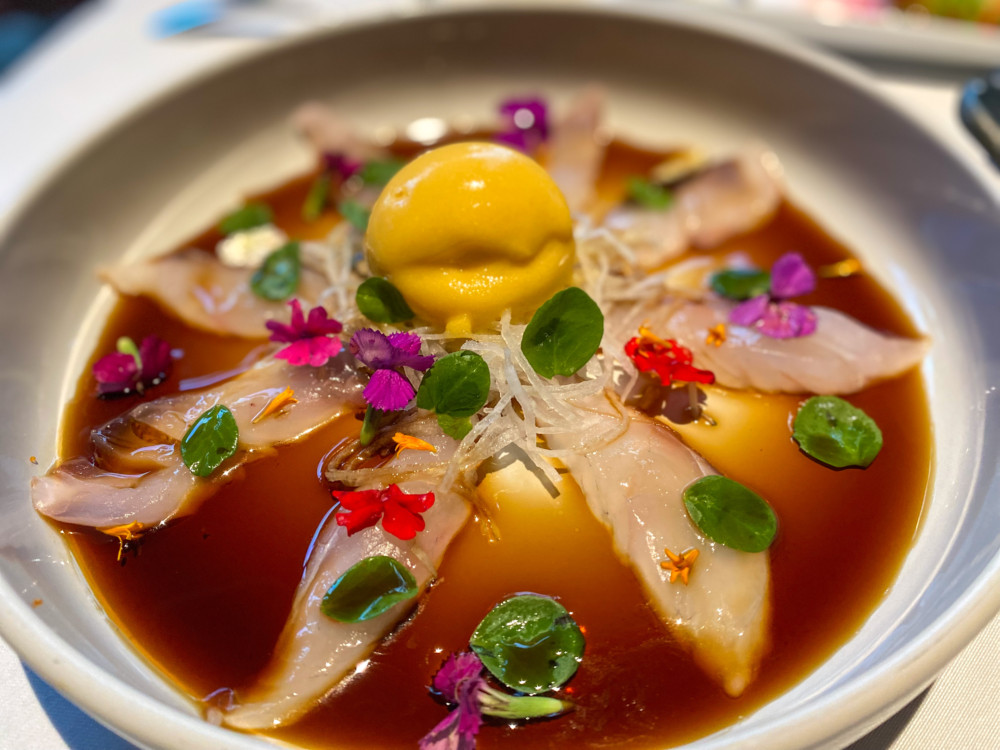 For our main dish, Chef Andrew prepared a beautiful grilled swordfish with pea shoots, togarashi-spiced enoki mushrooms, maitake mushroom and a black garlic jus. Swordfish can sometimes be a little on the tougher, meatier side, but this was cooked perfectly. All of the components of the plate worked so well together, and the sauce was the ultimate flavor bomb.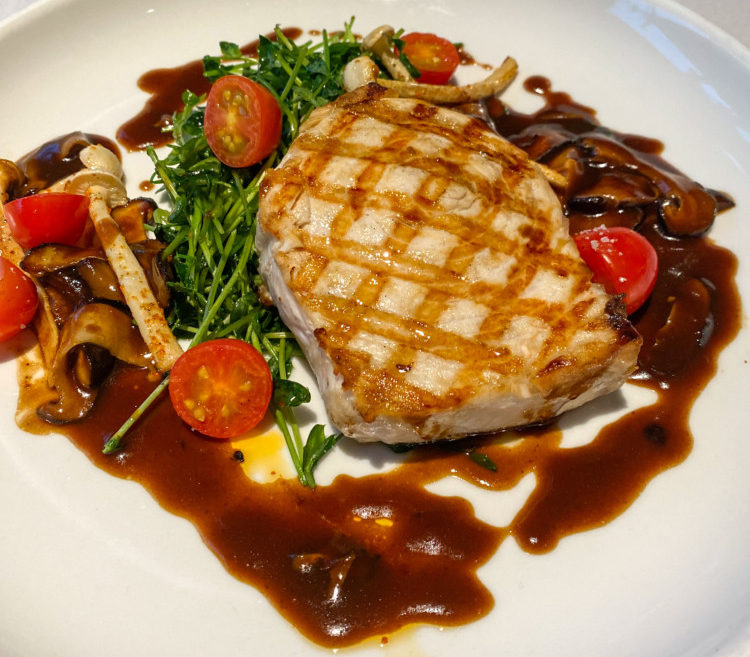 As our dining experience came to a sad end, there was one last course to be had: dessert. Now, normally I don't even bother to ask because Shaina-friendly desserts are so few and far between, but Chef Andrew promised he had something for me. Out came a gorgeously plated Zodiac pear (Asian pear) that had been poached in sake and Asian spices, enveloped in a cardamom-sake glaze, and drizzled with rehydrated umeboshi, honey dust and black salt. The best part about this kind of dessert is that it satisfies that dessert craving, but it isn't overly sweet. I love poached pears and think it is a totally underrated dessert option. I wish more places offered this!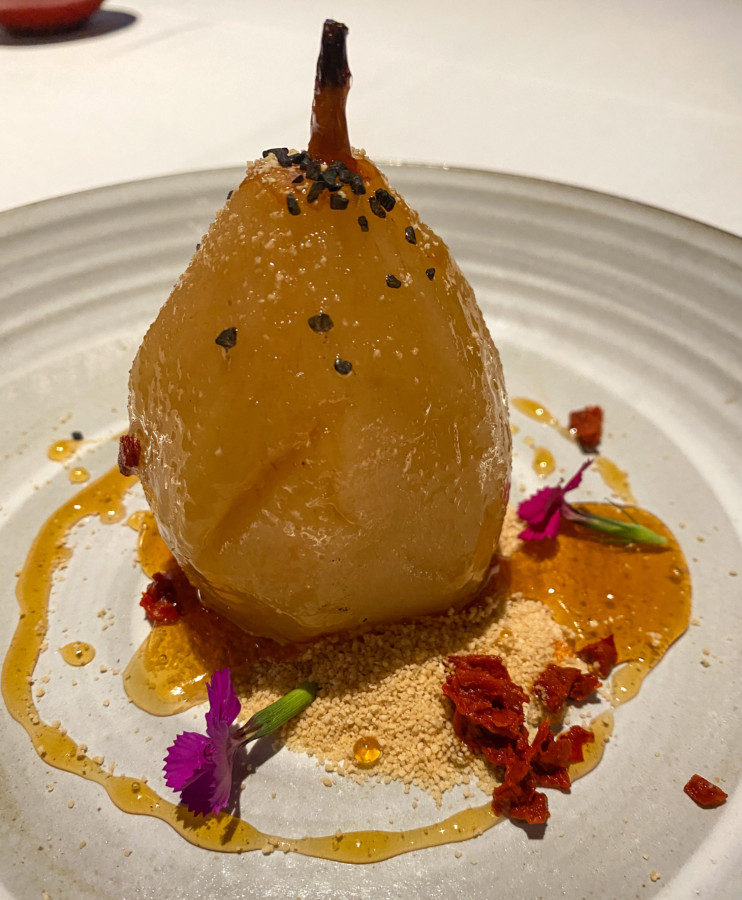 Reserve Your Table Now at Yellowtail, Modern Asian Cuisine and Sushi
Yellowtail has been on my radar for a while now, and I am so glad I finally made my way over to West Delray to check it out. The menu has something for everyone, whether you're in the mood for sushi and sashimi, Thai-style noodle dishes, or just want a good grilled piece of meat or seafood. The options are endless — especially if you just let Chef Andrew work his magic and surprise you with course after course like we did.
Yellowtail, Modern Asian Cuisine and Sushi is located at 7959 West Atlantic Ave. in Delray Beach. The restaurant is closed on Monday, and open Sunday, Tuesday through Thursday from 5-9pm, and Friday and Saturday from 5-10pm.