Never miss a bite! Sign up here to receive new recipes and reviews straight to your inbox.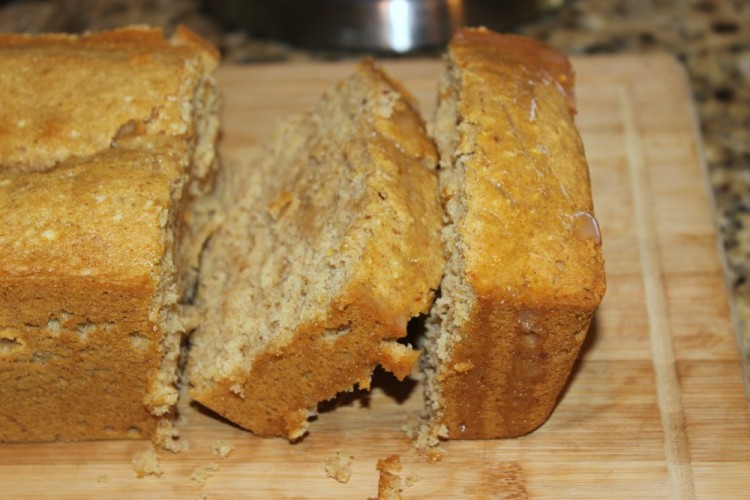 The lemon dessert obsession continues! I can't believe what I've been missing all these years passing up things like lemon bars and lemon meringue pie and lemon ricotta cookies — good thing I finally screwed my head on right and got with it! Lemon is just wonderful in baked goods. You know what else is a perfect ingredient to use in baked goods? Yogurt! It's a wonderful healthy alternative that keeps things all tender and most. I had no idea how many different ways there were to use yogurt in a recipe until I received a copy of "Yogurt Culture" by Cheryl Sternman Rule. This gorgeous cookbook gives you a "global look at how to make, bake, sip and chill the world's creamiest, healthiest food."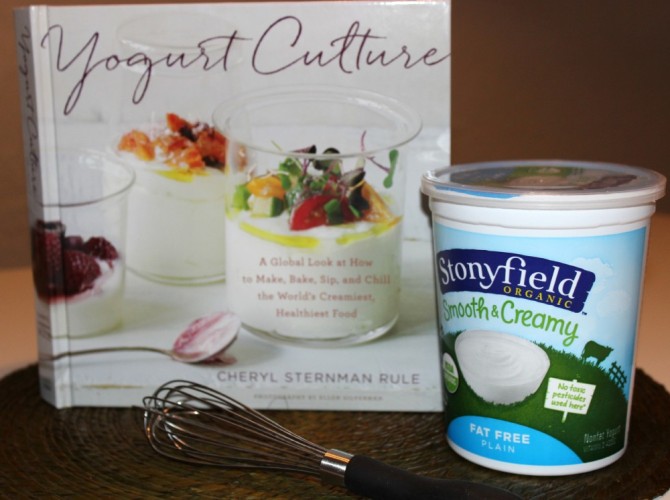 I spent hours leafing through each page of the book, dog-earring pages and making notes in my head about all the incredible recipes I want to try. My favorite chapter is "Dip, Dress, Drizzle, Spread." I've always been a fan of using yogurt when making condiments and such, and Cheryl's recipes are just so creative and unique. Her photos are beautiful and the instructions are very easy to follow. She even provides these cute little side-note sections titled "Yo!" with short tips and advice to streamline each recipe as much as possible. I found this quite helpful when making the Iced Almond-Lemon Loaf Cake, which called for almond meal. I couldn't find it in local grocery store and honestly did not have time nor the energy to go running around looking for it. Thankfully, Cheryl's "Yo!" section taught me how to easily make my own almond meal by grinding up whole, raw almonds in a food processor until they are as fine as they can be.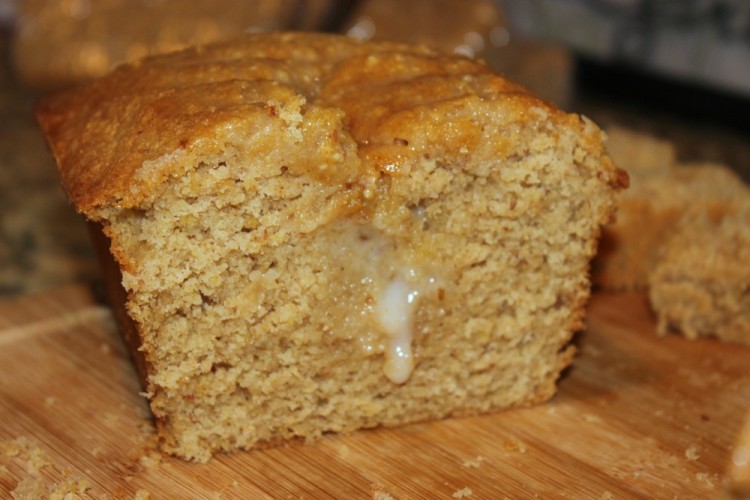 Just looking at the photo of this Iced Almond-Lemon Loaf Cake made me excited to bake it, and even more excited to eat it and give it to some of my gym friends. I sure do spoil the ladies I work out with, bringing them goodies on a weekly basis. They love and hate me at the same time! But they definitely didn't hate me after they tried this loaf cake. In fact, every one of them told me how much they loved the cake. It's a good thing they can go out and buy their own copy of Yogurt Culture: A Global Look at How to Make, Bake, Sip, and Chill the World's Creamiest, Healthiest Food
! Then they will be able to make as many Iced Almond-Lemon Loaf Cakes as they want!
The almond flavor is pretty prominent in the cake, which I absolutely love paired with the subtle lemon zest. The icing, however, is where you get that burst of citrus. I used my OXO whisk to mix together a simple combination of powdered sugar, yogurt and freshly squeezed lemon juice and slowly drizzled it over top of the cooled cake. I can never get the consistency of a glaze just right, but this whisk helped me achieve a beautiful icing to pour on top of an already stunning cake.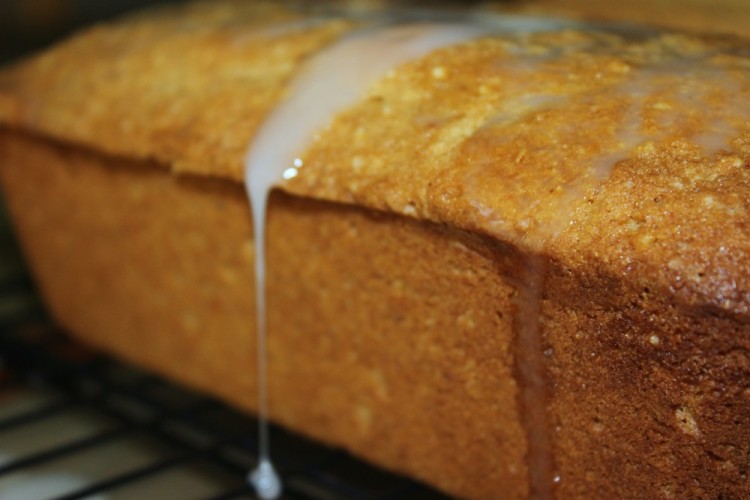 I was almost jealous of all the people who'd be getting slices of this loaf from me! Of course I saved a few pieces for myself too — quality control! The aroma of lemon and almond was wafting all through my kitchen just as my roommate walked through the door. You can bet she made a beeline right for the extra slices I saved. We gobbled them right up!
It wouldn't be fair for me to tell you how incredible this cookbook is without giving you the opportunity to look through it for yourself. I've got a copy of the book to giveaway to one of you lucky readers! Just fill out the rafflecopter widget below for your chance to win.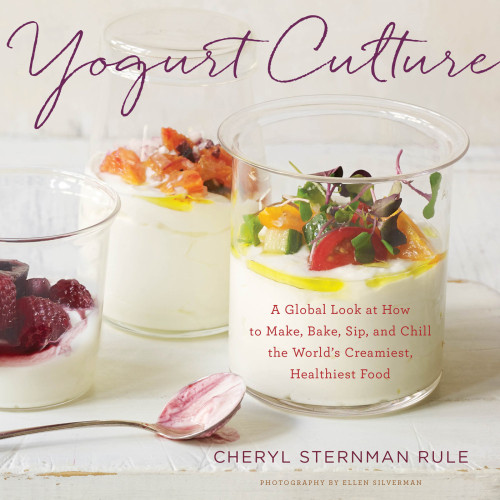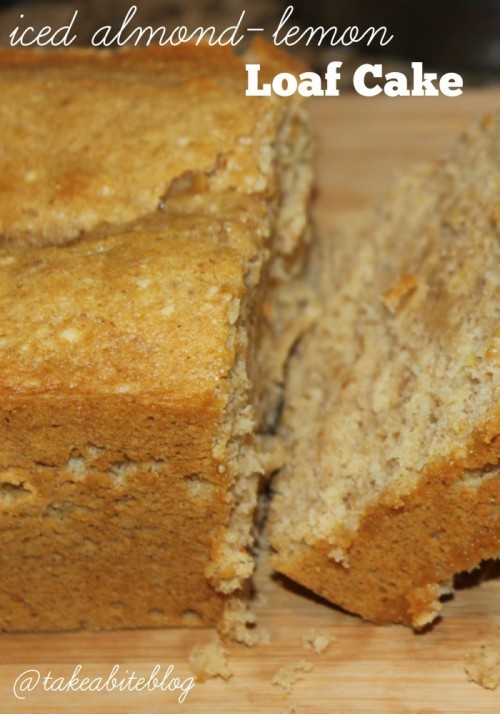 Iced Almond-Lemon Loaf Cake
Author:
Serves:
Makes one 9-inch loaf
Yogurt appears twice in this sunny loaf cake: A full cup of it gives the batter tenderness and moisture, and a spoonful in the icing delivers tang and shine. Bold lemon and almond flavors play off the yogurt beautifully, enhancing and deepening its impact.
Ingredients
For the cake:
10 tablespoons
(1¼ sticks) unsalted butter, at room temperature, plus soft butter for greasing the pan
2 cups all-purpose flour
2 teaspoons baking powder
¼ teaspoon baking soda
1 teaspoon kosher salt
½ cup almond meal*
Zest of 2 large lemons
1 cup granulated sugar
2 large eggs, at room temperature
2 teaspoons pure almond extract
1 cup plain whole-milk or low-fat yogurt (not Greek)
For the icing:
½ cup confectioners' sugar
1 tablespoon plain whole-milk or low-fat yogurt (not Greek)
1 tablespoon fresh lemon juice
Instructions
Prep. Preheat the oven to 350°F, with a rack in the center position. Generously butter a 9-by-5-inch loaf pan.
Mix the batter. Into a large bowl, sift the flour, baking powder, baking soda, and salt. Whisk in the almond meal and lemon zest. In a stand mixer fitted with the paddle, cream the butter and granulated sugar until light and fluffy, about 5 minutes. Reduce the speed to low and add the eggs one at a time, beating well after each addition and scraping down the sides as needed. Beat in the almond extract. Slowly beat in half the dry ingredients, then the yogurt, then the remaining dry ingredients until incorporated. Raise the speed to medium and beat for 1 to 2 minutes to develop some structure.
Bake the cake. Scrape the batter into the prepared pan and smooth the top. Bake until risen and lightly browned and a skewer inserted in the center comes out clean, 50 to 60 minutes. Cool in the pan on a rack for 15 minutes. Slide a knife around the perimeter and invert the cake onto the rack. Cool completely, then flip right side up.
Ice the cake. Sift the confectioners' sugar into a medium bowl. Whisk in the yogurt and then the lemon juice, 1 teaspoon at a time, until the icing is smooth, thick, and drips slowly from the whisk. Wave the whisk over the cake to drizzle lines of icing, or scrape the icing over the cake and smooth with an offset spatula.
Notes
*If you can't find almond meal, grind about 1/2 cup almonds in a food processor as finely as possible.
Disclosure: I have an ongoing partnership with Stonyfield as part of the Clean Plate Club. I received a copy of Yogurt Culture for review, a whisk from OXO and product coupons from Stonyfield to help with the recipe for this post. The recipe has been reprinted from the book with permission. As always, all opinions are 100% my own.