There are few things more comforting than homemade pizza. I'd much rather make my own at home; you have full control of the ingredients and it isn't a greasy mess. It also makes your kitchen smell amazing. I may have inherited this pizza making interest from my dad. He's been making his own pizza for years; it's only of his favorite meals to cook for himself. It is never a bad thing if there is bread and cheese baking in the oven. Raise your hand if you agree. Everyone in the entire universe raises their hands. Okay, good, you're all human and we are on the same page.

If you're going to make your own dough, you definitely have to make sure you allow yourself enough time. Unfortunately, work schedules and life in general don't leave us much free time around here so we did use the Publix pizza dough (which is still fabulous, might I add). Having made a lot of pizza dough from scratch at work, I do know how much it can make a difference. But the premade stuff does not disappoint!
My roommate loves making homemade pizza; she started to do it more often lately. Last time we had pizza night, she made one with tomato sauce, fresh tomatoes, mushrooms, goat cheese, and mozzarella cheese. The most prominent flavor was definitely from the goat cheese; it was amazing. I don't even want to tell you how many pieces I ate. It's okay though, because we cut them into small squares, not huge pizza-parlor slices. So I'm not as embarrassed to admit I probably had 4 or 5… 4 or 5 small squares is probably equal to 2 slices at a pizza place. So yeah, that's normal. Whew.
For pizza night #2, Amy made her amazing goat cheese pizza again with a couple minor changes – added ricotta cheese and no mushrooms. Deeeeelish. Ricotta is great on pizza. Who am I kidding? Ricotta is great in general. Again, the goat cheese is really the shining star on this pizza. Seriously, I am powerless before that stuff. It is just too damn delicious.
I wanted to create my own pizza for our night of indulgence (see my Cookie Cake recipe to see just how indulgent we were). I whipped up my favorite pesto sauce, grabbed some spinach and artichokes, fresh tomato slices, ricotta, and mozzarella and made a Spinach and Artichoke Pesto Pizza.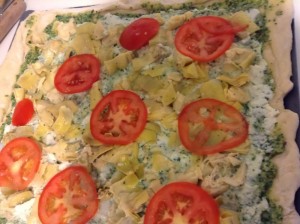 I know I sound like my heart belongs to that goat cheese pizza, but I have to give a lot of love to this pizza, too. Like…A LOT. You could really taste each and every individual ingredient in every bite. This could be my new favorite thing. I cannot wait for our next pizza night.
Spinach and Artichoke Pesto Pizza
1 ball of prepared pizza dough, store-bought or homemade
1 cup homemade basil pesto
½ cup part-skim ricotta cheese
1 8oz. jar of artichoke heart quarters, drained
2-3 handfuls of fresh spinach leaves
1 vine tomato, sliced thin
½ cup park-skim shredded mozzarella cheese
Preheat the oven to 425 degrees. Roll out pizza dough on a large rectangular baking sheet. Spread pesto thinly over entire surface. Spread on the ricotta (it does not need to cover the whole pizza and it's okay if it clumps together; it will melt and spread as it cooks). Peel the layers of artichoke hearts and arrange over the ricotta, covering as much of the surface as possible. Add the fresh spinach. Add the tomato slices. Sprinkle shredded mozzarella cheese liberally over the spinach and tomatoes. Bake for 18-20 minutes.