This restaurant has since closed.
Pagoda Kitchen Launches New Dining Deals
Pagoda Kitchen is welcoming South Florida's busy season with open arms. The restaurant has a new lineup of dining deals, including a new weekend brunch/lunch menu, revised happy hour times, early dining special, and family-style to-go packages. New food items, including cocktails and mocktails, have also been added to the menu.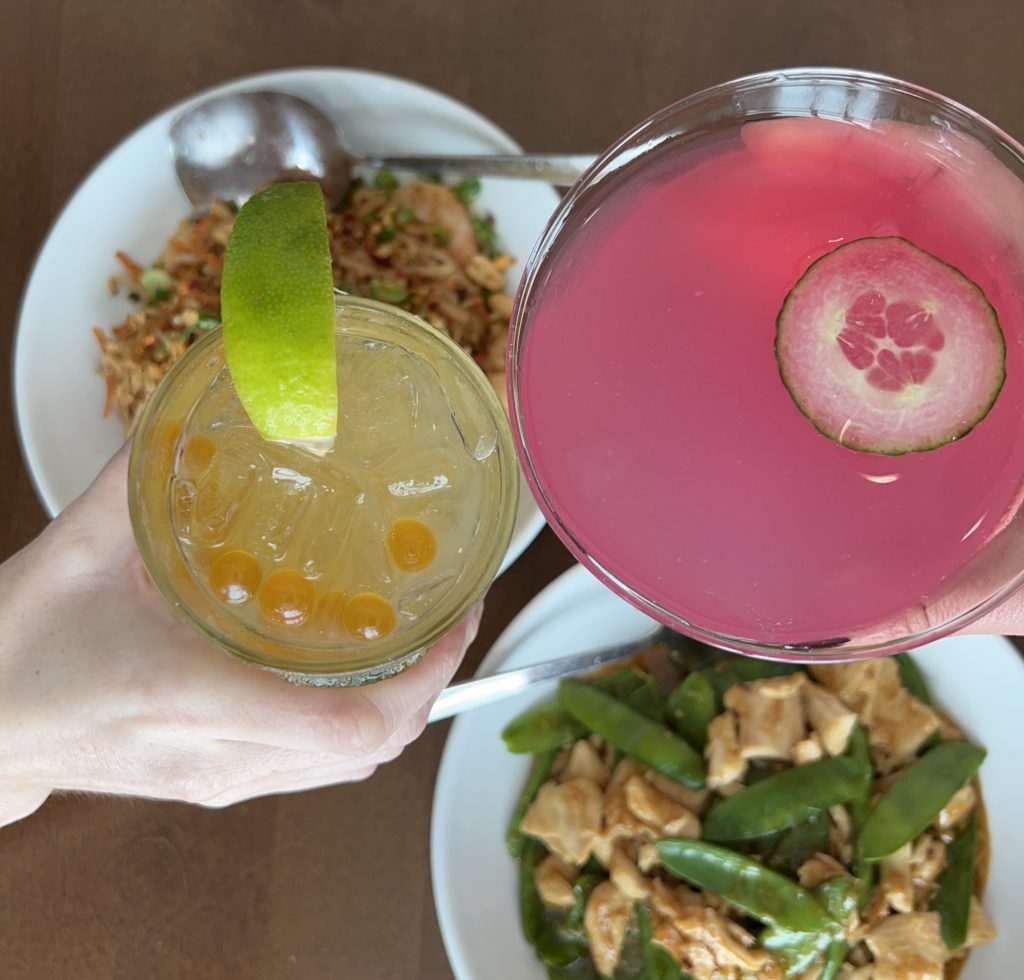 Additionally (in case you want to plan ahead!) the restaurant will be open on Christmas Eve from 12-10pm and Christmas Day from 1-8pm with the full menu available, as well as a few holiday specials. On Christmas Day, guests who dine at the bar will receive happy hour drink pricing with the purchase of an entrée. Pagoda will also be open on New Year's Eve from 12pm-10pm with a la carte dinner specials. The bar will stay open later for those who want to ring in 2023 Pagoda-style!
What's New at Pagoda Kitchen
If you asked me to make a list of my top favorite dishes, pad Thai would absolutely be at the top. When I heard that Pagoda Kitchen was adding a pad Thai to its menu, I was thrilled and could not wait to give it a taste (bonus points for being naturally gluten free). Its ingredients are simple: rice noodles, bean sprouts, carrots, cilantro, and peanuts. It's available with either chicken or shrimp, and has a sweet and slightly spicy sauce that adds a little bit of a kick, without being overly spicy.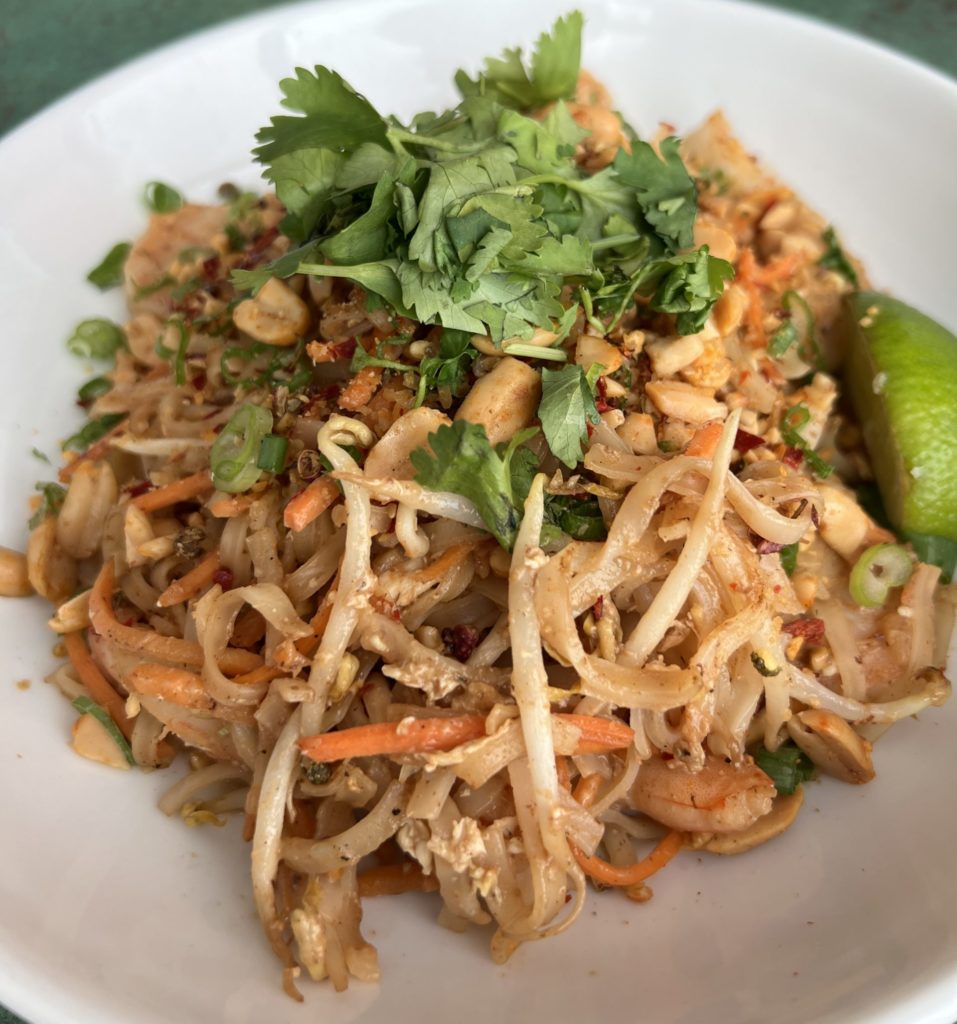 Also new to the menu is chicken and snow peas (available gluten free), crispy spicy beef and Mongolian glazed beef. All entrées are served with a side of steamed white rice or brown rice, or substituted with fried rice for an upcharge. Sorry, low-carb lovers, but cauliflower rice is no longer available as a side option. Honestly, I do not like cauliflower rice, so I'm 100% ok with this.
The dim sum menu has also gotten an upgrade, adding a crispy seafood trio, chicken lemongrass dumplings and shiitake mushroom pot stickers to the list.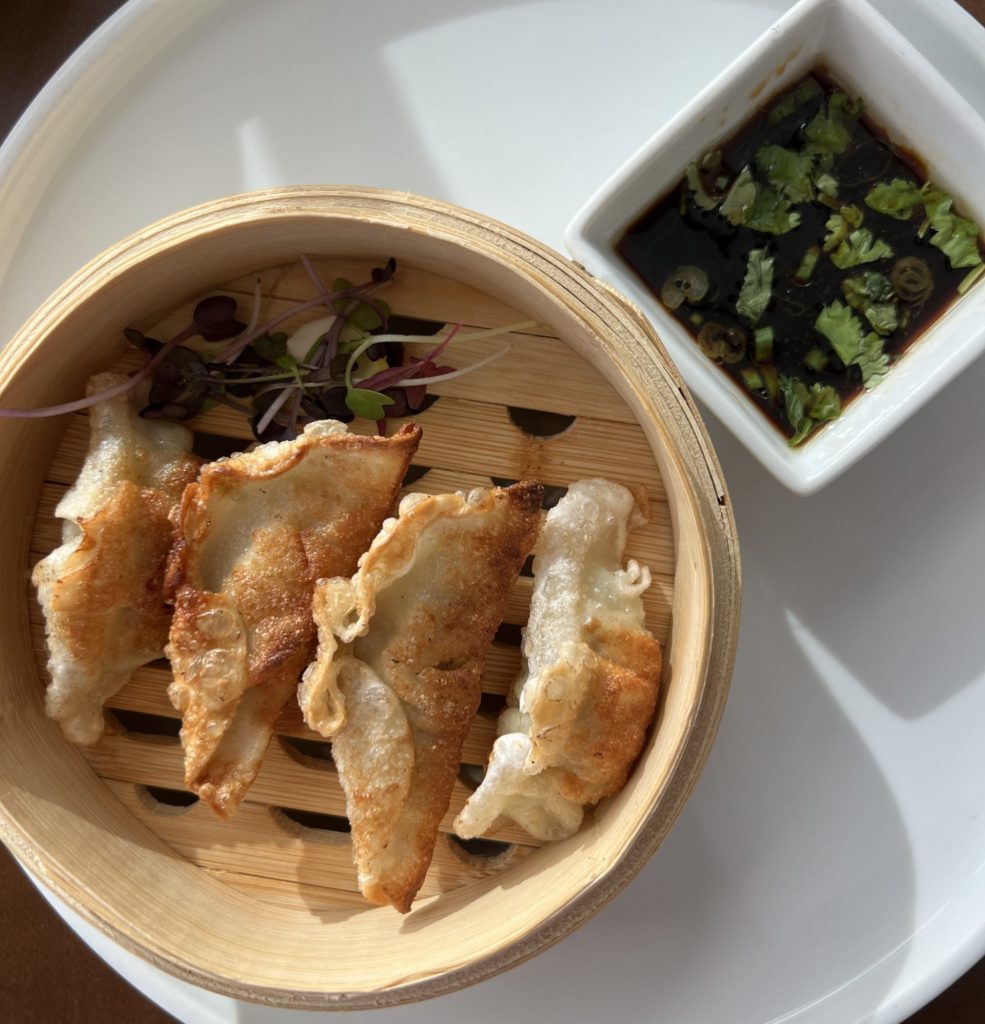 Now, you are going to need a drink to wash down all that deliciousness, right? Of course. The drink list has grown, with three new cocktails: Blackberry Lemongrass Mojito with blackberry lemongrass Belvedere Organics, simple syrup, lime and mint leaves; Ginger Mule with Don Canton ginger liqueur and sake, topped with ginger beer; and Tiger Lily with Sato sake, dragonfruit and lime simple syrup.
There are also five new mocktails, so those who do not drink alcohol or are not yet 21 can still enjoy something fun and fruity. Mocktail options include blueberry or strawberry lemonade, mango sour, the Cantonese Colada made with pineapple and orange juices and cream of coconut; and the Mandarin Creamsicle made with lemon-lime soda, muddled orange and Yakult probiotic cream poured tableside.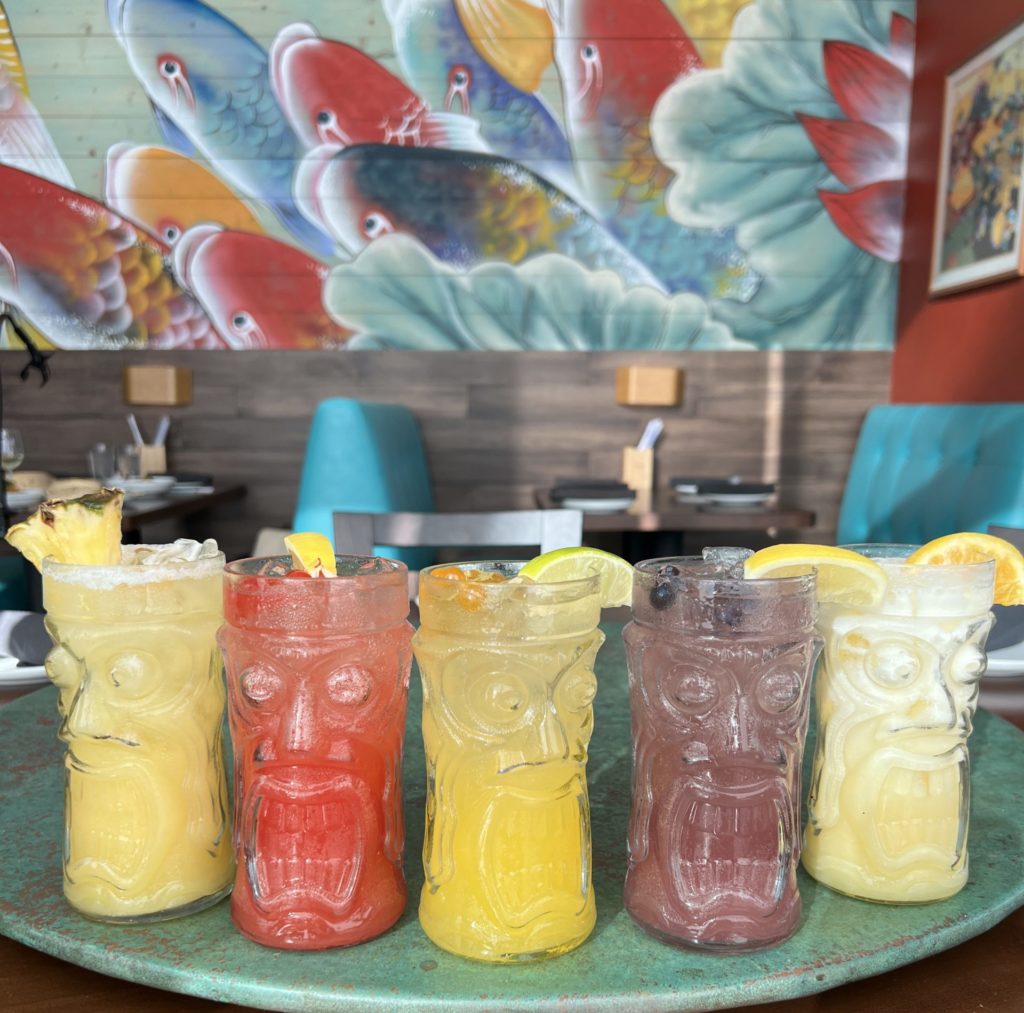 Weekend Lunch Now Available
Pagoda Kitchen kicks off its weekend lunch on Friday, October 28th, which includes three brunch items as well.
One of the brunch items is a traditional Chinese rice dish called Congee. This Chinese-style risotto is topped with a soft egg, scallion, ginger, chui chow and a choice of pork char sui, crispy beef, ground chicken and mushrooms or crispy tofu. There is also a poke bowl with pickled cucumbers, carrots, soy-chili edamame, fried shallots, steamed rice or greens, avocado, spicy aioli, and a choice of salmon, tuna or a mix of both. Also on the brunch menu is egg foo young. This is a Chinese-style omelet with onion, sprouts, peas and scallions, served over rice with brown gravy and a choice of chicken, duck, shrimp or tofu.
The lunch combo special is a great deal. It's only $11.95 for one of 17 dishes combined with your choice of wonton soup, egg drop soup, cucumber salad or simple salad, plus either a chicken egg roll or vegetable spring roll. Lunch items available include the new chicken and snow peas, chinese chicken salad, chilled sesame-peanut noodles, moo shu pork, duck tacos, salmon bao buns and more.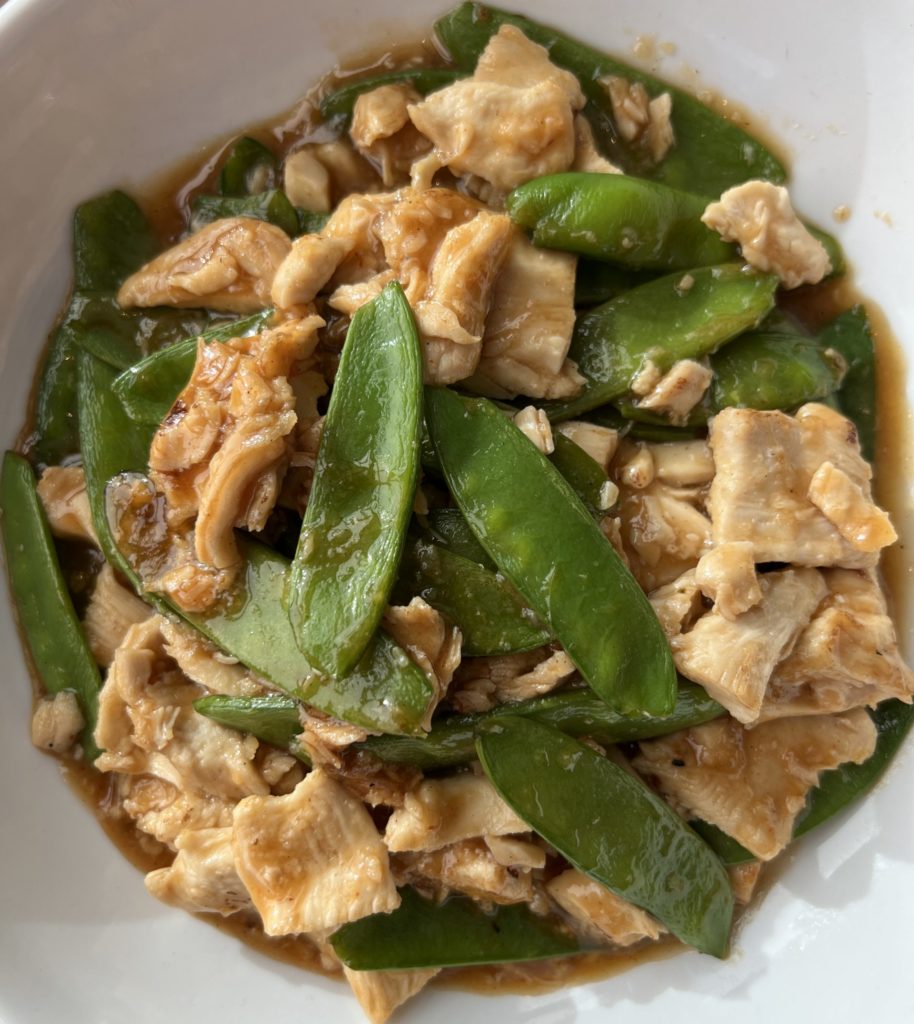 The lunch menu is available Friday-Sunday from 12-3pm. Starting November 1st, the weekend happy hour times will adjust according to the new schedule. Happy hour drink specials will be available Friday-Sunday from 12-4:30pm at the bar, high tops and couches, and will extend until 7pm at all seatings. The happy hour bar bites menu will be available from 3-7pm at the bar, high tops and couches only.
Dining Deals
Pagoda Kitchen is now offering the ultimate to-go option: family-style packages! This offer cannot be combined with any other promotions, but it is truly a great dining deal. The packages can be purchased for two, four or six people. Each includes one egg roll per person, choice of won ton or egg drop soup, choice of lo mein or fried rice, and choice of entrée(s). Ordering is super simple and can be done right on Pagoda Kitchen's website.
Another great dining deal to watch for starting November 1st is the ever-so-popular Early Dining specials. Get an egg roll, soup or salad and non-alcoholic beverage with select entrées starting at $17.95. This dining deal is available Sunday-Thursday from 4:30-5:30pm and Friday-Saturday from 4:30-5pm.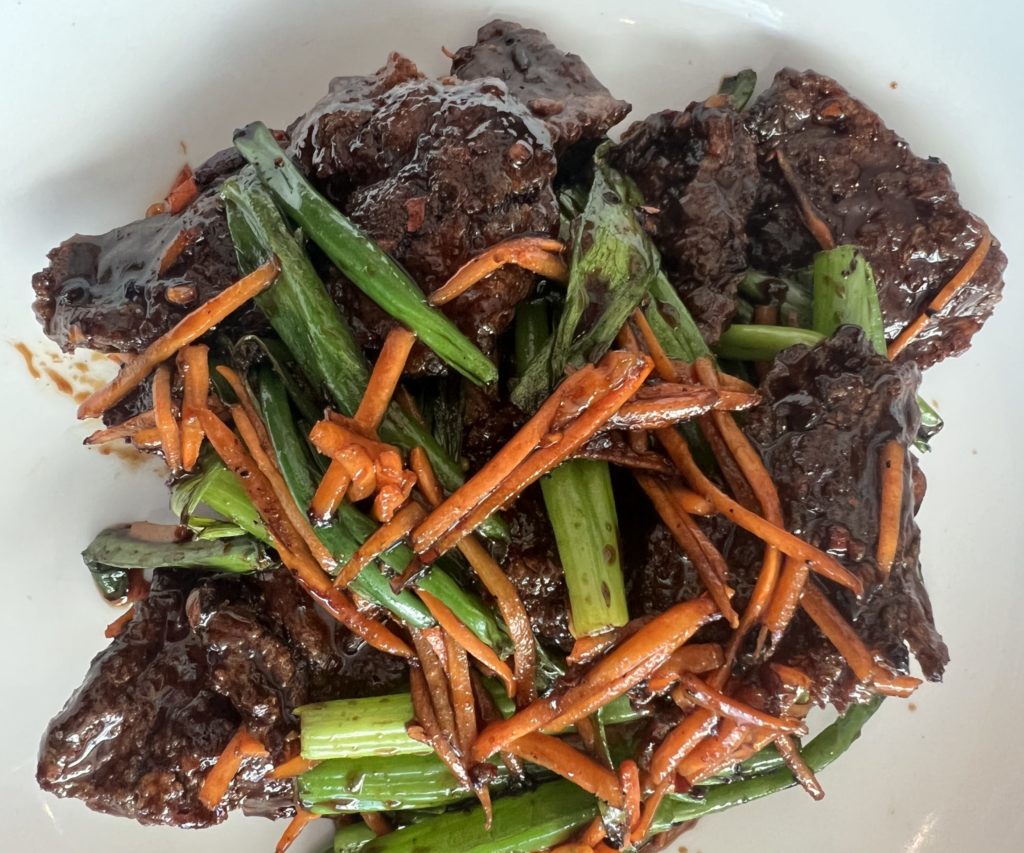 Yes, it's a small window of opportunity, so make sure to plan ahead! Just in case you miss the early dining deal menu, though, there is another special available during all dinner hours. The Make it a Meal Deal: upgrade any noodle, rice or large plate entrée with an egg roll, soup or salad for an additional $4.95.
Whether for lunch, happy hour or dinner, Pagoda Kitchen has definitely got your back when it comes to savings this season!
Make Your Reservations at Pagoda Kitchen
Pagoda Kitchen is located at 14917 Lyons Rd #100 in Delray Beach. Online ordering is available and reservations can be made on Seven Rooms. Private and group dining options are also available, and can be found by clicking here.
Disclosure: This is a sponsored post by Rapoport's Restaurant Group. As always, all opinions are 100% my own.