Never miss a bite! Sign up here to receive new recipes and reviews straight to your inbox.
My homemade basil pesto shines in this Pesto Spaghetti Squash, a low-carb alternative to your favorite pasta dish.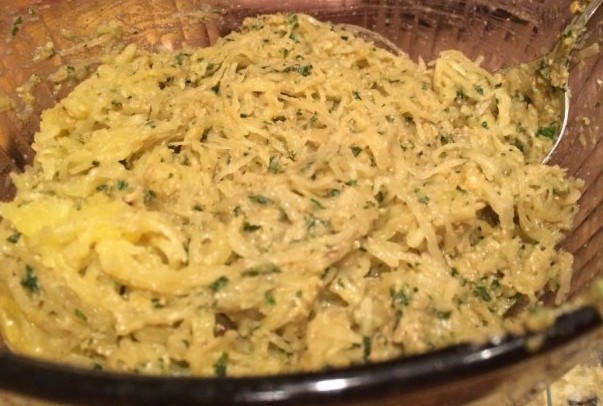 I had some of the most delicious Italian food while I was in Germany. Weird, right? Authentic Italian food in small-town Bad Homburg, Germany. But this isn't so strange — apparently Germany is known for having great Italian cuisine!
One of my co-workers is Italian and lives in Milan and she was even impressed with one restaurant in particular. She spent almost the whole time we were there talking with our waiter and the owner in Italian. Normally I would have been totally up in their conversation trying to decode what they were saying, but nope. I was way too busy stuffing my face with the best homemade spaghetti with pesto sauce I have ever had in my entire life. I dreamt about pesto for at least two nights after that dinner — not even kidding. I knew that until I had pesto at least once more as soon as I returned to the states, I wouldn't stop craving it.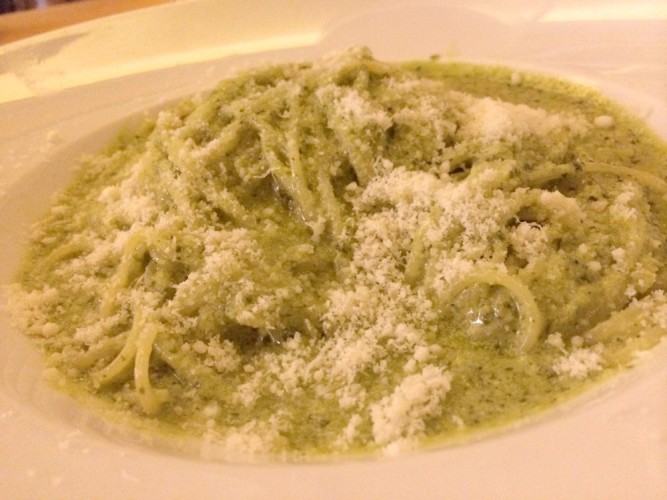 Good thing my roommate had already seen the picture of the pasta that I posted on Instagram by the time I got back and was totally craving pesto too. So what do you think I made us for dinner that night? Pesto!!
BUT, no pasta. There were way too many carbs in my diet during my Germany trip, so I wanted to lay low and go for something a little lighter. Spaghetti squash to the rescue! Spaghetti squash is my favorite pasta alternative. Some people don't find it acceptable as a pasta swap since the taste and texture are much different. B ut me? I'm all for it. I've had spaghetti squash with marinara sauce, spaghetti squash with veggies, even spaghetti squash with pumpkin puree — but never with pesto! That was about to change.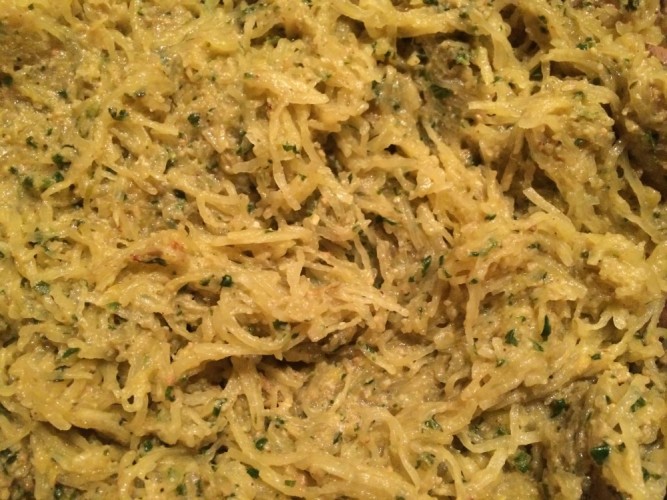 I love my trusty basil pesto recipe and have been making it a lot lately. It was just the thing I needed to quell my pesto-cravings. Although, I'm not sure I'll ever really stop craving pesto. It's too delicious. Now the goal is to have pesto in Italy…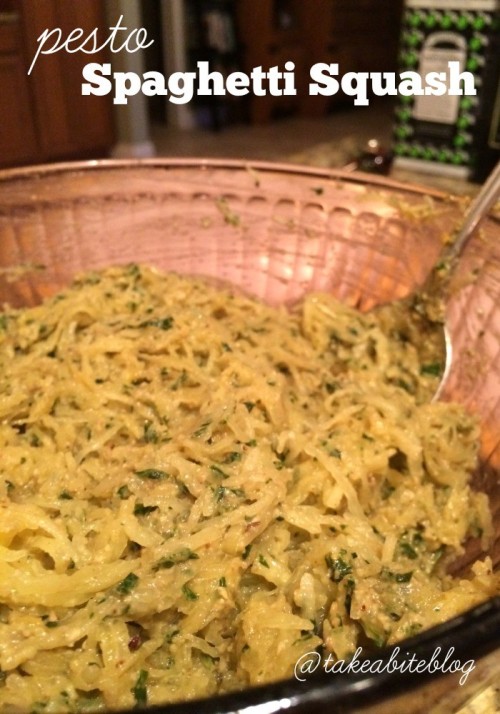 Pesto Spaghetti Squash
Author:
My homemade basil pesto shines in this Pesto Spaghetti Squash, a low-carb alternative to your favorite pasta dish.
Ingredients
1 medium spaghetti squash
2 cups prepared basil pesto
optional topping: parmesan cheese
Instructions
Preheat the oven to 400 degrees.
Cut the spaghetti squash into four quarters and arrange skin side up on a baking sheet lined with parchment paper. Roast for 45 minutes or until squash is tender. Let cool.
Scoop out the mushy center and seeds from the squash and throw away. Scrape the remaining spaghetti-like strands and place into a large bowl.
Mix in the pesto and top with parmesan cheese if desired.