Never miss a bite! Sign up here to receive new recipes and reviews straight to your inbox.
Happy New Year! Today marks the beginning of a brand spankin' new year. I'm pretty excited to see what 2015 has in store. It has some pretty big shoes to fill, that's for sure.
I want to celebrate all the New that's to come by commemorating the Old that we will remember. 2014 was a pretty awesome year for Take A Bite Out of Boca, and I thought it would be fun to give some love to the recipes you all enjoyed the most before we get into a whole bunch of new ones!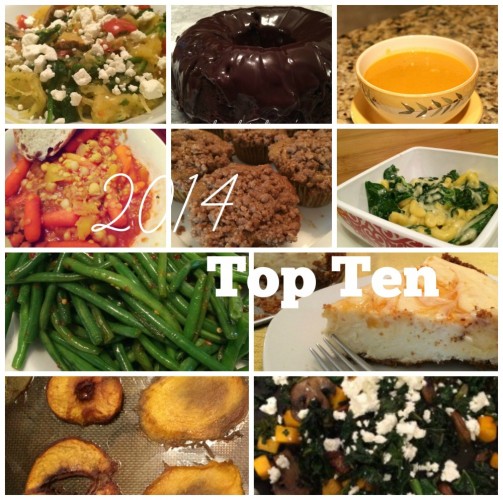 So here we go, the Top Ten Recipes from 2014 are…
Skinny Spinach Mac and Cheese
A healthy spin on the classic childhood favorite.
Chocolate Lover's Bundt Cake
Chocoholic's will swoon over this cake. It had four different kinds of chocolate in it, including a gorgeous dark chocolate ganache oozing all over.
Roasted Butternut Squash with Wilted Kale, Mushrooms and Garlic
One of my absolute FAVORITE side dishes! You can swap kale for spinach or swiss chard and use any kind of squash or even potatoes.
Pumpkin Coffeecake Muffins
The best of both breakfast-loving worlds, muffins AND coffeecake!
Lightened Up Apricot-Swirl Cheesecake
My first cheesecake! I lightened up a classic cheesecake recipe with Greek yogurt and made the most incredible graham cracker crust with pecans!
No-Dehydrater Needed Dried Fruit
Dried fruit is one of my all time favorite things to snack on, but it's not that cheap. I found an easy way to make my own right at home, even without having a dehydrator!
Wok-Style Green Beans
This is such an easy side dish! It takes almost no time and could be done with almost any vegetable.
Pumpkin Chickpea and Lentil Stew
I love using my slow cooker whenever I can, especially for soups and stews. This is a great one for fall and winter.
Mediterranean Herbed Spaghetti Squash
There are so many delicious flavors in this low-carb dish, you won't even miss the pasta!
Creamy Sweet Potato Soup
No heavy cream, milk or butter was used to make this soup as creamy as it is — just pureed sweet potatoes!